Military Intelligence Agency
Military Intelligence Agency (hereinafter: the MIA) is an administrative body within the Ministry of Defence with the legal entity status. As a security service, it is an integral part of the Republic of Serbia's intelligence-security system.

The Law on the Military Security Agency and the Military Intelligence Agency ("Official Gazette of RS", no. 88/2009, 55/2012 - CC decision and 17/2013) regulates competencies, activities, tasks, powers, supervision and control, cooperation and other issues relevant to the work of the MIA.

The Military Intelligence Agency is responsible for conducting intelligence activities relevant to the defence, including gathering, analyzing, assessing, protecting and disseminating information on potential and actual threats, activities, plans or intentions of foreign states and their armed forces, international organizations, groups and individuals. In addition to the above, it is also responsible for the diplomatic function in the field of defence and the Serbian Armed Forces.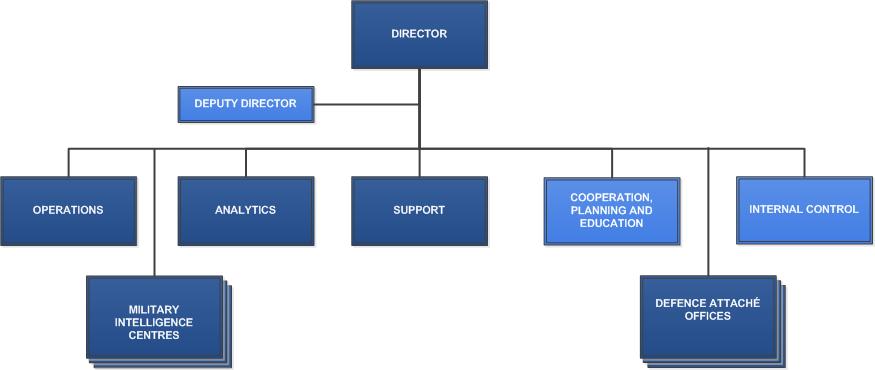 The MIA is independent and politically and ideologically neutral in executing activities within its competence.

The Military Intelligence Agency is organized in accordance with modern principles and the needs of the defence system. The Act on Internal Organization and Systematization, Work Methods, Number of Employees and Operation constitutes secret information.

The Director manages the work of the MIA and reports to the Minister of Defence.

The Deputy Director reports to the Director of the MIA.

The Director of the MIA and his Deputy are appointed and dismissed by the President of the Republic upon the proposal of the Minister of Defence, if they are active duty military persons, or the Government, upon the proposal of the Minister of Defence, in accordance with the law governing the position of civil servants.

Operations are an organizational unit of the MIA responsible for managing, planning, organizing and coordinating intelligence activities, in accordance with the powers prescribed by the Law on the Military Security Agency and the Military Intelligence Agency.

Analytics is an organizational unit of the MIA responsible for data processing and the production of information, analyses and evaluations for the needs of state and military leaderships.

Support is an organizational unit of the MIA responsible for personnel, financial and logistic support necessary for the efficient execution of all tasks and responsibilities of the MIA, as well as for the training of personnel for the needs of the MIA and the defence system.

Planning, cooperation and security is an organizational unit of the MIA responsible for planning the work at the MIA level, implementing cooperation with foreign security services, international organizations, security services of the Republic of Serbia and other state institutions, as well as protecting persons, facilities, documents and activities of the MIA.

Internal control is an organizational unit of the MIA responsible for controlling the legality of work and the exercise of authority by members of the MIA.

Military Intelligence Centres are regional units of the MIA that perform intelligence tasks by providing continuous, timely and safe gathering of data and information in order to monitor the military security situation in immediate and broader areas.

Defence attaché offices perform the diplomatic function in the field of defence in accordance with the laws and the Vienna Convention on Diplomatic Relations.

Official website of the Military Intelligence Agency: www.vоa.mod.gov.rs
Address: 33 Kneza Milosa Street, Belgrade
Fax: +381113006198
E-mail: office@voa.mod.gov.rs