President Vučić Met Representatives of Kosovo Serbs


Today, in barracks "Stefan Nemanja" in Raška, the president of the Republic of Serbia and supreme commander of Serbian Armed Forces held a meeting with representatives of the Serbs from Kosovo and Metohija following violent attacks by special units of so-called Kosovo Police that occurred this morning.
The meeting was attended by Deputy Prime Minister and Minister of Defence Nebojša Stefanović PhD and Chief of General Staff of the Serbian Armed Forces General Milan Mojsilović.

President Vučić sent a message to the representatives of the Serbs that Serbia and Belgrade would stand beside them no matter what happened.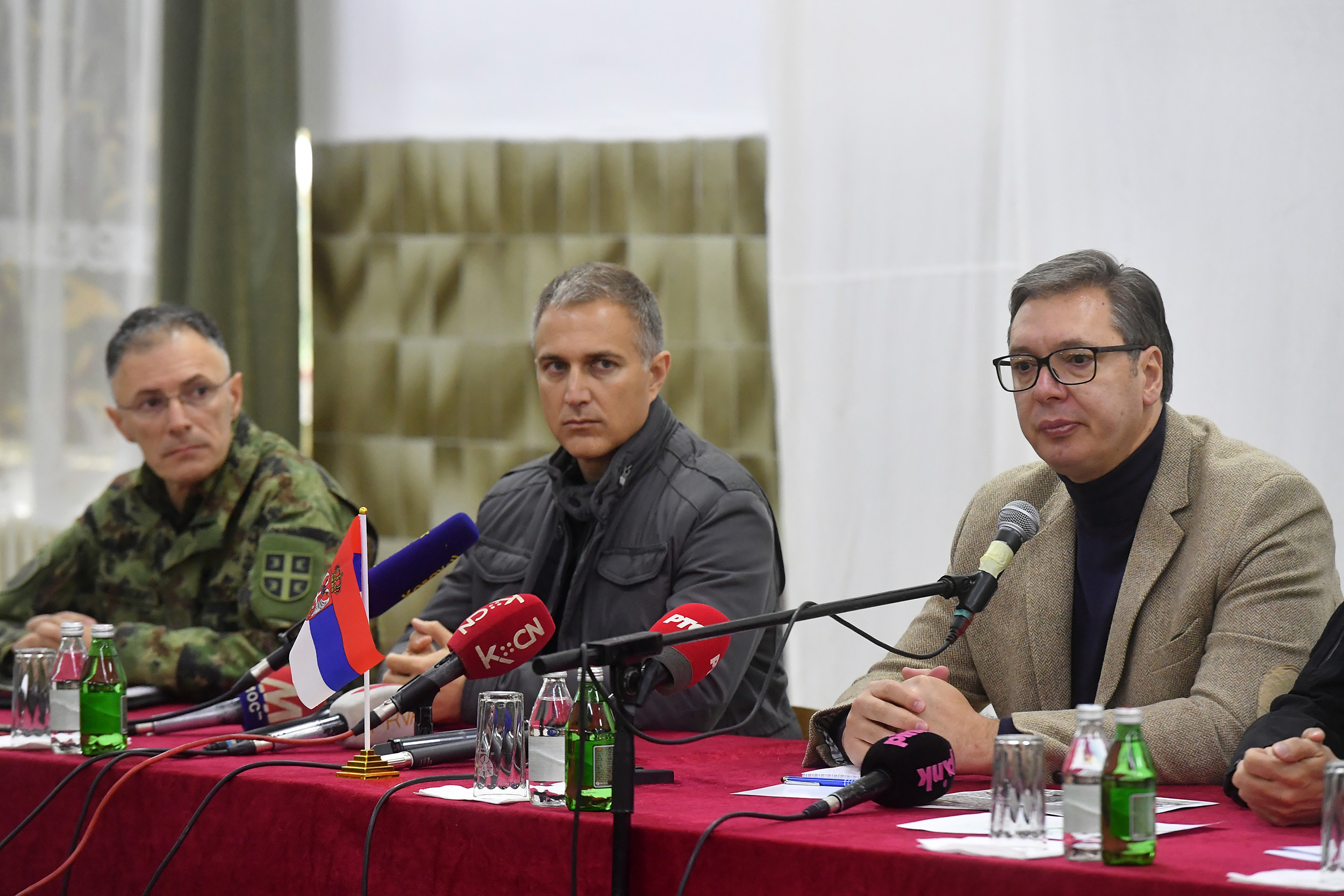 - I did not say it pro forma. Those who know me, they know what this means. My message to them and you is that we will preserve peace, honour agreements, and if they tried to use power against the Serbs to put them in order my response would be crystal clear – we shall protect the lives of our children in Kosovo and Meyohija, and their survival, and this is the fight that we will win – the president said.

Speaking to Kosovo Serbs he underlined that the USA, Germany, Great Britain and France, the entire Quint would never give the independent Kosovo up.

He pointed out that Serbia will not allow the pogrom and killing of our people.

- I have understood your decision, though I would rather you had thought it through in a more rational way, and I am not stupid to see that it was your agreement and emotions, so whatever happens, Serbia and Belgrade will stand beside you – he said.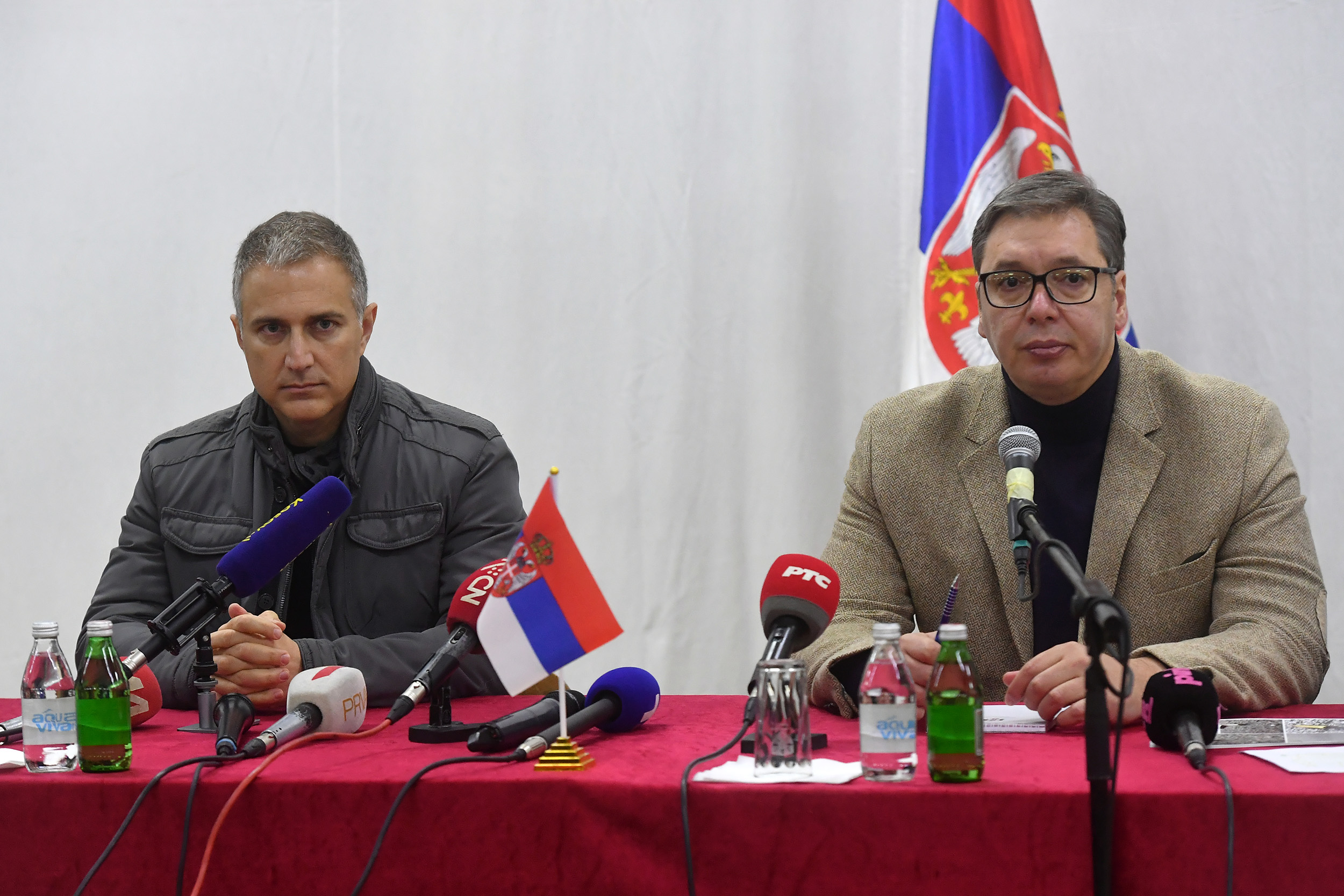 President of Serbia Aleksandar Vučić told that he had called EU Special Representative for Dialogue Miroslav Laichak and said "Curb them, and if you are not able to do so, we will curb them ourselves".

- They told me "We are working on it" and then they forced them to withdraw. However, you have to bear in mind that, according to our intelligence, their actions conducted today were supported by at least one state, and that is not a country of the present EU" – he stated.

Vučić said that it did not mean that they would not have been supported by the EU and he reminded of the similar events during Hashim Tachi rule, when they had made the same pretence that they were going to the north to fight against smugglers and criminals.

Once again he referred to his telephone call to Miroslav Laichak.

- In the past, I would have called 50 of them, but today I just called Laichak and told him everything. Maybe I have lost my patience. The only difference is that the EU did not mention the two sides again – Vučić said.

The president stated that he understood the anger of our people in Kosovo and Metohija.

- I will not mention our numbers back in 1961, and how the number of our people dropped from 27 to 20 per cent and how many of us there are in Kosovo and Metohija today … I will not go through the bad solutions agreed in 1999, or our silence at the pogrom against our people in 2004, and 2008 when Priština proclaimed its independence and immediately recognised by 80 states. I will also not remind that we ourselves requested that the entire matter be transferred from the UN to the EU. I will not look back on the shameful advisory opinion of the International Court of Justice, or everything that they did in 2012 for which they were prosecuted by their own state. I have done with it – he said.

Vučić pointed out that the Serbian people certainly know that the state fights to protect the beacon of the Serbian state, without jeopardising the entire Serbia.
He reminded that he was the only one against the solution to include Kosovo membership of the UN in the Brussels Treaty, and that it had been the most difficult night in Brussels and that he had refused that article which was the only reason why it never happened.

He also said that the second article, which he had not accepted, was that the ratio of police force in the north should be 66 per cent of Albanians, and the Serbs would have made the rest. Consequently, today there are 89 or 90 per cent of Serbian police officers.

- Someone would say that this is not a good solution as well. There is no good solution. But which one is, that is realistic, sustainable, rational, and that will not jeopardise the entire Serbia? – Vučić asked.

He reminded that at the time of his appointment as the minister of defence, we had had just two MiG-21s and one MiG-29 which could not fly because of the lack of spare parts.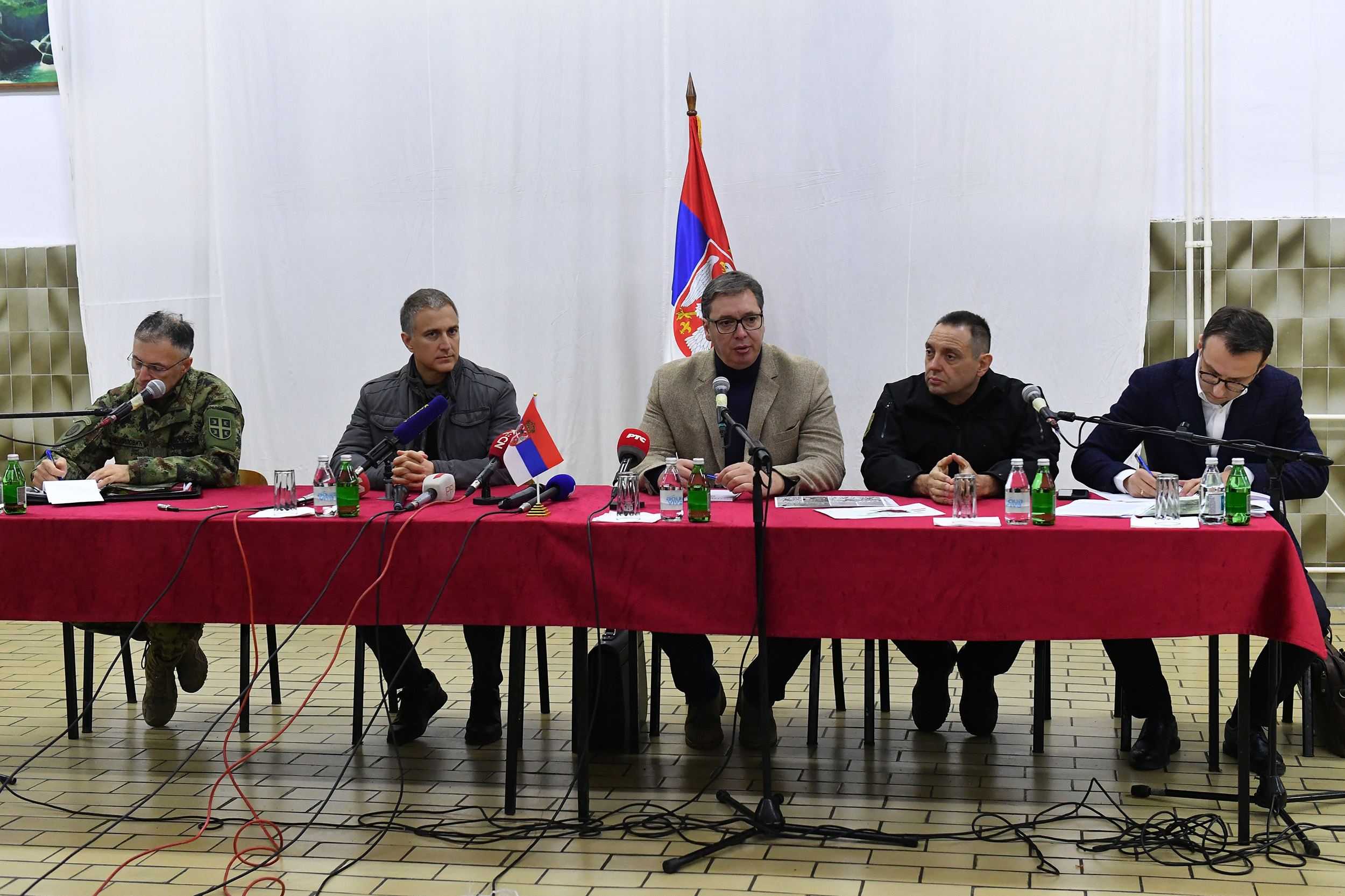 - It was necessary to put Serbia on its feet, increase salaries. It is fair to mention that the entire Serbia helped so that the salaries in our schools, health care centres in Kosovo and Metohija are higher than the salaries in Raška, and this is given by all citizens of Serbia. I know that it is not enough. When you speak, my thoughts are exactly the same as yours, each letter, each word – he stressed.

The president said that "a question emerges as to what should be our smart reaction".

- I am the one to blame, who begged you not to attack ROSU when the line was made. All the shame should fall on me. Not because I was worried for them, but because some of them would have gladly jumped at the chance to kill some of our young men – he explained.

He said that he had been worried the entire time until he heard that injured Sofronijević had had the bullet taken out and that his state was stable.

- Use any wording that you like, we are there for you. Priština will not fulfil the agreement, and here the Brussels Treaty is going to be our salvation. Do not react to violence, but if the violence starts, protect the people, and we will be with you. Just bear in mind the price that all of us will have to pay and why it is that I plead that we tried to avoid it – Vučić sent the message at the meeting with the Serbs from Kosovo and Metohija held in Raška.
However, if Priština perists, we will have no choice – Vučić added.

- My message to them is that we will preserve peace, and honour our agreements. I ask NATO to do its job, I am begging them to. I ask Albanians not to forcefully put the Serbs in order, and if they tried to do so, thinking that they are strong enough with the support of foreign powers, despite the fact that the entire world will demand my head, my response will be clear – in that fight for the protection of the lives of our children in Kosovo and Metohija, for their survival, not only will we protect them, but today for the first time I can say with certainty that we will win that fight – Vučić stated.

TANJUG