Following the path of Thessaloniki warriors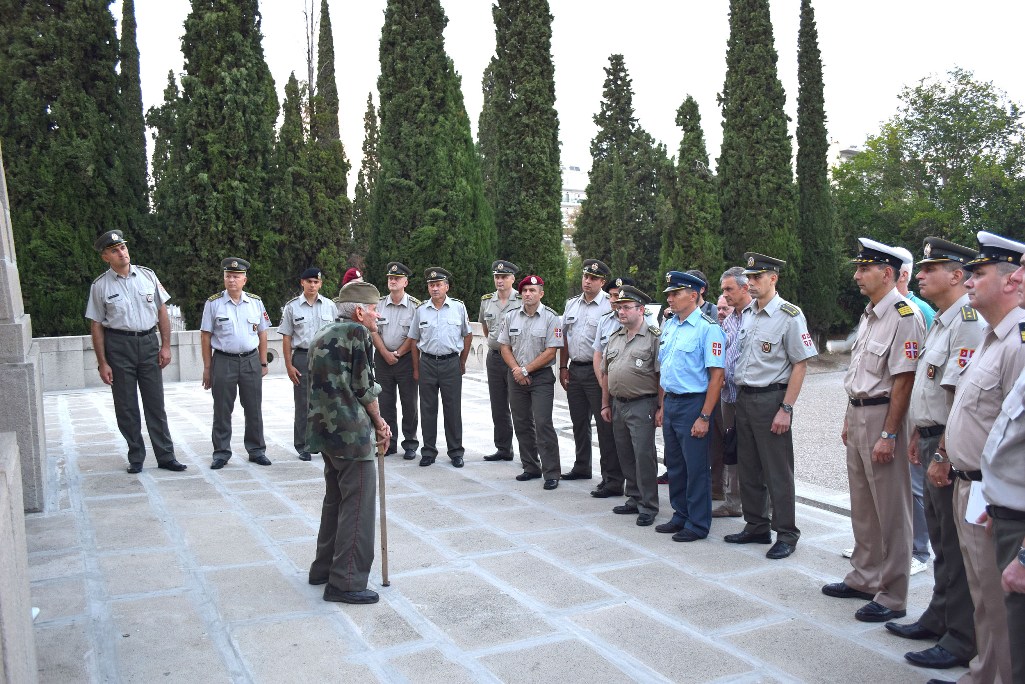 By laying wreaths at the Zeitenlik Mausoleum and paying tribute to the fallen Serbian warriors and fighters of the allied armies at the Salonika Front, the participants of the study trip of the National Defence School began the implementation of the research project entitled "Historical and comparative analysis of operations on the Salonika Front in 1916-1918".

The project was launched on the occasion of marking the centenary of the Great War and, according to Colonel Marko Zelenovic, Head of the General Staff Course, the goal is to explore the historical facts and events that preceded the establishment of the Salonika front, analyse the strategic situation and compare the plans of the warring parties, investigate the operations conducted in the period from 1916 to 1918, and formulate positive and negative experiences, as well as the lessons learned that are applicable in future military and non-military operations.

Apart from the members of the research team from the Military Academy, the National Defence School and the Strategic Research Institute, the study trip includes participants in the Command and Staff Course. In the following days, they will visit important places where the decisive battles were fought during the Salonika operation and will attend the central ceremony marking the breakthrough on the Salonika front at Kaimaktsalan.

The first historical lecture was delivered by the guardian of the Serbian military cemetery, grandfather Djordje Mihajlovic, who has kept the traditions of bravery and suffering of Serbian heroes in battles on the Salonika front for 56 years.

The scientific research project is to be implemented over the next three years and it consists of four parts: study trips of members of the research team, participants in General Staff and Command and Staff courses in the area of operations at Salonika front, preparing seminar and final papers at the Military Academy and the National Defence School, holding a scientific gathering and preparing Collection of Papers on Operations at Salonika Front from 1916 to 1918 and the implementation of the model of exercise in working with students at extension course at the National Defence School.