Anniversary of the Novi Sad raid
In Novi Sad today, the 74th anniversary of the Novi Sad raid was marked - one of the most tragic events in the history of the city, when the Hungarian fascist occupation authorities killed or pushed alive under the ice of the frozen Danube between 1300 and 1700 Serbs, Jews and Roma residents of Novi Sad, including a large number of women, children and the elderly.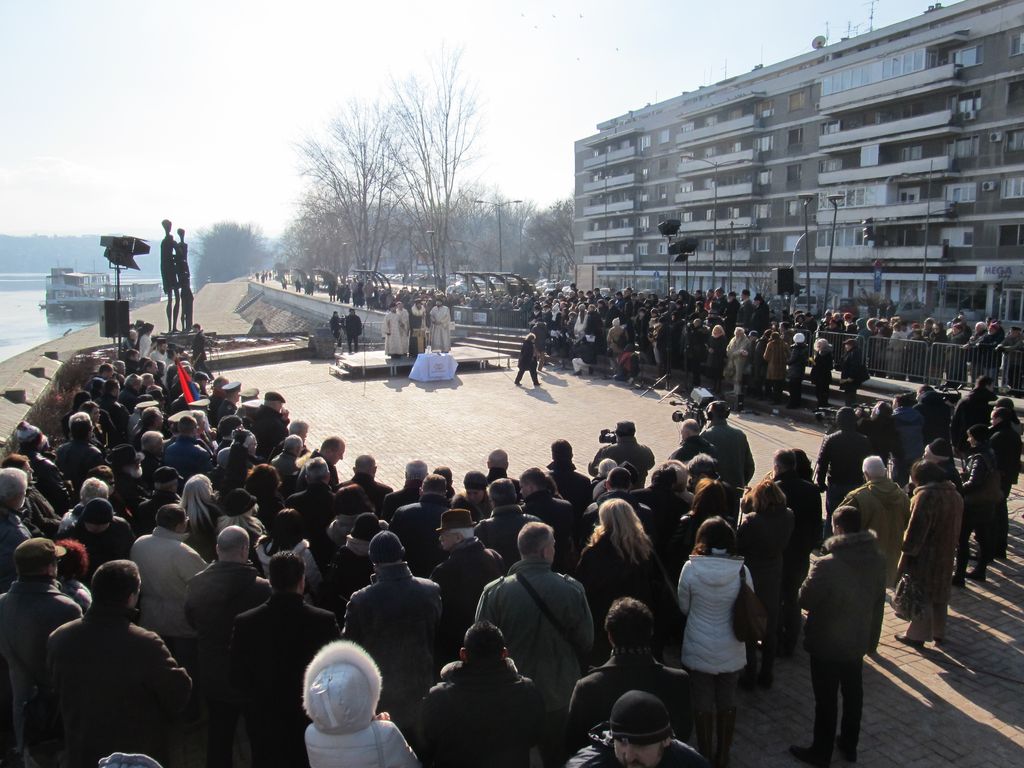 The citizens gathered in front of the monument "Family" at the Novi Sad Quay of the Victims of the Raid were addressed by Milos Vucevic, Mayor of Novi Sad.

-After the times of evil, after January 1942, our Novi Sad rose like a phoenix, but from an icy grave where people, entire families, entire generations remained - Vucevic said and stated that a dignified remembrance has never and will never admit revenge and intolerance towards the different, but that we will never stop remembering.

With the service of Novi Sad priests and deacons, the commemoration of the Serbian Orthodox Church to victims of the raid was held by Bishop Jeronim of Jegar, while the commemorative rite of the Jewish community, the commemoration and the homily were held by Chief Rabbi of Serbia Isak Asiel.

During the commemoration, President of the City Assembly Jelena Crnogorac and representatives of the Youth of the Jewish Community and Matica Romska, from the ship "Sabac" of the Riverine Flotilla, with the sounds of ship horns, dropped a wreath into the water of the Danube, while chaplain of the First Brigade Captain Djordje Stoisavljevic held a brief prayer from the ship for the eternal rest to the victims.

The commemoration for the victims of the raid, which was jointly organized by the City of Novi Sad, the Jewish Community and the Diocese of Backa, in addition to a large number of citizens, was also attended by representatives of the Ministry of Defence and the Serbian Armed Forces.

Hungarian army, the gendarmerie and the National royal police began the raid in early morning on 21 January 1942, with raids and arrests of citizens and entire families. Certain innocent victims were immediately killed on the street by the occupier, a part was taken to the Novi Sad beach "Strand" and then killed and thrown into the Danube, while some were simply taken to the coast, where they were killed, or thrown alive under the ice. The raid in Novi Sad lasted three days, and since, with residents of Novi Sad, in the period from 4 to 29 January 1942, residents of neighbouring and other places in Vojvodina were also killed, it is estimated that the occupier killed and threw under the ice several thousand people.