Minister Gasic with representatives of defence industry trade unions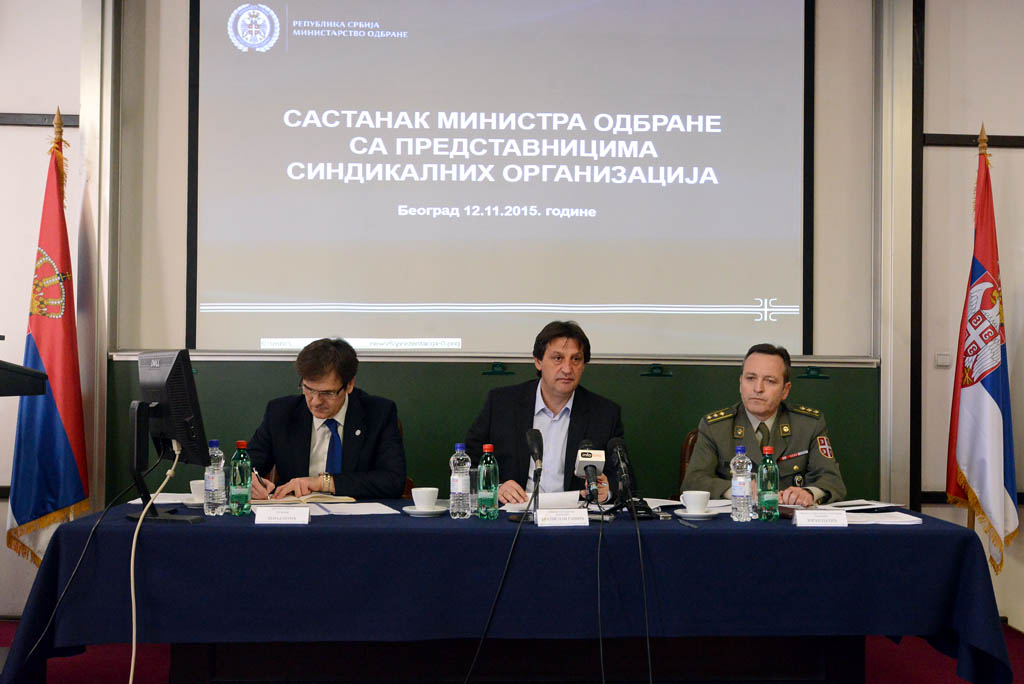 Defence Minister Bratislav Gasic and his associates, met today with representatives of representative trade union organizations of enterprises of the defence industry of Serbia (OIS) and trade union organizations of companies "FAM", "14th October","Trayal Corporation" and "FAP". Addressing the gathered, Minister Gasic said that never in Serbia's recent history, particularly from 2000 to 2012, have we had the results as we have now in the defence industry factories.

- In order for the results to be better and that the number of arms factories expands, we must have a broad consensus of all of us, in the first place, workers. In the defence industry factories, last year, we hired 1,000 new people and after 12 years we switched 750 workers of "Prvi Partizan" from Uzice to permanent employment - Minister Gasic said, adding that for the first time defence industry factories pay regular contributions and properly settle employees' salaries. He also pointed out that another new contract of 100 million dollars has been signed, noting that thus, they are slowly breaking records from the previous period.

Speaking on wages in the factories of defence industry, Minister Gasic pointed out that they have been in constant rise in the past three years. Thus, the average net salary in "Prva Iskra" from Baric this year amounted to 59,459 dinars, and in 2014 it was 57,809 and in 2013 53,797 dinars. In the "First Partizan", salary is 54,236 dinars, "Krusik" 45,084, "Zastava Arms" 49,927, "Prva petoletka - Namenska" 34.309, "Sloboda" 46,478, "Milan Blagojevic" 47,492 and "Teleoptic Gyroscopes" 44,630 dinars.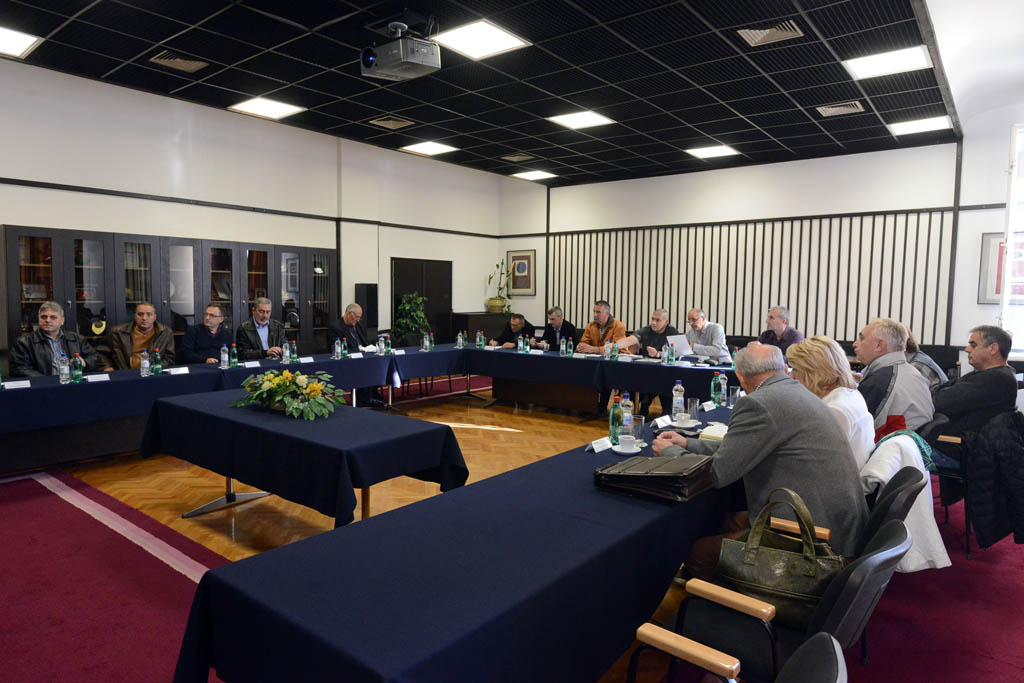 Minister of Defence also announced that in the coming days new contracts will be signed with the Serbian Armed Forces, adding that factories are slowly settling the debts incurred by 2012 to the Serbian Armed Forces, and new advance payments are made.

- Some factories will be given close to 500 million dinars in the form of a new advance payment from the Serbian Armed Forces - Minister Gasic said, expressing the hope that, as of Monday, the first 30 million dinars will start being given to those factories over Srpska Banka, which is responsible for working with factories of defence industry, which has again received permission to work despite the fact that tycoons have completely destroyed it.

Today and yesterday we were visited by representatives of "Tatra" who will visit "FAP", "Sloboda" Cacak "Prva petoletka", "14th October ", and tomorrow, and "Combat Systems" in Velika Plana - Minister Gasic said, announcing that after these tours will follow talks with Prime Minister Vucic and Minister of Economy on the future course of cooperation.

Discussing other issues, Minister Gasic pointed to the conversion of debts, especially to EPS, which is in the process of solving, noting that all the assembled representatives are aware of the fact that debts by 2012, both to the country and to suppliers, are much beyond the value of capital of all the factories of defence industry.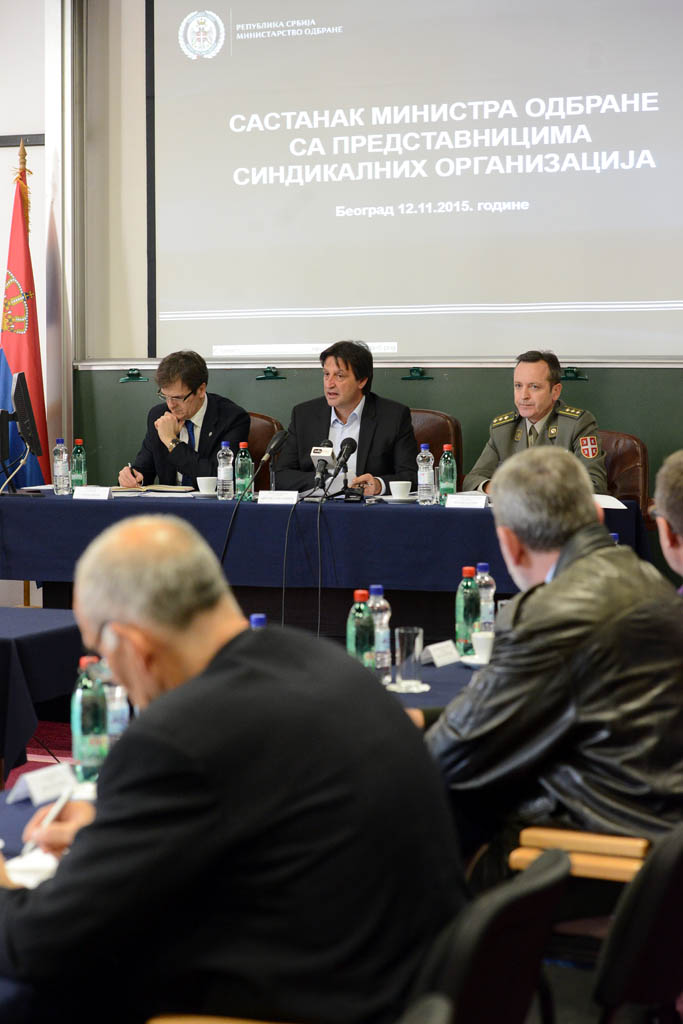 - For us and for this Government, the defence industry is the moving force and we want to use that. You know investments have not been made in the technology of the factories for 15 years, and these 78 million euros allocated from privatization revenue are intended for their technological renovation, and not for salaries - Minister Gasic said, adding that, each year, export of arms and military equipment from real sources, ie, from the production, is larger, and not from the sales as it was until 2012.
Minister announced that by the end of the year "FAP" will get another 140 million dinars from the Serbian Armed Forces, as well as the delivery of another four trucks that remained undelivered from the previous period.
Addressing the gathered union representatives, Minister Gasic said that they were expected to ensure the factories are cleared of waste created during the bombing in 1999, because the priority is the reconstruction of production halls. He also announced that some factories will be added to the system of defence industry.
During today's meeting, representatives of trade unions have also been reported on the current problems in companies, in whose resolution the Ministry of Defence can help.