New Issue of "ODBRANA"
Section STANDING POINT is dedicated to the promotion of the youngest generation of second lieutenants of the Serbian Armed Forces, as a central event of the previous month. There, you will find all information about the ceremony, which was lent solemnity to by state and military leadership of Serbia, and about the best cadets whose work and success has marked the 142nd and 143rd Classes of the Military Academy and the 8th Class of the MMA Medical Faculty.

In the moments when new generations of cadets start their education, and yesterday's cadets, now second lieutenants, assume their first duties armed with knowledge and embellished by virtues, we spoke to Lieutenant General Goran Radovanović PhD, Rector of the University of Defence, about the advantages of the education at the University of Defence, the quality of instruction and its adaptation to contemporary security challenges, and possibilities created by scientifically grounded military sciences.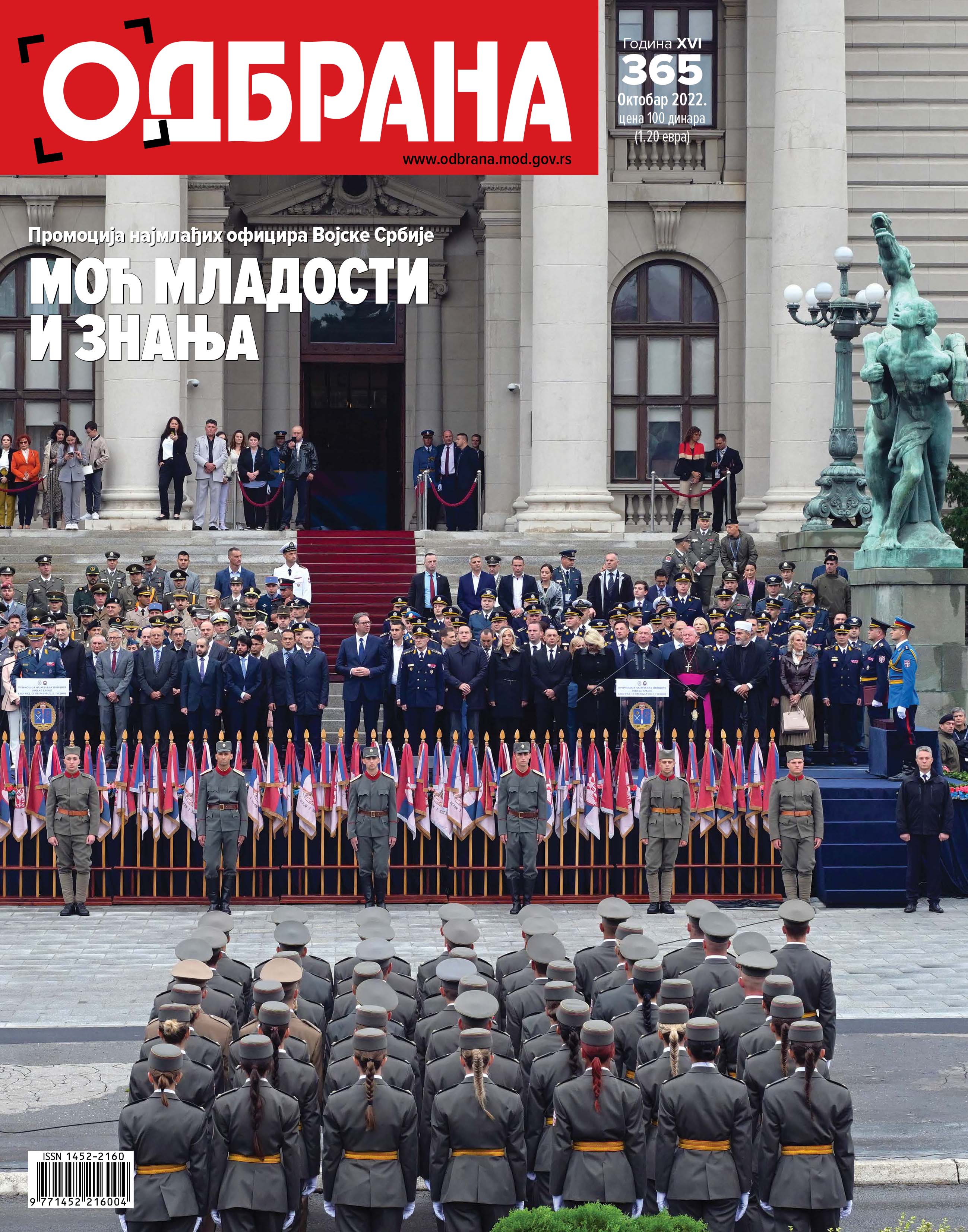 In the section SYSTEM, we attached particular attention to the brigades which marked their day. On that occasion, we visited the Third Army Brigade and Mixed Artillery Brigade, the only one of that arm in the Serbian Armed Forces. The text announced the observation of the Day of the 63rd Parachute Brigade.

The pages of ARSENAL bring a story about the South Korean fighter aeroplane T-50, also known as the "Golden Eagle", which represents a smaller and more economic copy of F-16 aeroplane. It took off more than two decades ago. This year's orders have made it "in" again, and its latest user is going to be Polish Air Force.

The room given to the section GLOBAL/CONFLICTS IN SHADOW is dedicated to historical relations between China and Taiwan - more precisely the Second Taiwan Crisis. A clash that took place in 1958, singles itself out, by its scope and fierceness, as a segment of that crisis scenario. Namely, in August and September that year, the main scenes of the battle were islands off the Chinese coast that were under the control of Taiwan.

We have touched upon the problem of nuclear security in the world in the section GLOBAL. This summer it just so happened that two significant gatherings took place in a short period of time dealing with the control of nuclear weapon. The most significant is the 10th Review Conference of the Treaty on the Non-Proliferation of Nuclear Weapons, which, sadly, failed to produce its final document. Why? That is the topic of the text that we bring to you.

A prominent place in "Odbrana" is given to the section TRADITION, where, this time as well, we bring a text on a military cemetery in Pirot, the standing point in Serbia-Greece relations, and a place of remembrance of all human faiths during the global conflict that brought about a complete geopolitical transformation of Europe and world at the threshold of the previous century.
The pages of the section HISTORY are dedicated to Radoje Raka Ljutovac, a salesman assistant from the vicinity of Trstenik and the first gunner who, during the First World War, aiming two lengths in front of the target, took down an aeroplane with an artillery grenade.

The section SPORTS has been enriched once again by a Balkan friendship jump. It is a traditional event which has been gathering veterans, reserve and active members of parachute and special units from all over the world since 1993.

We have also prepared a Special report - a Catalogue of the editions of the Media Centre "Odbrana" 2022/2023.


CONTENT OF ODBRANA 365

FRONT PAGE
Pg. 2
IMPRESSUM AND CONTENT
EDITORIAL
Pg. 3
Media Centre "Odbrana" at the 65th International Belgrade Book Fair
FROM TRADITION TO FUTURE
IN FOCUS
Pg. 4
Activities of the Ministry of Defence and Serbian Armed Forces in September
IN SYMBOL OF YOUTH
DISCUSSION WITH THE REASON
Pg. 8
Lieutenant General Goran Radovanović PhD, Rector of the University of Defence
ARMED WITH KNOWLEDGE, EMBELLISHED BY VIRTUE
STANDING POINT
Pg. 12
Promotion of the Youngest Officers of Serbian Armed Forces
POWER OF YOUTH AND KNOWLEDGE
Pg. 16
The Best Cadets
JEWELS OF THE GENERATION
SYSTEM
Pg. 20
In the eve of 7th October, Day of the Third Army Brigade
IRON BRIGADE
Pg. 26
Mixed Artillery Brigade
GLORY AND PHASES OF QUEEN OF WAR
Pg. 32
63rd Parachute Brigade
MORE THAN PROFESSION
ARSENAL
Pg. 38
South Korean Fighter Aeroplane T-50
"GOLDEN EAGLE"
GLOBAL - CONFLICTS IN SHADOW
Pg. 42
SECOND TAIWAN CRISIS
GLOBAL - ABOUT
Pg. 46
The Tenth Review Conference of the Treaty on the Non-Proliferation of Nuclear Weapons concluded
WITHOUT FINAL DOCUMENT
TRADITION
Pg. 48
Military Cemetery in Pirot, standing point of Serbia-Greece relations
HOLY PLACE OF TWO PEOPLES
Pg. 51
Visit from pupils of Elementary School "Petar Leković" to the Military Academy
FROM THE SCHOOL DESKS OF BORKO NIKITOVIĆ"
HISTORY
Pg. 52
Radoje Raka Ljutovac
THE FIRST GUNNER WHO TOOK DOWN AN AEROPLANE
SPORTS
Pg. 56
Balkan Friendship Jump
SKY IS THE LIMIT
JURIST
Pg. 58
Dear readers, the October issue of the magazine "Odbrana" introduces a new section
- "Jurist"
IMPLEMENTATION OF GENEVA CONVENTION IN THE PROCEEDINGS
AGAIST CROATIAN PILOTS
PEOPLE AND EVENTS
Pg. 61
A valuable initiative of Pilots' Association the "Tigers"
TRAINING FOR FUTURE PILOTS
ANNOUNCEMENTS
Стр.62
Service information, competitions
К-3
Service information, competitions
SPECIAL ADDITION - 222
Catalogue of editions of the Media Centre "Odbrana" 2022/2023