President Vučić: Serbia safeguards peace and stability
Today, President of the Republic and Supreme Commander of the Serbian Armed Forces Aleksandar Vučić met Minister of Defence of the Federal Republic of Germany Christine Lambrecht in the Palace of Serbia.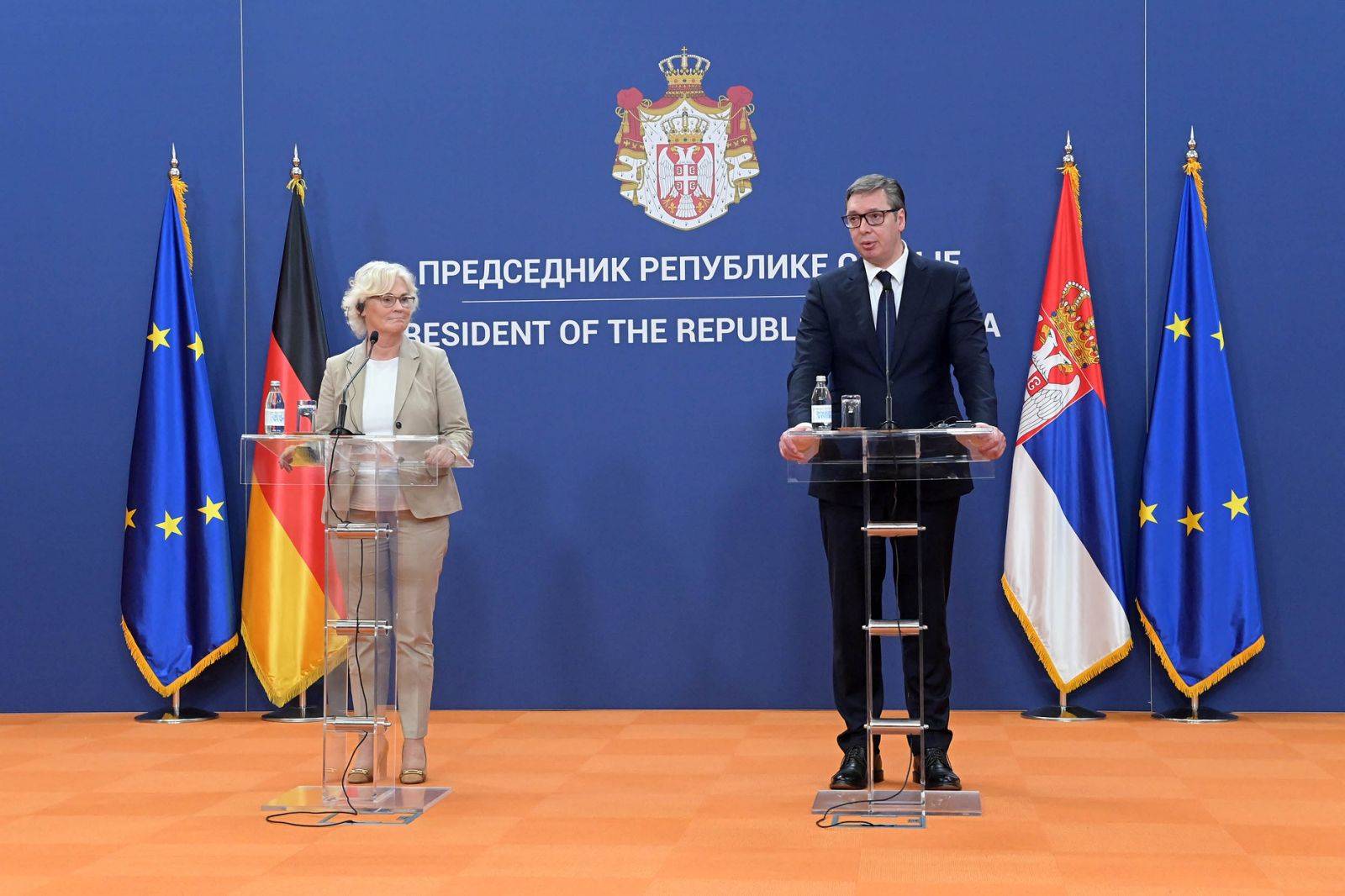 The reception in the Palace of Serbia was also attended by Deputy Prime Minister and Minister of Defence Nebojša Stefanović PhD and Chief of General Staff of the Serbian Armed Forces General Milan Mojsilović.

After the meeting, President Vučić underlined that Germany is the most significant partner of Serbia and that this fact should not be hidden, and he also stressed the importance of speaking openly since that kind of discussion is important for the future, and, according to his belief, that future is European.

Following the talks with German Minister of Defence Christine Lambrecht , Vučić reminded that he had returned from Berlin where he had had the meeting with German Chancellor Olaf Scholz and Minister for Foreign Affairs Annalena Baerbock, and he conveyed his impression that the engagement which Germany had been displaying in the Western Balkan region spoke about its desire for us to get closer to the EU.

"The sentences spoken by Chancellor Scholz, and now Minister Lambrecht speak about a clear European perspective and opportunities for faster accession to the EU, and these are good and important signals for our country" Vučić stressed.

At the joint press conference, he stated that Germany is the most significant partner of Serbia and that this fact should not be hidden."

"Eight years ago Germany was the fourth economic partner of Serbia, but today, it is by far its greatest partner. This year we expect that the trade exchange, if it continues at the unchanged tempo, will be at the level of 7.5 billion euros. Eight years ago it was 3.5 billion euros," Vučić explained adding that those were great and important news for Serbia.

He conveyed that they talked about the region and stated that Serbia is going to preserve peace and stability since that is our policy and permanent orientation.

As he stated, he provided his personal and state guarantees that Serbia will do so. He said that he did not take the opportunity to speak badly about the others in the region, because Serbia does not do that.

"The next six months will show who told truth, and it will be clear who resorted to lies," he underlined.

Vučić stated that there is a great room for the development of military-technical cooperation.

He noted that there is an umbrella agreement which has already been signed so that a lot can be done in that field.

He also said that they spoke about the conflict in Ukraine, and that there is an agreement regarding its nature.


"In a courteous manner she conveyed the expectations and demands of Germany and the EU in terms of the behaviour of Serbia in the future. I spoke about the position of Serbia," Vučić stressed.

He also said that he spoke with Lambrecht about the negotiations with Priština as well.

"I expressed my gratitude to Germany for having organised the meeting with Priština Prime Minister Albin Kurti last evening. No matter how we talked, it is better to talk than not to talk. Minister Lambrecht told me that it is important to talk, to speak openly, even if we quarrelled, because that is the way to discuss in democratic spirit in the future. I believe in European future, just like I believe in good will and the intention of our German partners to help us on our European path," Vučić emphasised.

He announced his address to the citizens the next day, when he would talk about the current situation.

"We will have to rely on each other, and see what support we can get, though we still have stable finances, and to see what we can expect. Every day, there is a country that announces ending the year with recession, which raise intrests," Vučić underlined.

Minister of Defence of the Federal Republic of Germany Lambrecht pointed out that Germany is a reliable partner to Serbia in the process of its accession to the European Union and she stressed the importance of the stability of the Western Balkans for her country.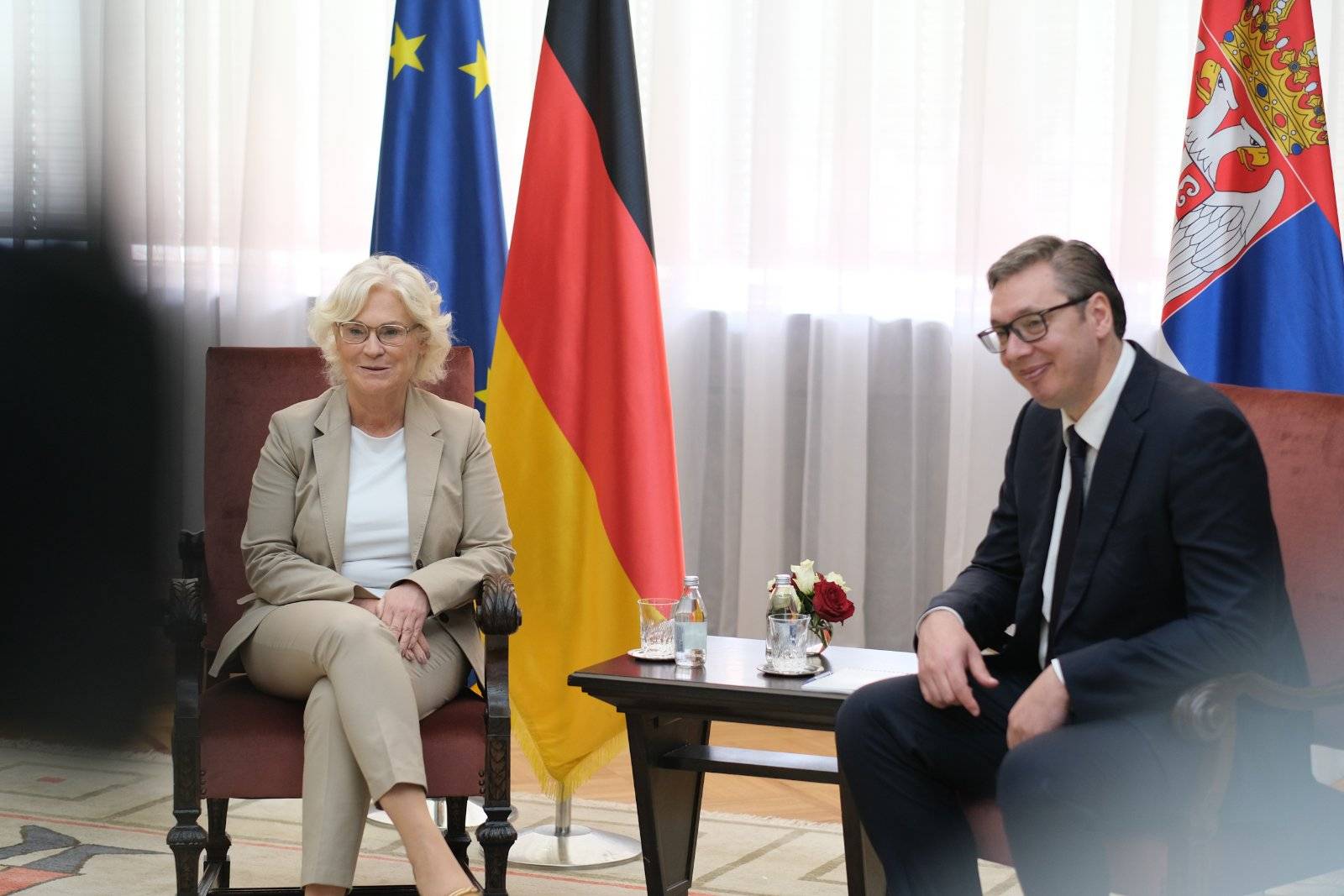 "But we are a true and open partner, and that is how we talked, which implies clearly articulating what one expects from the other on that path. It is our wish and hope that the process of the normalisation of relations between Belgrade and Priština will gain a new momentum," Lambrecht stated following the meeting with President of Serbia Aleksandar Vučić.

She thanked President Vučić for the hospitality and constructive, open and sincere talks both with him, and with her Serbian counterpart, Minister Nebojša Stefanović.

"It is important that we talked about our cooperation in the field of defence policy, and I hope that we will work in the future in that spirit of confidence, both in the matters of training and equipping armed forces," said German minister.

Source: Tanjug