CASM project presented at the Forum for Security Cooperation
Session of the Forum for Security Cooperation (FSC) of the Organisation for Security and Cooperation in Europe (OSCE), consisting of 57 participating states, was held on 30 November in Vienna. At the Forum, among other things, Major General Bojan Zrnić, Head of the MOD Defence Technologies Department and Chair of the CASM Executive Committee, presented the results of the current implementation of the Programme for Conventional Ammunition Stockpile Management (CASM) for the Republic of Serbia.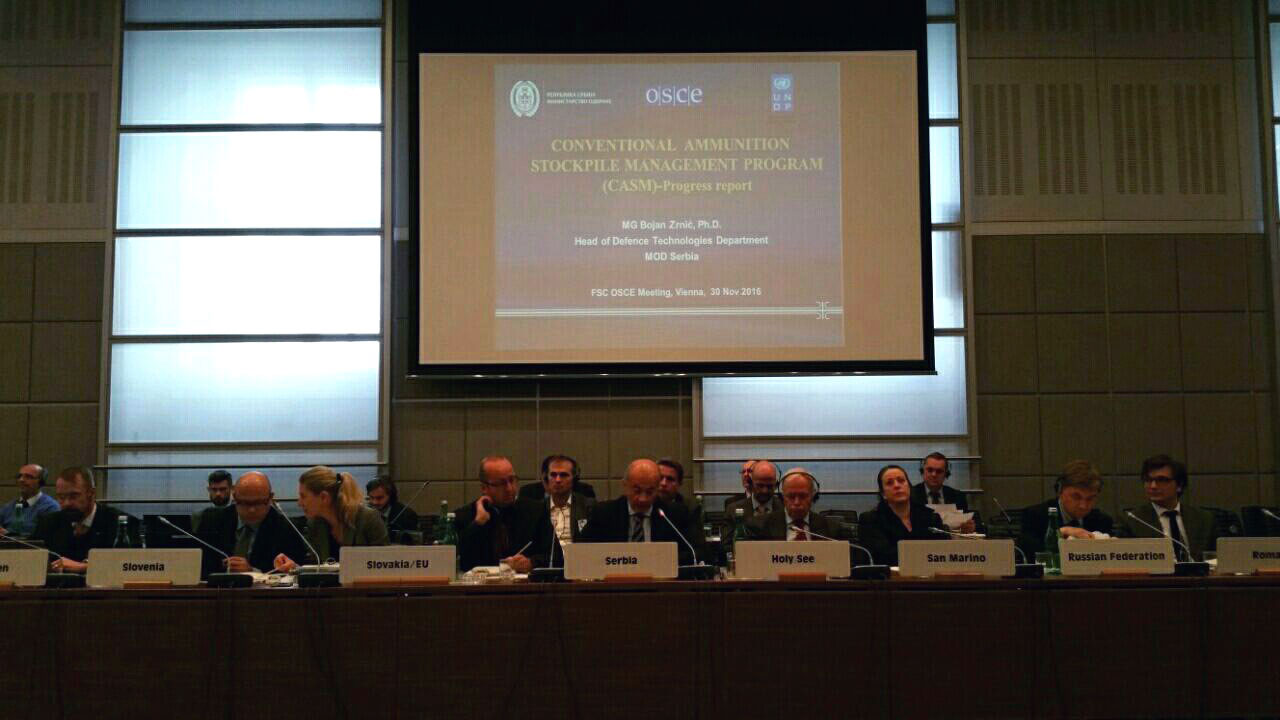 CASM Programme was established at the request of the Government of the Republic of Serbia addressed to the OSCE and the United Nations Development Programme (UNDP) in June 2011, in order to provide assistance for enhancing safety and security of conventional ammunition storage facilities and infrastructure improvement of the demilitarization facilities in TRZ Kragujevac, and disposing of surplus special ammunition (ammunition filled with white phosphorous and special mixtures) and napalm powder. With the aim of implementing the programme, which started in 2012, approximately 1.4 million US dollars of donor funds from 13 countries was collected through the OSCE and UNDP, and UNDP donated funds as well.

Within the CASM programme so far, the following activities were completed: disposal of 162 tons of surplus napalm powder, disassembly of 525 tons of surplus white phosphorous filled ammunition and about 60 thousand pieces of special types of smoke ammunition. Complete disposal of the remaining category of the surplus (special CS ammunition) will be carried out based on the recently concluded agreement between the UNDP and the Ministry of Defence of the Republic of Serbia, by which the Ministry of Defence undertook contracting of the disposal of the remaining quantities within the framework of national procedures, and the process of disposal of this category of surpluses will be completed by the end of January 2017. Besides, activities on the improvement of safety conditions in the TRZ Kragujevac, with anti-static flooring and installation of video surveillance for monitoring process of deactivation, was completed, by which safety of employees was significantly improved.

The remaining activities in the implementation of the CASM programme relating to the replacement of the fire alarm system in TRZ Kragujevac, and storage complex reconstruction in Mirnička Reka.

Apart from presenting the results and plans within the CASM Programme, at the Forum for Security Cooperation in the OSCE Secretariat, special meeting was held with current and potential donor countries which also presented the results of the project and specified the funds necessary for the successful completion of the project.