Minister of Defence meets German Ambassador
Defence Minister Zoran Djordjevic talked with German Ambassador Axel Dietmann on further development of defence cooperation.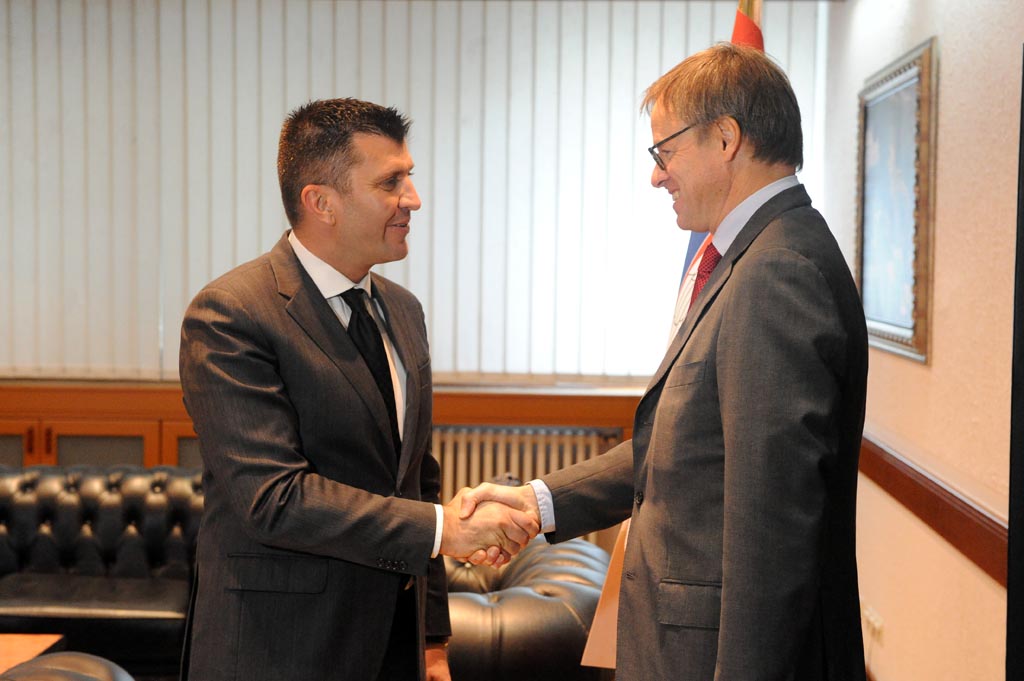 Djordjevic and Dietmann agreed that excellent and intensive cooperation in this sphere followed and encouraged the development of the overall relations between the two countries, which are at a historic peak and characterized by frequent high level meetings and consultations. The result is the developed economic relations which puts Germany among the largest economic partners of Serbia.

The Minister of Defence stressed that such cooperation is a significant step towards the rapid accession to the European Union, which is one of the priorities of the Government of the Republic of Serbia. On that way, during the opening of negotiating chapters with the EU, support and understanding of Germany as a key EU country, is especially important to Serbia.

In the framework of cooperation with the EU, the Ministry of Defence has already been contributing to the implementation of the Common Security and Defence Policy, through engagement in crisis management operations, deepening cooperation with the European Defence Agency, as well as the participation in the high-level meetings and advanced training of personnel in this area.

Cooperation in the field of participation in multinational operations is of great importance, where professional relationship with German counterparts was achieved in preparation, training and the deployment of the mobile medical team to the mission area in Mali (EUTM), and they expressed the intention to continue joint efforts in the next period.

At the meeting, they also discussed the current migrant crisis, which is a common problem whose solution must be achieved through agreement reached by the EU and the entire international community. Minister Djordjevic said that we understand the problems and experiences of Germany that has been affected by the crisis more than other countries, but we believe that Serbia, as a transit country and an EU candidate, showed a high degree of solidarity and skill in managing the crisis. Therefore, we urge the European countries to have greater trust and understanding of that but also of other common issues and problems.

For the purpose of deepening the military cooperation between the two countries, a meeting between Djordjevic and the German Minister of Defence has been scheduled during the forthcoming period.