Day of high officials at LOGEX 15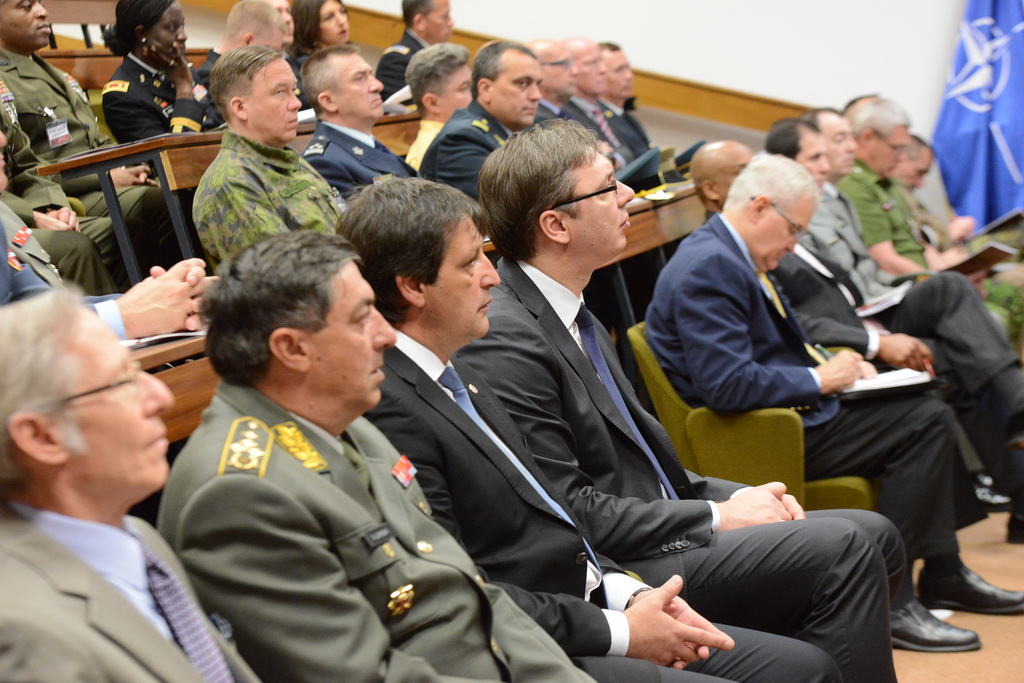 Participants of the international exercise LOGEX 15, held since April 5 at the Training Center via simulations, were visited today by Prime Minister Aleksandar Vucic, Minister of Defence Bratislav Gasic, US Ambassador to Serbia Michael Kirby and Chief of General Staff General Ljubisa Dikovic.

Prime Minister Vucic expressed his content that LOGEX 15 was held in Serbia, stressing that the organization of an exercise of such format was another proof of the capabilities of our Armed Forces.

- We are developing our Armed Forces and greatly strengthening its resources. What we need is knowledge, and we are not falling behind in that field – Prime Minister Vucic said, stressing that our Armed Forces significantly contributed to stability and was an important factor of deterring any potential aggressor.

Vucic stressed that we do not endanger anyone in our environment, and that Serbia is a pillar of stability in the region, and pointed out that Serbia is firmly dedicated to protecting its territory, citizens and their security.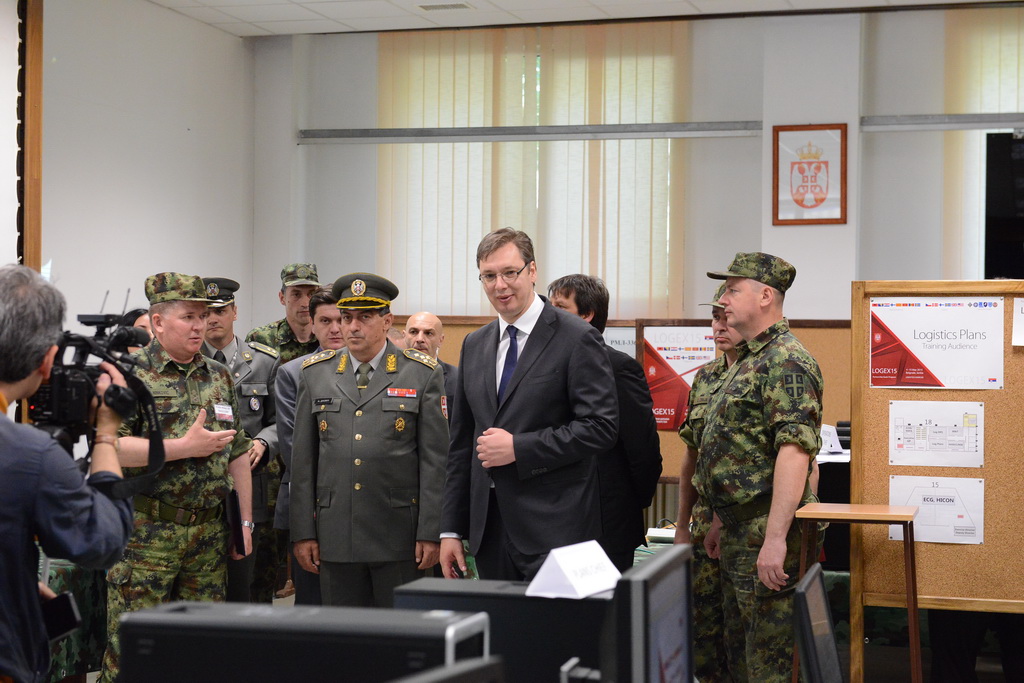 - Serbia is always prepared to react in an according, determined and efficient way – Prime Minister said, stating to the citizens that they can rest assured when it comes to security. He stressed that our country works on strengthening both the military and the police force, and that significant amounts of bulletproof vests and uniforms had been acquired this year. He conveyed his belief that Serbia is not in danger, as it is strong enough to respond to threats of terrorists that had caused great problems in a part of the region.

Minister of Defence Bratislav Gasic conveyed his content that, after two years of joint preparations, the command staff multinational exercise hosted by MoD and SAF had begun, stressing that Serbia had not had the opportunity to host a logistics exercise of such format, with 122 officers, NCOs and civilians participating. He reminded that, in 2006, Serbia formally became a part of the Partnership for Peace Program, stressing that the goals of our country were clearly stated and that Serbia's participation would be in accordance with the economic, staff, material and other capabilities.

Minister of Defence stressed that the Partnership for Peace, as a wide framework for improvement of cooperation and advancement of interoperability not only with the countries in the region, but also with armed forces of NATO members was important for realization of tasks in multinational operations.


- This is the most important logistics exercise of the Serbian Armed Forces this year. The acquired knowledge is invaluable, as future deployments in multinational operations will demand greater engagement of the logistics staff. The must be trained accordingly to the proper standards and procedures – Minister said, concluding that realizations of such exercises promote mutual understanding, trust and cooperation between participants from various countries.

The high officials were informed about the course of the exercise and the activities of its participants by Head of the Logistics Department Brigadier General Zeljko Ninkovic who stressed that, in the past few days, all the participants had shown remarkable dedication, and expressed his belief that they had acquired the necessary knowledge and experience they would be able to implement.

During the exercise, 122 members of the armed forces of Sweden, Finland, Albania, Bosnia and Herzegovina, Macedonia, Croatia, Montenegro, and Moldova, the Czech Republic and US and representatives of Armenia as observers have practiced coordination of reception, admission and further course of the units at brigade level. The focus point of this year's exercise, titled "Logistics support of multinational special purpose forces in the operation of responding to crises" is on preparation and deployment of special purpose unit in crisis response operation, under the auspices of the United Nations, with an emphasis on the development of multinational logistics support.