Day of Serbian Unity, Freedom and National Flag celebrated
The President of the Republic and Supreme Commander of the Serbian Armed Forces, Aleksandar Vučić, attended the ceremony marking the Day of Serbian Unity, Freedom and the National Flag, which was held at the "Čair" Sports Hall in Niš, today.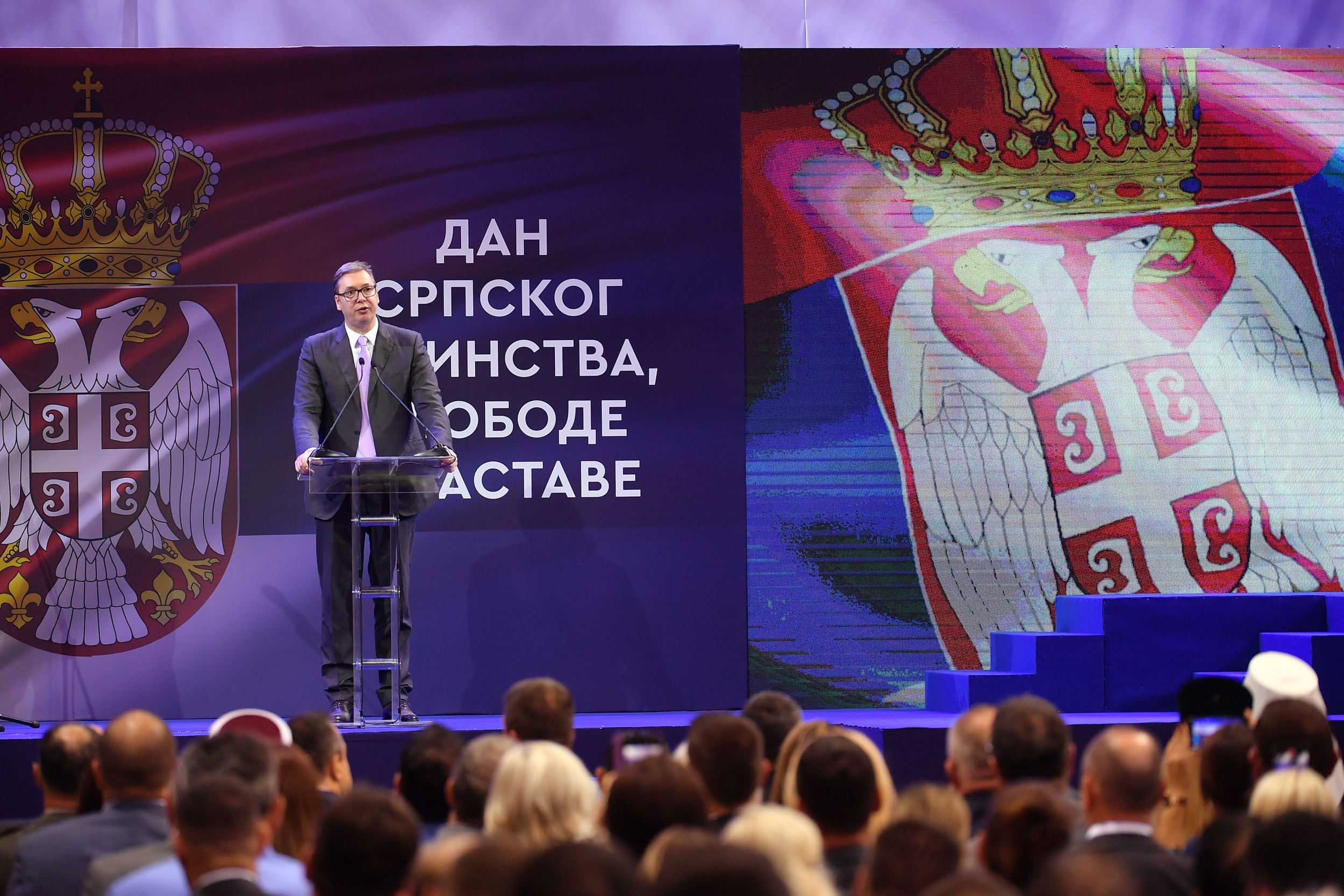 Deputy Prime Minister and Minister of Defence Miloš Vučević and Chief of the Serbian Armed Forces General Staff, General Milan Mojsilović, also attended the ceremony.

Addressing the audience, President Vučić said that we must protect our country and must not only think about the present circumstances, but also about what the future would bring.

- I am proud of the holiday we are celebrating today. Republika Srpska and Serbia, i.e. President Dodik and us, have made a joint decision to celebrate this holiday. We have made that decision, because we Serbs have always had a tendency to become disunited, to insult each other or to easily accept insults and abuse from others - said President Vučić.

Serbs are not allowed to be in power in Montenegro, President Vučić said, because their promises of fighting against Belgrade and Moscow are not convincing enough, their dislike of Kosovo and Metohija is not convincing enough, nor are their assurances that they do not consider Kosovo and Metohija a part of Serbia.

- It's like that everywhere. They say: "We love Serbs, but only the ones who don't like Belgrade, who don't like Serbia." They have been doing this to us since the time of Pavelić and even before Pavelić. For example, there was Besarović, vice-president of the Ustasha government and minister of health, who viewed Pavelić as God, and such man was a representative of the Serbian people. Nowadays, they are intent on appointing us representatives like him all over the region. For them, it is only important that they appoint a representative of the Serbs who is not really a Serb, who clearly renounces Belgrade and his Serbian people and claims that the real Serb is in fact the one who hates Belgrade, the one who hates Serbia and the Serbian unification policy, the one who wants us to be scattered over a thousand places, to not have the same language, to not have the same names and surnames, and to not have the same flag. We can live in many countries, but we have a single national flag, the red-blue-white tricolour, we have our Serbian name and surname, we have our lineage, which we are not ashamed of - said President Vučić.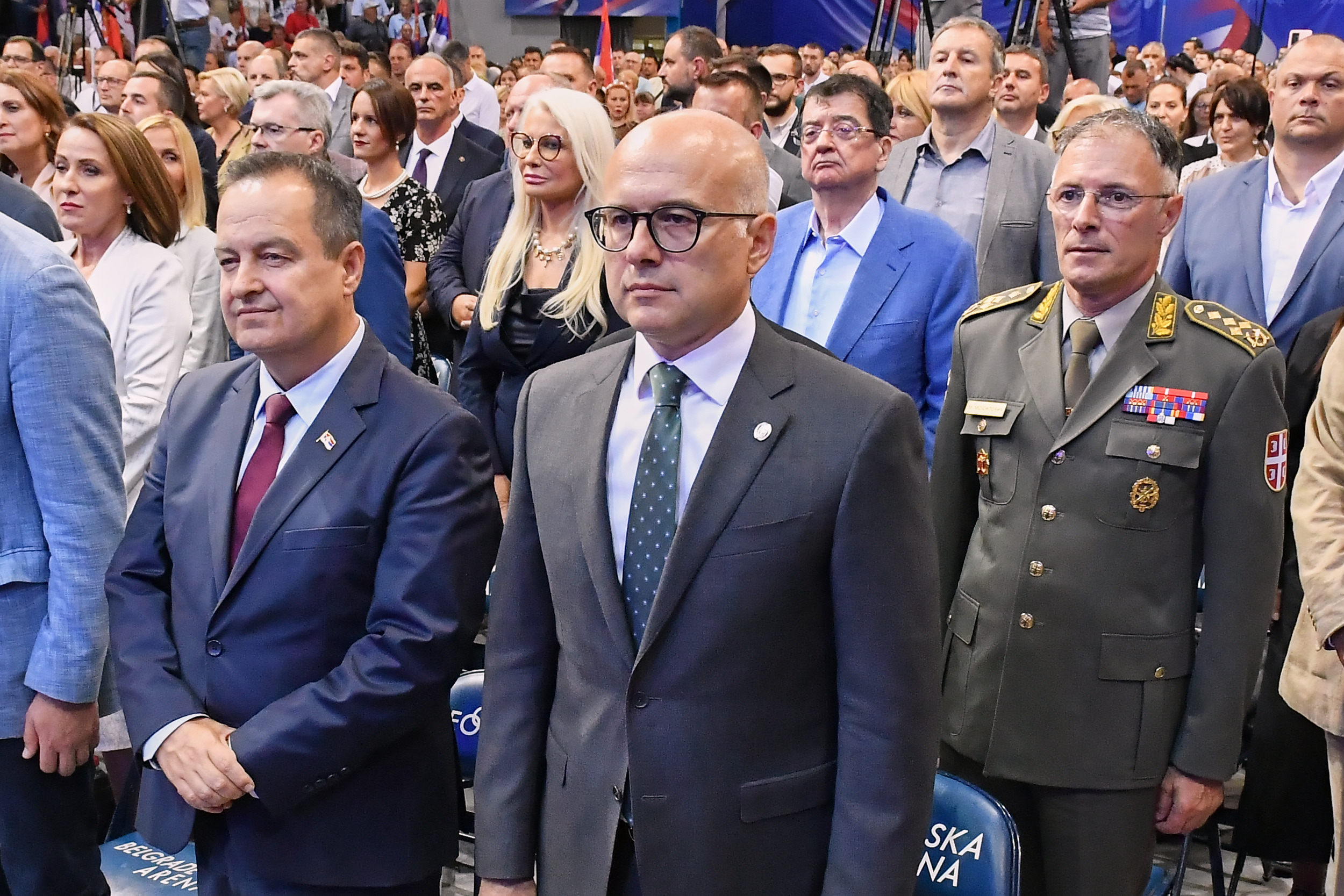 According to the President, the Serbs must be aware that there is no justice for them and that there won't be any for a long time.

- When we are falsely accused of creating a Great Serbia, everyone is as quiet as a mouse. For a year and a half now, since the war in Ukraine started, thousands of texts have been published, thousands of articles claiming that the Serbs will attack the region, that they will create a Great Serbia, the Serbian World, that they will go to war with everyone. And who have we gone to war with? With no one in Kosovo and Metohija, and no one has apologized for that, they never apologize to us - the President said.

There is not a single wounded Albanian in Kosovo and Metohija, he added, but there are seven wounded Serbs, two of them children.

- And who is to blame for that? Either both sides or the Serbs. Do you think this will change soon? It will not. Even though Serbia is more successful in everything, even though we are advancing the most rapidly, we will always be a disruptive factor for many people in the world for another reason. Let me explain why. That is what we are celebrating today. They do not understand with how much pride, honour and love we celebrate the word "freedom". We celebrate the meaning of that term, even if we are the only island of freedom in Europe, which means that we make our own decisions, that we ourselves guard our sky, that we ourselves defend our country, that we ourselves protect our people – and we will be proud of that! - stressed President Vučić.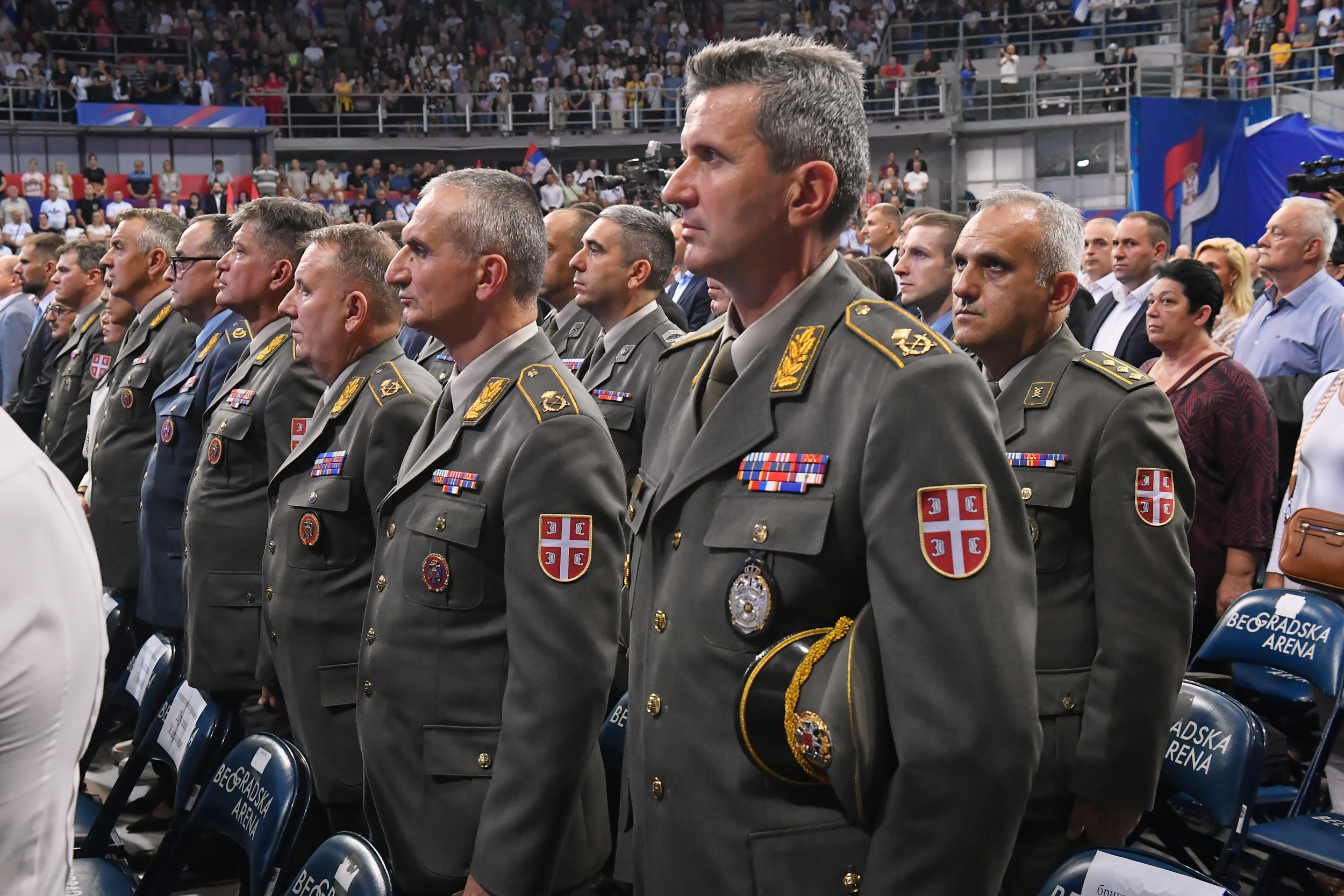 According to the President of the Republic, Serbia is proud of its freedom and foreigners will never make decisions in our country.

- Gone are the days when you had your minions in power doing what you order them to do. Today, we fulfil the orders of our people, the orders of our citizens. We fulfil the orders of those who want their children to live here in Niš, in the future, and in all other parts of Serbia - said the President.

President Vučić especially thanked the Serbs who carry the Serbian tricolour even in those places where it is not easy to carry it.

- And when they tell us to give up Kosovo and Metohija, when they tell us to give up our rights, and they say that every day basically, we respond: "How can we give up our name and surname? How can we give up our children, our future? How can we give up our people?" We will not and we will pay any price to preserve our freedom, our name and surname and our tricolour. Guarding the Serbian flag was the greatest honour and the greatest pride in every war. They could occupy our positions, they could take our entire territory from us, they could do everything, but they could never steal the red-blue-white tricolour from us. It is our joy. Our tricolour is our pride, we stand behind it, we rejoice with it - said President Vučić.

At the end of his speech, the President thanked everyone who loves Serbia.

- Thank you for loving Serbia, for loving our Serbian tricolour, and thank you for not allowing anyone to break the Serbian spirit or shatter the Serbian unity ever again. The Serbs have given enough to others and we have suffered a lot because of it. It's time for us to connect, no matter how many countries we live in. The borders cannot take away our language, flag, script, or belonging to the same people. Long live the Serbian people! Long live the citizens of Serbia! Long live our tricolour! Long live Serbia! Long live Srpska! - said President Vučić.

In his sermon, His Holiness Porfirije, Serbian Patriarch, touched upon the significance of the holiday celebrated today. According to him, people living in the Republic of Serbia and Republika Srpska celebrate this holiday together with other fellow Serbs living in Montenegro, Croatia, Macedonia and other places.

- This means that the unity we are talking about is the unity of the Serbs living in Republika Srpska and the Republic of Serbia, but it is not limited only to these geographical or spatial boundaries. It does not have a time frame either, because it is not limited only to the present moment, but is diachronic, extending through history. Through prayer and love, through our cultural heritage and wonderful tradition, we Orthodox Christians are in unity with all our ancestors who had boundless self-sacrificing love for their people, for their church and state, for truth, justice and freedom - stressed Patriarch Porfirije.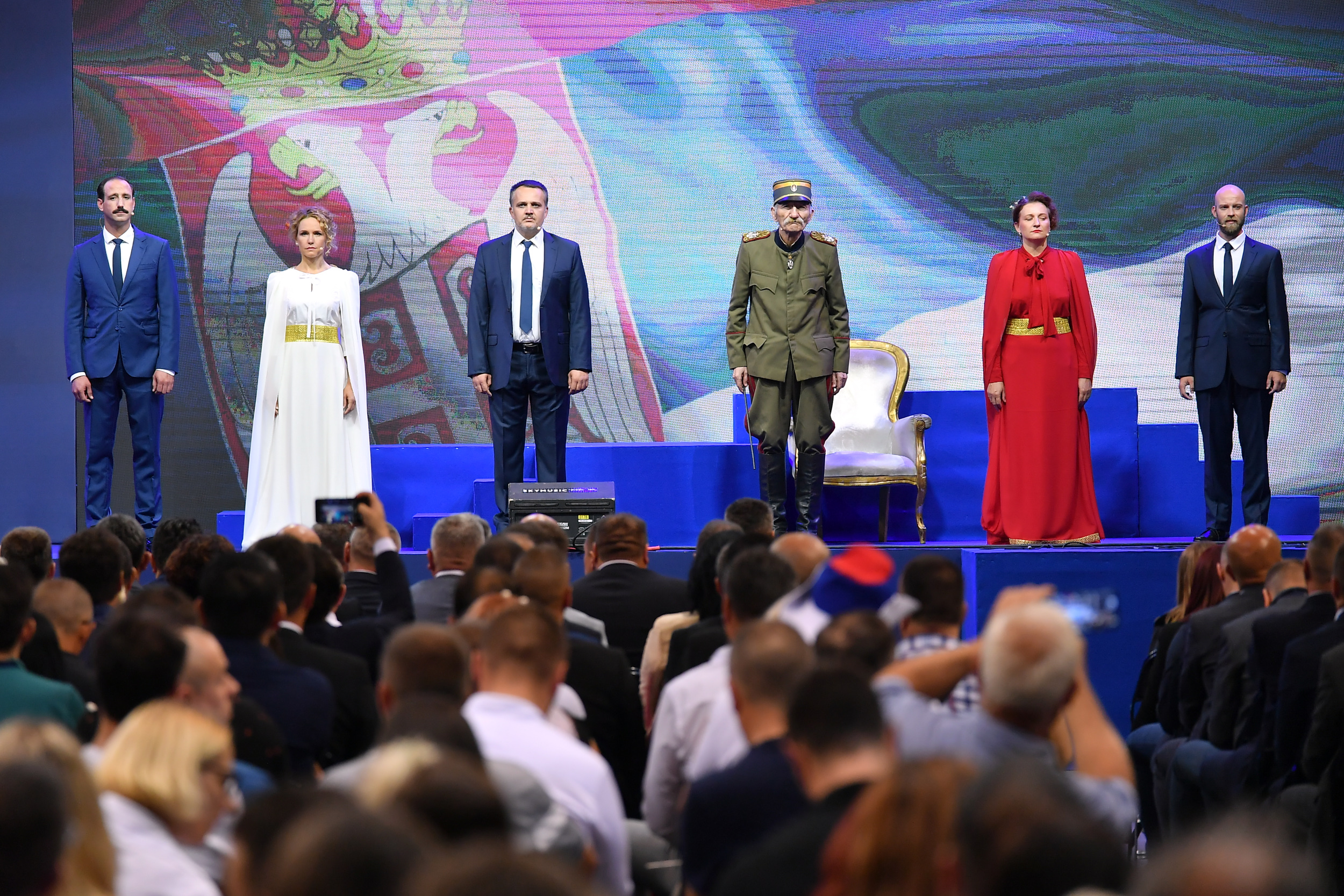 The President of Republika Srpska, Milorad Dodik, said that he did not belong to the Bosnian Serbs, but to the one, unwavering Serbian people living in this region.

- They want to shatter our national unity, to subjugate it, they want us to give away everything we have in order to please someone - stressed President Dodik, recalling the great suffering of the Serbian people.

According to him, there are certain people who do not allow the Serbs in this region to achieve what we are celebrating today – our national unity, freedom and national flag.

- History is a long process, but I think we have managed to do one thing - to gain mastery over our present, to become aware of our past, and that's the only way we can make our future right - emphasized President Dodik.

The ceremony was attended by members of the collegia of the Minister of Defence and the Chief of the Serbian Armed Forces General Staff.

The Day of Serbian Unity, Freedom and National Flag was first celebrated in 2021 on the day when the breach of the Thessaloniki front started in 1918, on the decision of the governments of the Republic of Serbia and Republika Srpska to observe this holiday jointly.