Meeting between Minister Vučević and Italian Ambassador
Today, Deputy Prime Minister and Minister of Defence Miloš Vučević met with the Ambassador of the Italian Republic, Luca Gori.

Minister Vučević expressed his satisfaction with excellent bilateral relations which had reached the level of strategic partnership, thus forming a basis for good political relations and a close dialogue. According to him, high-level meetings provide a solid basis for improving cooperation in all fields, including the bilateral defence cooperation.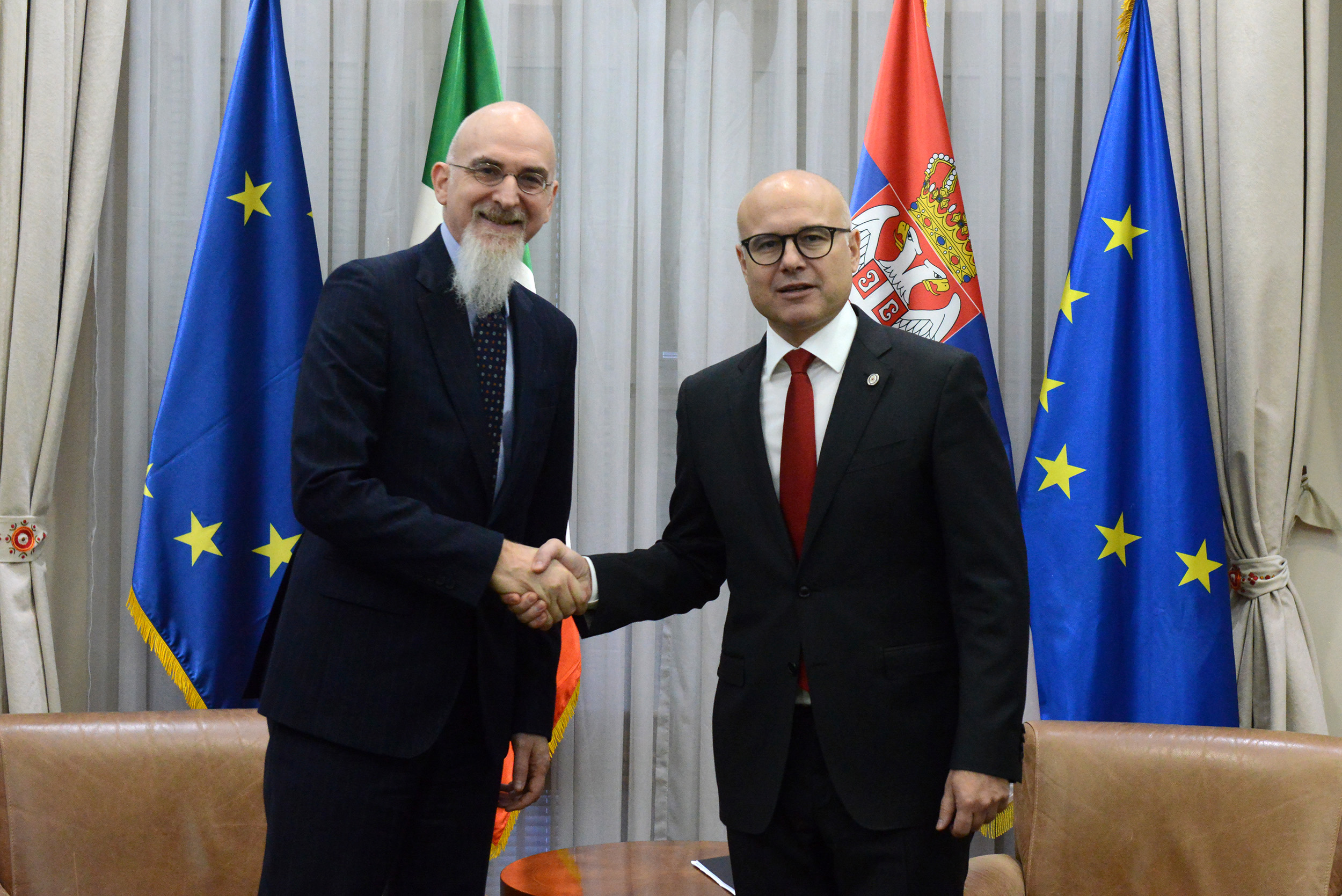 The Minister of Defence expressed his thanks for the long-standing and active participation of members of the Italian Armed Forces in KFOR, particularly for providing protection to the Serbian population and the Serbian cultural and religious heritage in Kosovo and Metohija. He also positively rated the activities and the communication between the Chief of the Serbian Armed Forces General Staff and KFOR Commander.

Emphasizing that the Republic of Serbia would remain firmly committed to peace, stability and the preservation of dialogue with Priština, Minister Vučević expressed deep concern over how the situation would develop in the southern Serbian province.

Minister Vučević conveyed Serbia's determination to continue carrying out the main cooperation activities in the upcoming period and highlighted the importance of joint participation in the UN mission in Lebanon (UNIFIL), which was the height of defence cooperation between the two countries. He said that talks aimed at improving the military economic and military technical cooperation should be continued.

Ambassador Gori congratulated Minister Vučević on his appointment and wished him a lot of success in his new role. He agreed that the political dialogue was intensive and that a foundation for further development of overall bilateral relations had been laid. Ambassador Gori said that it was important to continue a high-level dialogue and pointed out the Italian side's willingness to deepen bilateral military cooperation, for which there was considerable potential. He also conveyed Italy's readiness to sign a Technical Arrangement on cooperation in the field of materiel, armament and defence industry in the upcoming period.

Ambassador Gori also announced a joint visit from the Italian ministers of foreign affairs and defence to the Republic of Serbia on November 22, 2022, and said that Italy would remain Serbia's friend and partner, supporting our country's EU integration process.