President Vučić: The Friendship of Steel between Serbia and China
Today, at the reception on the occasion of the National Day of the People's Republic of China organised in the Embassy in Belgrade, President of Serbia Aleksandar Vučić stated that there exists a friendship of steel between the two countries, and that China proved itself to be our friend even in difficult times. He also expressed gratitude to Chinese leadership for their support in the matter of Kosovo and Metohija regardless of all the pressure.

The reception, which started with the performance of national anthems of Serbia and China, was also attended by Deputy Prime Minister and Minister of Defence Nebojša Stefanović PhD.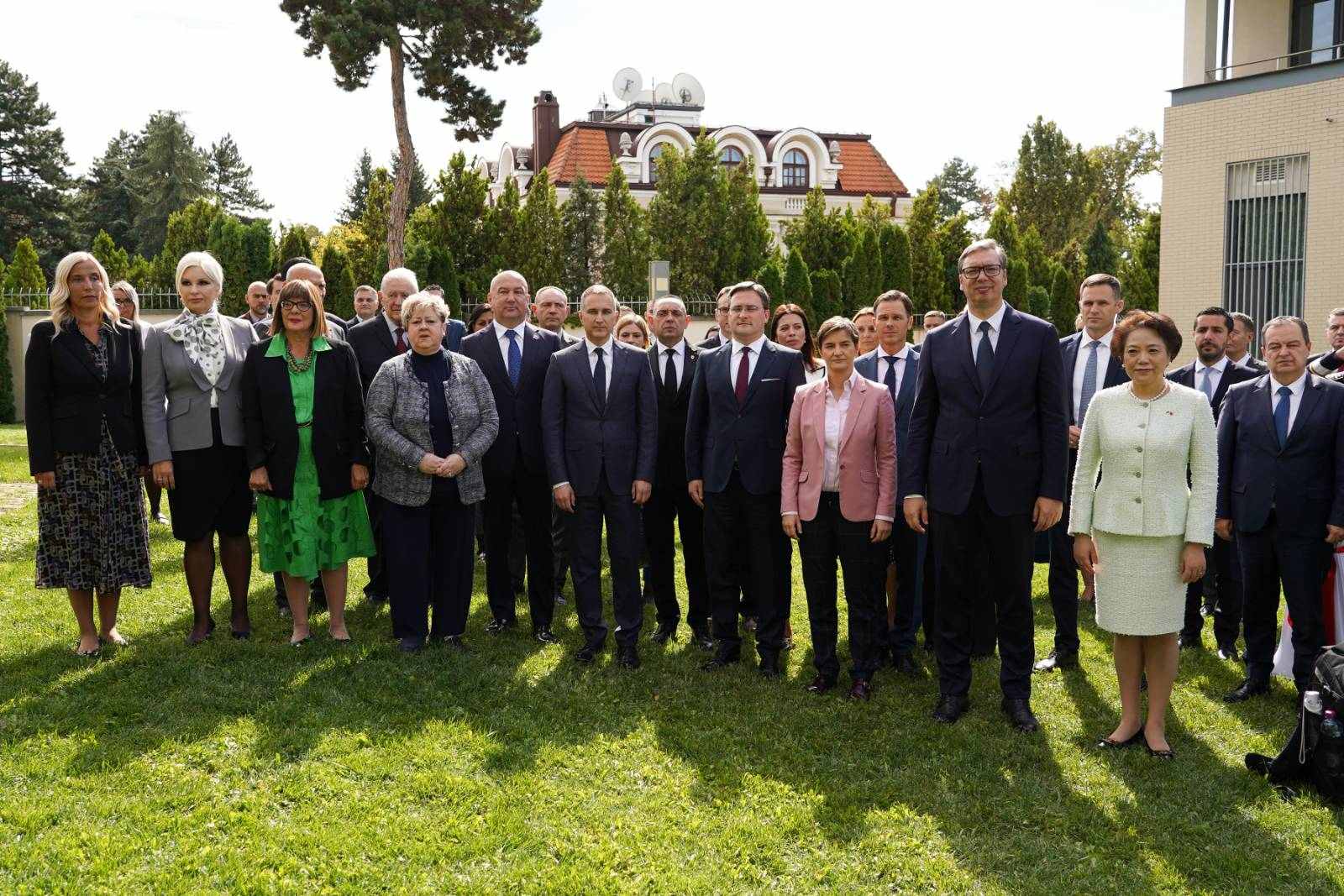 "I am immensely grateful to the Chinese leadership for the support that they have been rendering to Kosovo and Metohija being a part of Serbia, and support for our territorial integrity, and also for the fact that they newer question that matter regardless of all the pressure.

Just like we have never been brought into question our relations to China and support to the policy of the preservation of territorial integrity of China and the policy of one China,", the President of Serbia added.

"We can be proud of our friendship. I sincerely believe that it truly is a friendship of steel", Vučić sent a message.

The President of Serbia said that 10 years before no one had even dreamt of everything that we were able to achieve working together and cooperating with China. He reminded the present that China assisted Serbia in the time of Corona pandemic by providing medical equipment and in many other ways, and he thanked the Chinese for having demonstrated their true friendship in the moments of hardship. He pointed out that China helped Serbia by taking over "Smederevo Steel Plant" after we had looked for partners loosing huge amounts of money every month.

"We had not managed to resolve the problem until President Xi, at the invitation of President Nikolić, came to Smederevo and promised that he would assist, and, since then, 5,700 people have been living in their certainty, and at least 10,000 to 12,000 people more who are working with HBIS Smederevo Steel Plant, which has become the second exporting company of Serbia", Vučić stated.

"In the meantime, they told us to open tenders for the mine of copper and gold", said President Vučić adding that the debt of the RTB Bor at that time had totalled 1.2 billion Euros and that the state wanted to speed things up supposing that no one from the western countries would answer the invitation to tender.

"They all said that they were interested, and we lost an entire year in different procedures, but again the salvation came from China, hence today, it is our largest exporter that contributes to the citizens staying in the east of Serbia. This is but part of the examples since we have a multitude of infrastructure projects that we are implementing together as well as investors from China who are to change the state of things in the country", Vučić stressed.

He reminded of the meeting that he had had with Minister of Foreign Affairs of China Wang Yi in New York during which he once again issued an invitation for President Xi to pay a visit to Serbia.

"I am aware how busy he is regarding the preparation for the 20th Congress of the Communist Party, and we are all waiting impatiently for the results of the congress, to hear the new guidelines for the Chinese Government and leadership, and to continue our extraordinary cooperation", Vučić stated.

He added that the people from the Presidency have three or even four meetings a week with representatives of the Embassy of China, underlying that such cooperation exists with no other embassy.

"I thank you for your patience and for the time that you always find for our requests. Even when we cannot find coal anywhere, and when we have some objections to better quality Chinese coal, since we, I guess, have to use the coal of lesser quality, they find lesser quality coal from Indonesia for us, and help us once again so that we are able to survive the winter. We will always be your true friend, the one who has never said a bad word against China anywhere. Even where it was implied that we are to remain silent, we were not silent. Even in the White House where they spoke ill of China, I spoke well of it, despite the challenges and hopes of the host of hearing some other words. I truly think that we can be proud of our friendship", said Vučić.

Ambassador Chen Bo expressed the readiness of China to make efforts together with Serbian friends to continuously strengthen mutual friendship of steel. She underlined that China and Serbia can set and are yet to set an example to the whole world in terms of mutual respect and cooperation.

According to her, despite a complex international situation, and owing to the leadership and endeavours of the leaders of the two countries, the relations between China and Serbia have maintained a high level of development.

"The two sides strongly support each other regarding the preservation of national sovereignty and territorial integrity, and they work together on the protection of international system in the UN", the Chinese Ambassador reminded.

As she says, the economic cooperation, which is on the constant rise, is of huge significance.

Speaking about today's national Chinese holiday, Chen Bo noted that under the leadership of the Communist Party, China has maintained the fast economic growth and long-lasting social stability, adding that China has developed a prosperous society in its every aspect.

"China will continue following its path of development", said Chen Bo adding that she believes that a stable and prosperous China will bring more certainty to the uncertain world of the present, and offer new possibilities to it.

The National Day of the People's Republic of China is Chinese Statehood Day which is celebrated on 1st October in honour of the anniversary of the establishment of the People's Republic of China on Tiananmen Square by the proclamation of Mao Zedong back in 1949.

Source: Tanjug