President Vučić Opened 10th International Exhibition of Arms and Military Equipment "PARTNER 2021"
Today, President of the Republic of Serbia and Supreme Commander of Serbian Armed Forces Aleksandar Vučić opened 10th International Exhibition of Arms and Military Equipment "PARTNER 2021" in the presence of Deputy Prime Minister and Minister of Defence Nebojša Stefanović PhD and Chief of General Staff of the Serbian Armed Forces General Milan Mojsilović.

Addressing high officials and guests from the country and abroad, President Vučić expressed his satisfaction with the opportunity to welcome them to the International Exhibition of Arms and Military Equipment "PARTNER 2021".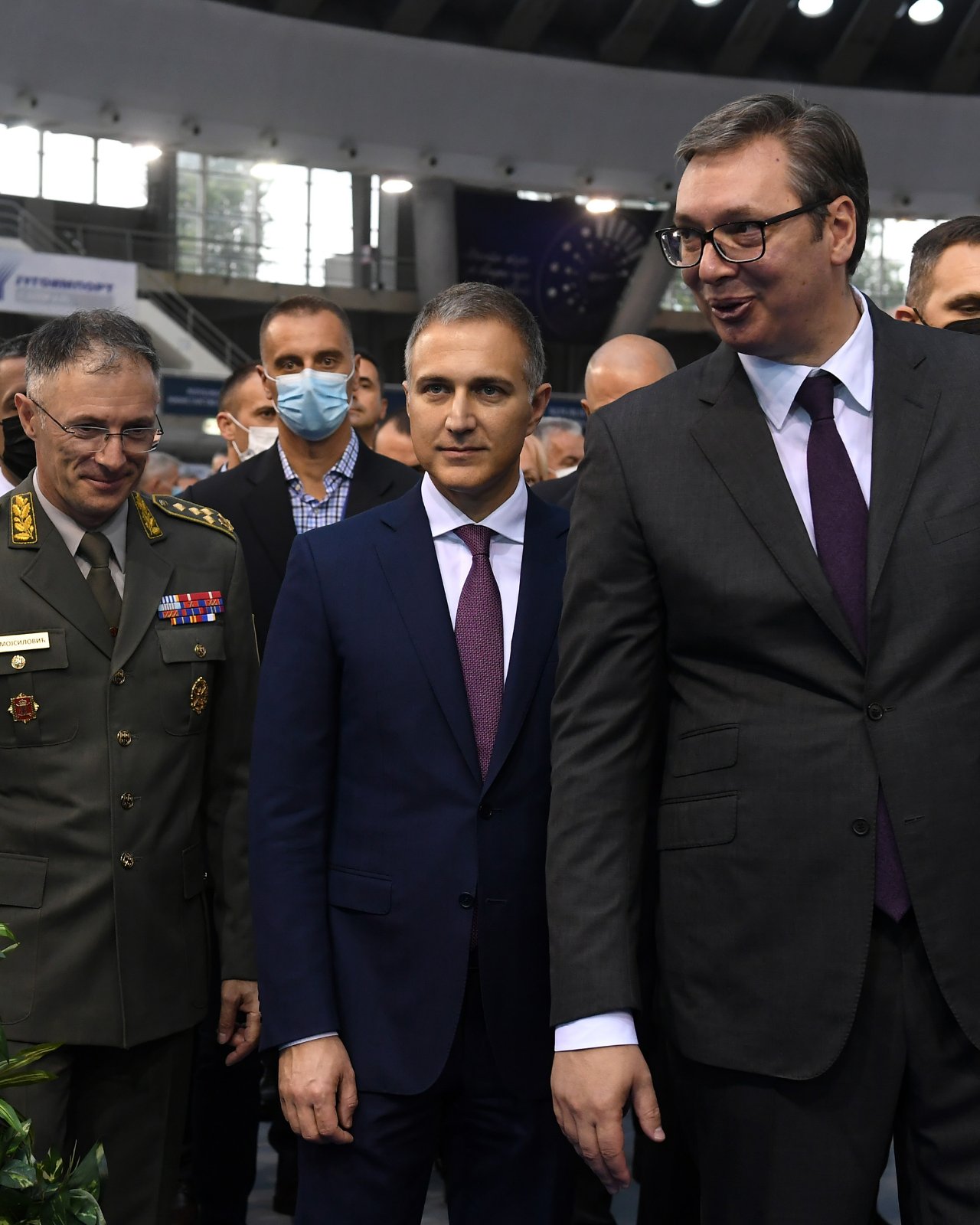 - At the very beginning I would like to congratulate the Belgrade Fair and Jugoimport SDPR and Ministry of Defence on the organisation of this Exhibition, and I would also say, an extraordinary promotion of our knowledge and intelligence of our defence industry. I believe that our diplomatic efforts have been recognised all over the world in our attempt to promote peace and stability, so that today and yesterday we hosted no less than 117 delegations from all over the world, while we are concurrently organising one of the most significant exhibitions of armament, being the most important on in this part of Europe - President Vučić said.

He stressed that history often taught us the lessons which we forgot after short time.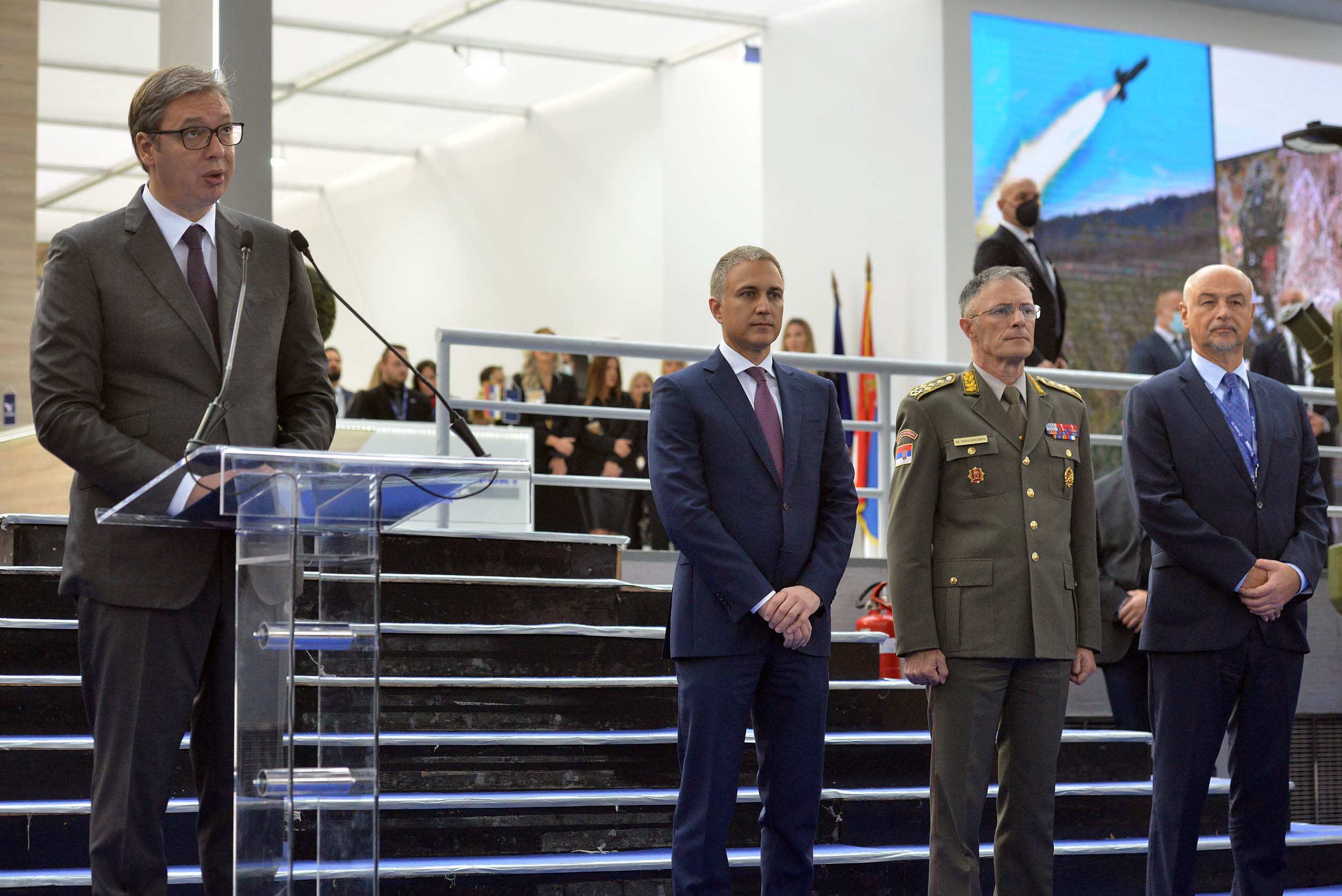 - But it seems to me that today we learn them somewhat better and more when compared to some periods from the past. Speaking about the historical role of our people, the very founder of the Non-Aligned Movement, Jawaharlal Nehru said that he had learnt many things from our experience, and our primary goal and our key policy is to have peace and stability. There is a saying that claims that – there is no path to peace. Peace is the path – the president of the Republic stated.

Vučić reminded that the Serbian state, through the phases of its existence, had been recognised for its defence industry.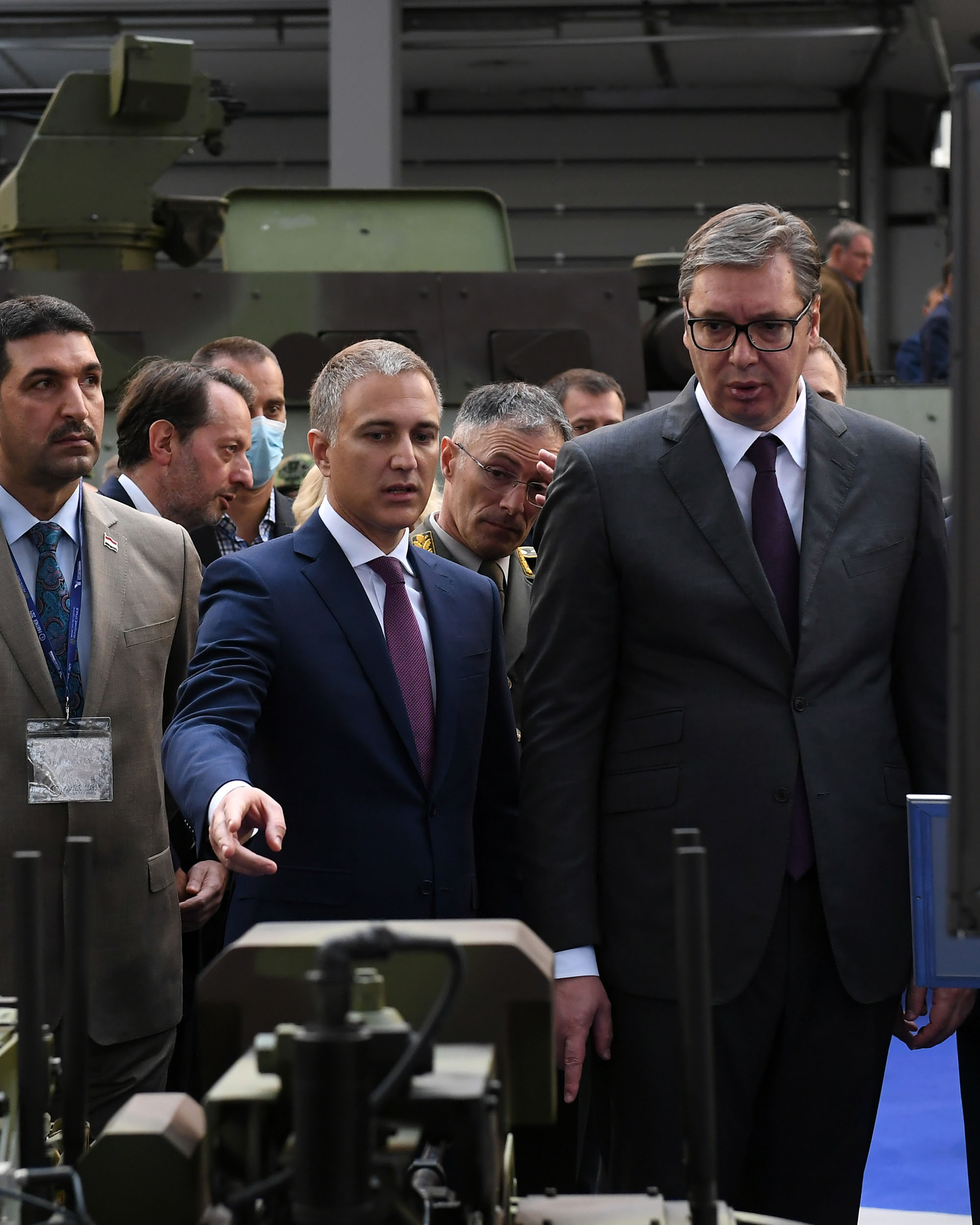 - Many would be surprised by the fact that here we have the products of companies that have been existing for more than 165 years. I am particularly happy because this year's Exhibition is the largest ever and it presents the greatest number of novelties in ten-year long history of this armament exhibition. In previous several years, we have managed to place the armed forces and the military industry on the pedestal of people's confidence where they rightfully belong, and not only because of their historical merits. Here presented are the research, development, testing and overhauling capacities of the Ministry of Defence and our defence industry. Here we presented the highest achievements of the factories form the Group of defence industry of Serbia, Jugoimport and part of our scientific and research institution whose task is to equip our armed forces and make them capable - the president said.

According to him, when we speak about peace and stability, in the world of interests there is no room for the weak. In the world of interest there is respect for those who are strong.

- That is why it is important for us to develop our defence industry so that we would be able to protect that peace and stability, not to be forced to suffer humiliation, not to be forced to be threatened – Vučić underlined.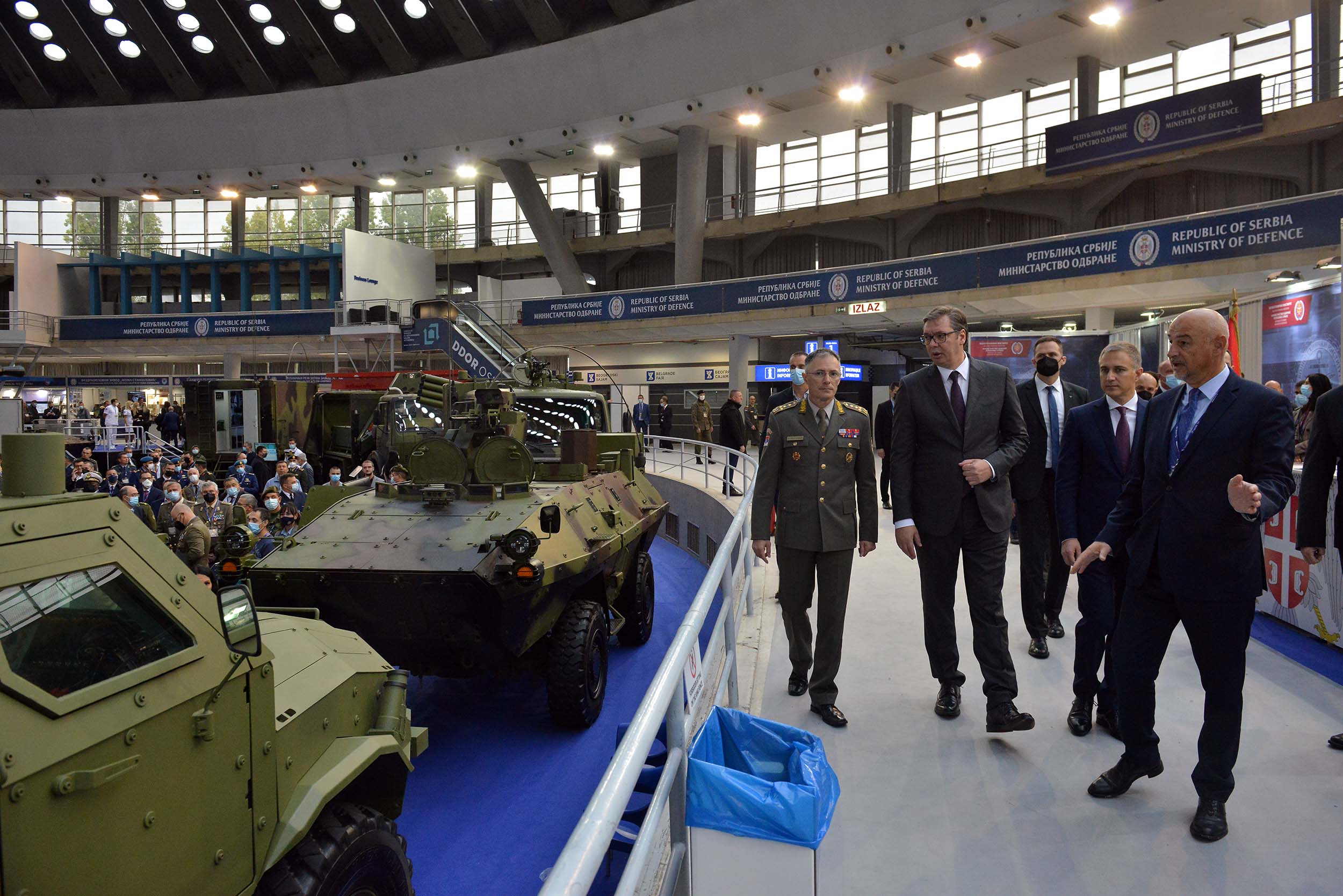 The president assessed that it is difficult to compete with great powers in the sphere of promotion of arms and military equipment.

- In that respect, it is important for us to build our own path, to choose those areas of arms in which we can compete with the best. We cannot do it in all the areas, but I am certain that with dedication and great work we can manage, not only to preserve our place in the world market, but find new partners, and we can make our prices competitive and better than the prices promoted by great countries and great systems – President Vučić stated.

He commented that people, apart from what we buy from abroad, do not notice everything that has been done for our country in the previous period in terms of the opening of new factories and new products of defence industry. He instanced the vehicle "Lazar 3" and reminded that only year and a half before, the previous versions of the vehicle had not been fielded in the Serbian Armed Forces.

- Today, it is all part of our armed forces, and we have more and more of them, and we are producing more and more of them, from "Big Miloš", "Small Miloš", armed with 12,7mm machine guns apart from 7.62mm, armed "Wasp"… A lot of changes are taking place and we are keeping up with the world – Vučić stressed.
He underlined the importance of the fact that many ministers of defence and chiefs of staff of foreign countries came to visit the Exhibition "PARTNER" and he thanked them for that expressing his hope that they would have something to see and that they would get a good and reliable product at a reasonable price.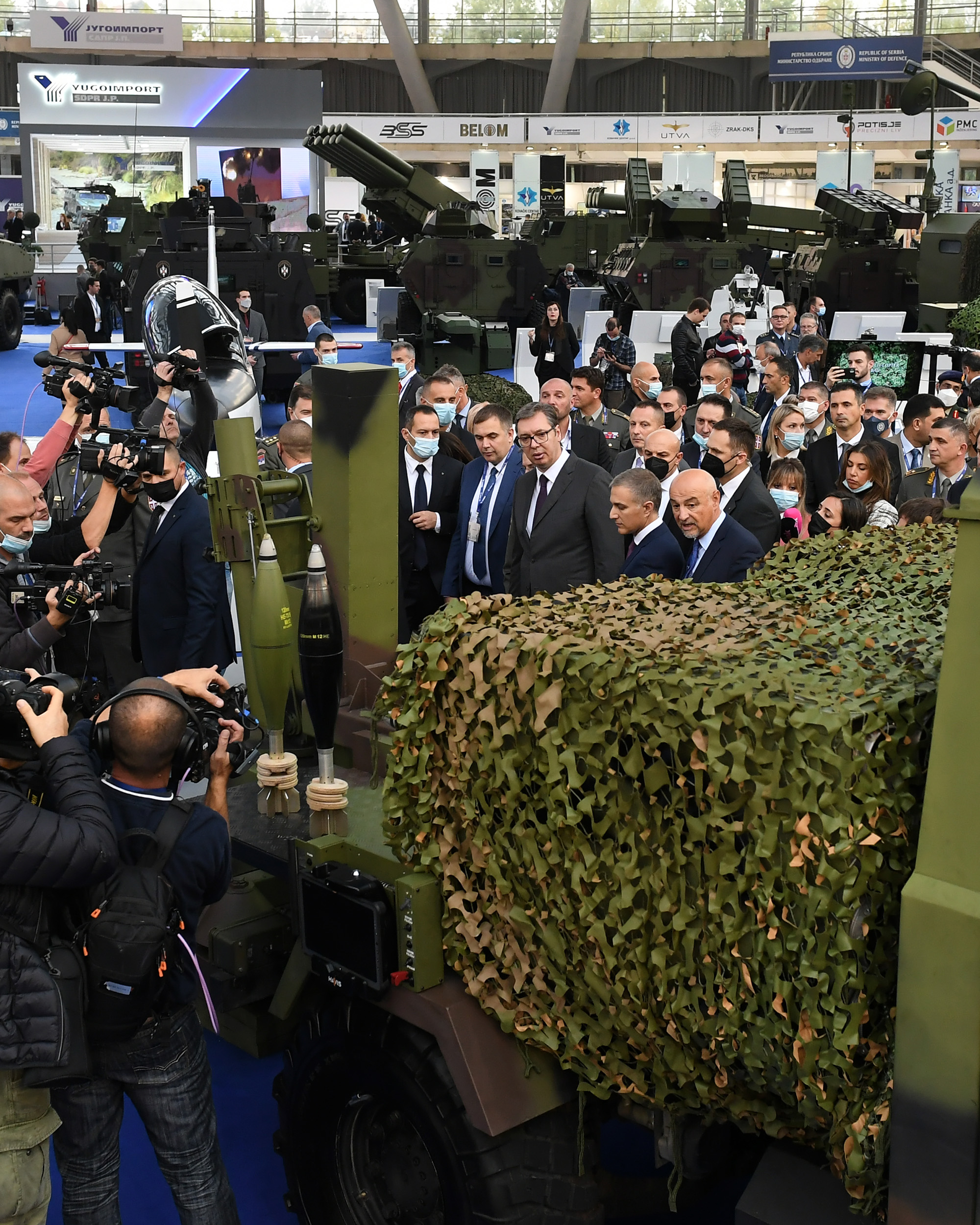 - Of course, there are always problems and the problems are not few, but we have managed to endure the hardest period, and we have underwent the most difficult period and I am certain that we will manage to overcome these problems even stronger, more robust so that the next year we will present even greater number of novelties. Finally, I wish you successful conduct of planned activities, and to all exhibitors, the private exhibitors as well, not just the state complex, which means that the state and private sector have to work together in the sphere of defence industry. Our deer friends who have come here from different countries, from Algeria to Angola, I wish you to feel at home here in Belgrade because this is your second home. Welcome and come and visit us more often! Thank you very much! Long live Serbia! – said President Vučić at the end of his address which marked the official opening of 10th International Exhibition of Arms and Military Equipment "PARTNER 2021".

After the opening of the Exhibition, President Vučić, accompanied by Minister Stefanović and General Mojsilović toured the Exhibition set up in the Hall 1 and Hall 4 of the Belgrade Fair.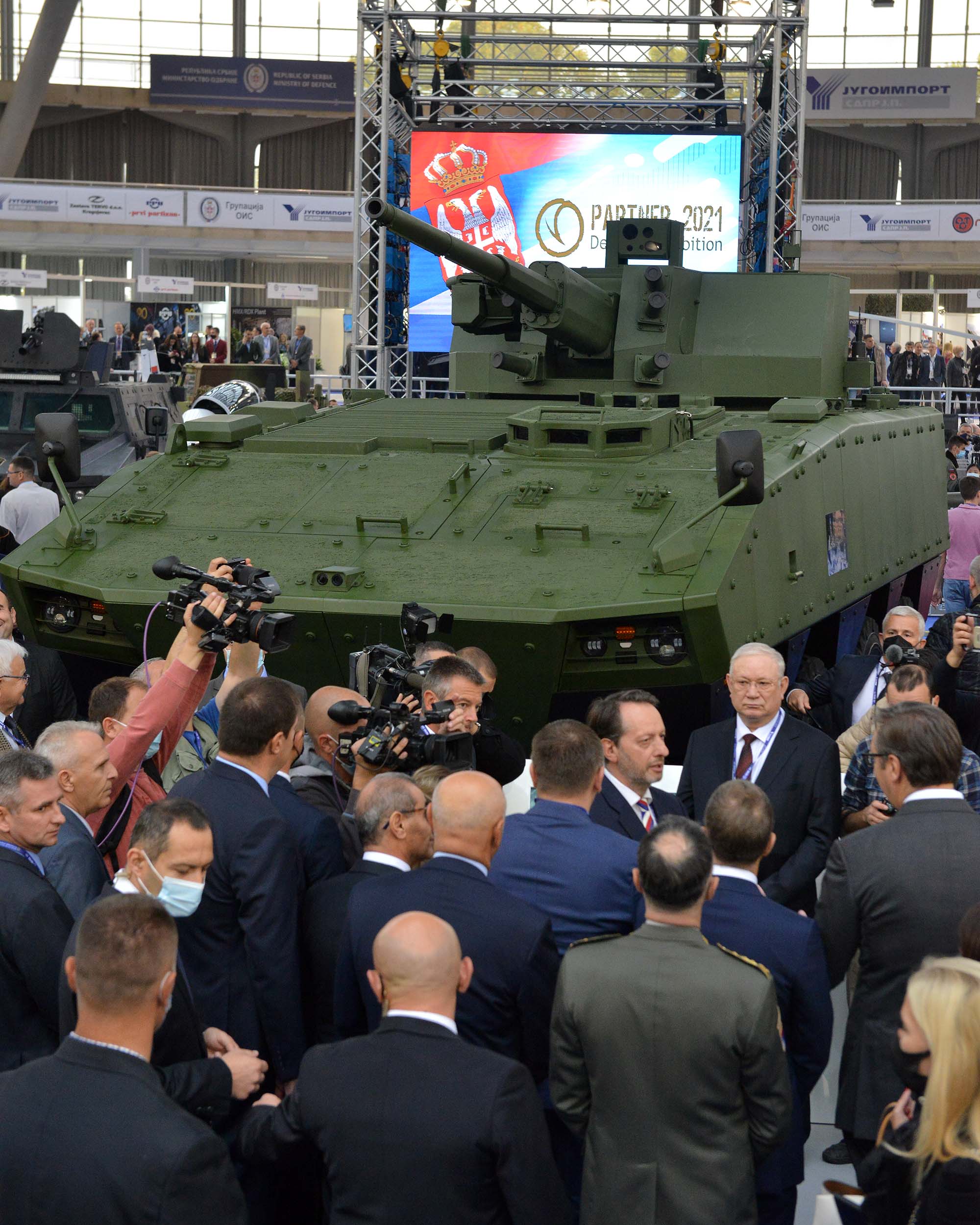 A new combat infantry vehicle "Lazanski" drew particular attention with remotely guided 57mm fighting station which was named after legendary military reporter, analyst and publicist Miroslav Lazanski.

Assistant Minister for Material Resources Nenad Miloradović PhD presented to President Vučić the latest assets developed by Serbian defence industry, among other: heavy gun 20x110mm "Šarac 99", unmanned aerial vehicle system with projectile "145 Raven", the latest versions of self-propelled howitzer Nora B-52 and armoured vehicle "Miloš" and 3rd generation great range antiarmour missile system "NOVA".

The president of the Republic, minister of defence and chief of General Staff also visited the stands of national private sector exhibitors and foreign companies which had decided to present their achievements at the Exhibition.

Following the tour of the Exhibition, President Vučić addressed media stressing that he was very pleased with what he had had the opportunity to see at the Exhibition "PARTNER".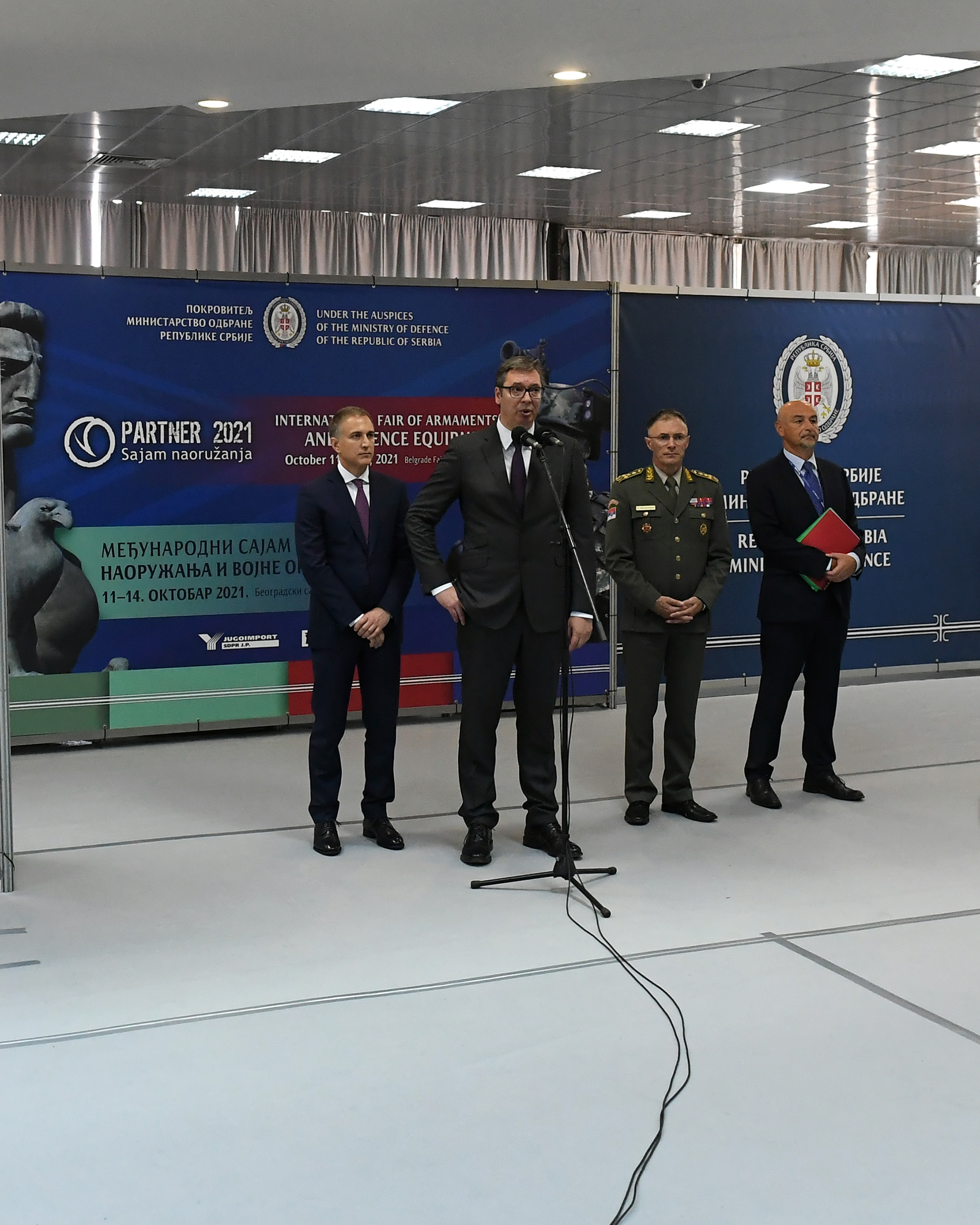 - First of all, I am happy because we have drawn a great number of guests from abroad, a great number of delegations which participated in Commemorative session, marking of 60th anniversary of the Non-Aligned Movement. As you could see, the exhibitors present here include no less than 25 companies of the Russian Federation, and here we have the greatest Chinese companies, and we have the most significant western companies, representatives of both France and Italy and European companies and United States and that shows to how much the importance of the Exhibition of arms and military equipment in Belgrade has grown. At the same time I am pleased by the work done by the Ministry of Defence, Serbian Armed Forces, our special institutions, our scientific institutions, together by "Jugoimport SDPR", and with the novelties that we have, because we have to keep up with the world – Vučić said adding that in some predictions we sometimes manage to be even at the front.

He said that this year we have the largest number of novelties from national defence industry and added that he believed that, in the period to come, we would be able to further advance our defence industry.

- You had the opportunity to see our combat vehicles produced in Priboj in "FAP" and the gratitude of those people, and many good vehicles from "Zastava TERVO" and many other products made in Kragujevac, and in Trstenik, Čačak, Užice and many other towns, Zemun, Lučani… The interesting fact is that this is the first time that we have received several offers from abroad. People want to buy our factory in Lučani, but at this moment we are not interested in selling nor we will be in the period to come – Vučić stated.

Answering the journalists' questions, President Vučić said that he was very pleased with the work of Minister of Defence Nebojša Stefanović.
- Minister Stefanović, as minister of defence, does his job very well. I have not observed any problem or any frivolousness, irresponsibility in everything that we have done in previous days, weeks and months. I happened to be the Supreme Commander of the Armed Forces of the Republic of Serbia, and even in that matter I can make my judgement and I have no problems whatsoever. What I have or do not have to say to Nebojša Stefanović, I said it a year ago, and as far as I am concerned, I finished the matter then – President Vučić stated.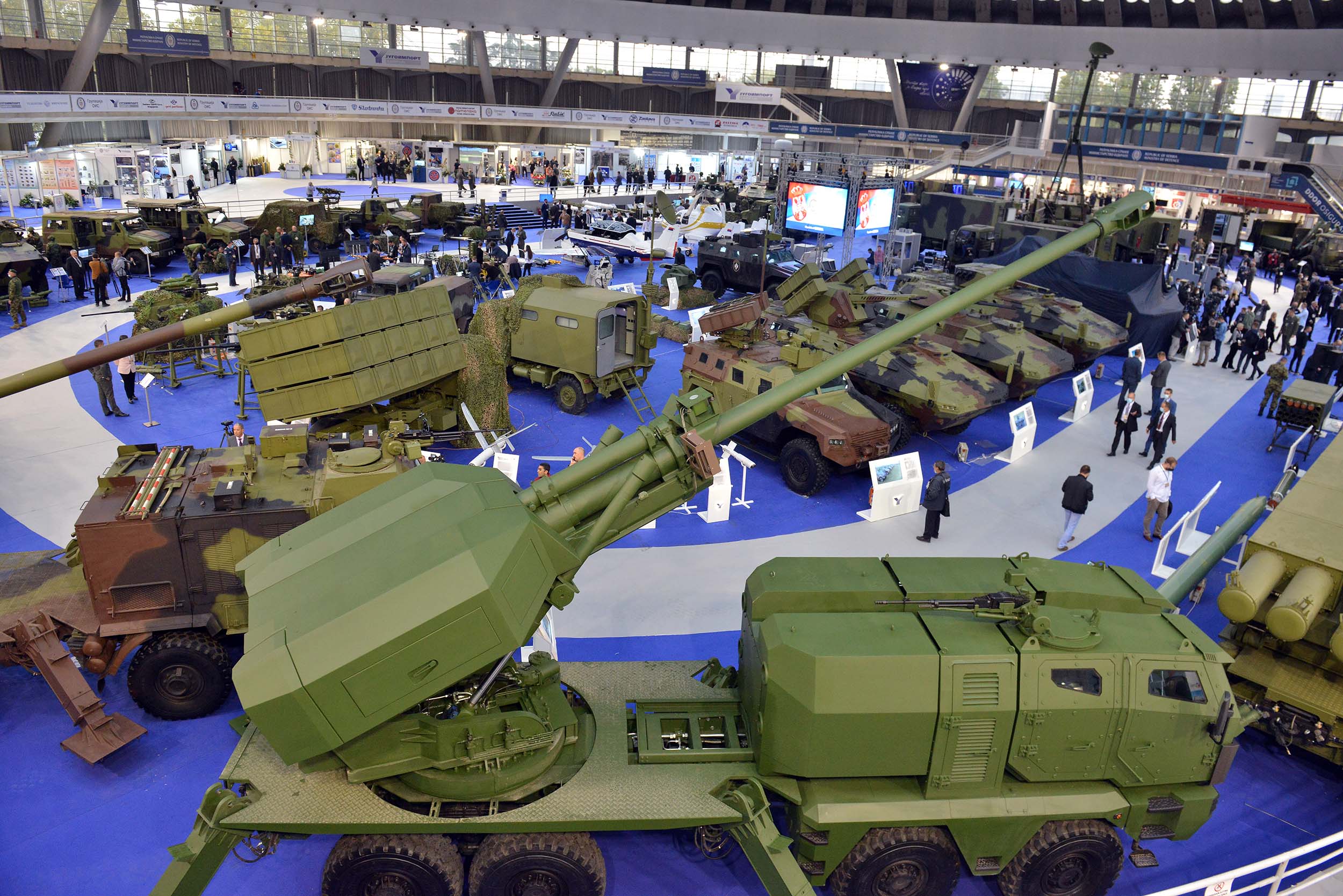 This year's "PARTNER" is the venue where the products and services presented the total of 132 exhibitors from Serbia and 16 foreign countries – Austria, Bosnia and Herzegovina, China, Canada, Denmark, Finland, France, Germany, Croatia, Italy, Russia, Slovenia, Sweden, Switzerland, United Kingdom and United States of America.

The International Exhibition "PARTNER 2021" will last until 14th October when the organisers will hold the open day for all interested visitors who wish to familiarise themselves with the latest achievements of Serbian defence industry, and everything offered on the world marked of arms and military equipment.