President Vučić: There is nothing more important than the unity of our people
The Serbian Unity, Freedom and National Flag Day was marked today in Serbia with a series of events, and the main event with a rich cultural and artistic programme was held on Belgrade's Sava Square, near the Monument to Stefan Nemanja, the founder of the Serbian state.

Along with the President of the Republic of Serbia and the Supreme Commander of the Serbian Armed Forces Aleksandar Vučić and Prime Minister Ana Brnabić, the event was attended by Deputy Prime Minister and Minister of Defence Nebojša Stefanović, PhD, and the Chief of the Serbian Armed Forces General Staff, General Milan Mojsilović, with members of their collegiums.

Addressing the gathering, the President of the Republic of Serbia, Aleksandar Vučić, said that there is nothing more beautiful for us than our flag and that there is nothing more important than the unity of our people.

- In June and November 1911, King Petar I Karađorđević handed over 51 regimental flags to his army. None of these flags were captured. This is a precedent in the history of modern warfare. The heroes who were entrusted with taking care of those flags, participated in all the battles of the Balkan Wars and the First World War, and on this very day in 1918, charging under those flags, they started to break through the Salonica front. Blessed be our great Serbian heroes! Blessed be our ancestors, the heroes of Kolubara, Cer, Kumanovo, the Karađorđe's Star and the Albanian Commemorative Medal recipients, the Serbian red-blue-white tricolour was bigger and more important than life, because it reminded them that the freedom of Serbia has no price or alternative. That is why the flag-bearers died, but the flags survived - President Vučić reminded.

Today we are celebrating the Serbian Unity, Freedom and the National Flag Day because of all those who died under that flag and that name, the President said, adding that this is perhaps our most important holiday, which clearly tells us who we are, where we come from and where we are going.

- It is a holiday celebrating our identity which unites the language, culture, tradition, religion, but also the values ​​on which the entire society is based. Values ​​that make a country civilized, organized, able to remember, and aware of what should be done and why. The date we chose, September 15, is the date of the Salonica Front breakthrough, the day which signifies both our suffering and our glory - the President of Serbia points out and emphasizes that that day was the first in a series of such plebiscites where the Serbian people re-elected Serbia and its freedom no matter how dearly it cost us.

According to President Vučić, it is important that we adopt a new plan for the future in another such plebiscite, the future in which we will be proud of our flag, knowing that it is the flag of freedom and peace that will help us preserve our Serbian identity and claim our rights to a name, history, culture, language, religion, tradition and existence, i.e. everything that others are entitled to and that we respect.

President Vučić also notes that no other nation in this region has gone through so much darkness and made such great sacrifices in order to see the light and become free. That is why we must not forget our flag and all those who sacrificed their lives for it, and that is why we must carry our tricolour with pride.

- Another important lesson we must learn is that all our senseless divisions, all our unfulfilled dreams and all the mistakes we made are unimportant, but what is important is that the flag is ours, that it represents a unity based on the fact that we are not perfect, that we are different, but the beauty of togetherness and the beauty of the flag lies in that. That is why our red-blue-white tricolour is not a call for unanimity, but quite the opposite, it aims to keep our differences under one red-blue-white tricolour, under the symbol of freedom, identity, existence, the right to life, because those are the conditions for diversity - says President Vučić.

All the people in the Balkans, regardless of where they live, must have the same rights, including the right to freedom, emphasizes President Vučić. He also says that there is no special "Serbian world" that some people criticize us for, but that it is a world of free people who have the right to say the name of the nation they belong to loudly and without consequences, anywhere in the world.

- For us, there is nothing more beautiful than our flag. For us, there is nothing more important than the unity of our people. We don't need anything else. We just want to live our own lives in our country. We don't need new borders, we don't need anything at all, only to be free to say our Serbian name and surname.

According to President Vučić, today's holiday is also proof that being a Serb does not mean being guilty and condemned, but quite the opposite, it means being proud of Mišar, Deligrad, Skull Tower, Takovo, Kumanovo, Miloš, Đorđe, Mihailo, Kolubara, Cer, Kajmakčalan, Petar and Aleksandar and all the anti-fascists who gave their lives fighting for freedom and the people killed in Prebilovac, Jadovno, Jasenovac, who must not be forgotten.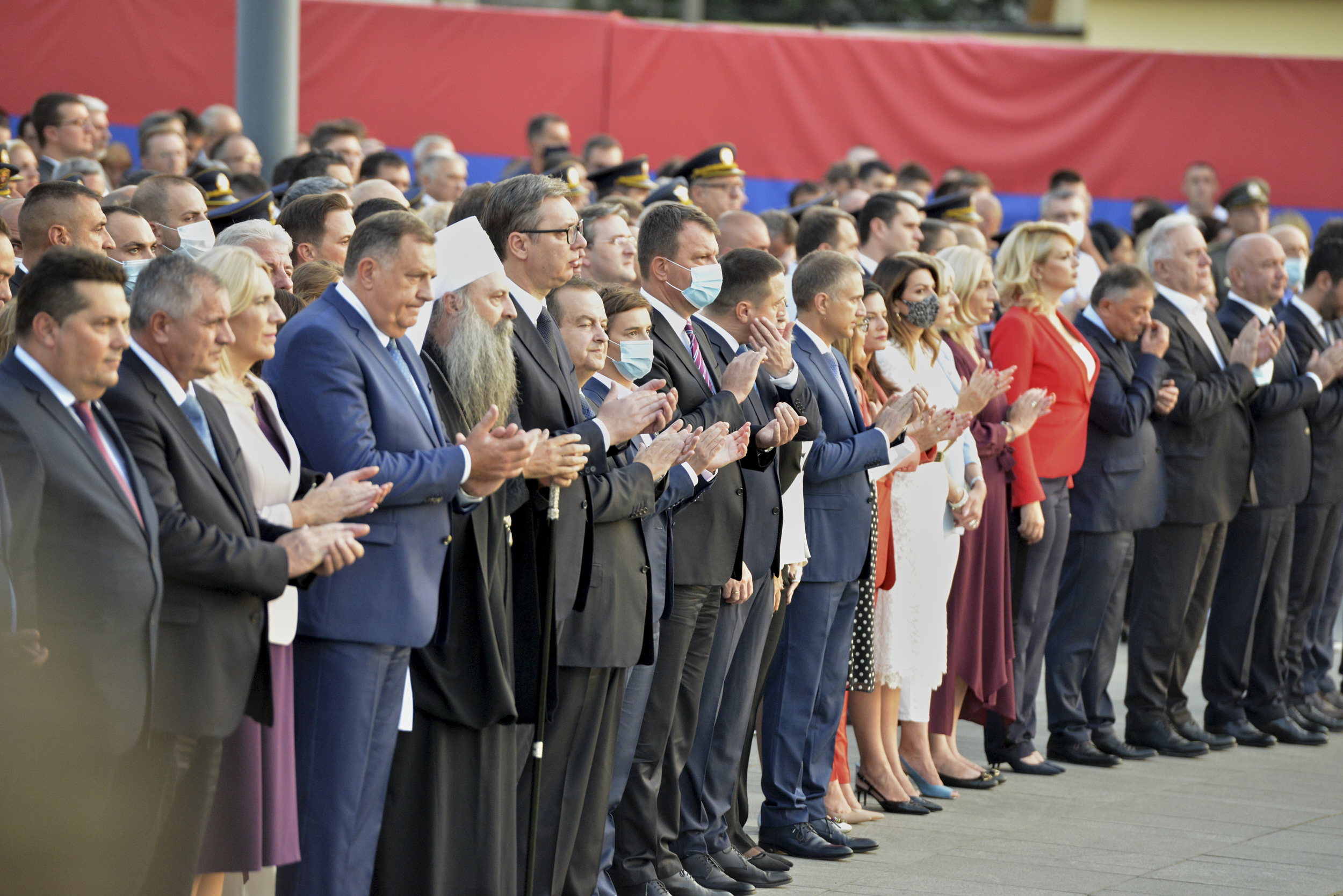 - And that is us. That is a new Serbia, different, proud, Serbia that doesn't ask anything from anyone, that doesn't beg, that wants to have the same rights like everyone else. That is our Serbian language, the language of Meša Selimović, Ivo Andrić, Miloš Crnjanski. That is the culture we have created, faith without hatred, that is our essence.

That is what determines us, makes us worthy people and gives us the strength and wisdom to seek peace in this century, whose foundations are in our hands today, and to discover our strength and greatness in life and what makes it better, in work, in great projects like building roads and bridges, connecting factories, new hospitals, in knowledge and faith that we can do as well as others, or even better - said President Vučić.

Just as we are proud of our ancestors who sacrificed themselves for freedom, he adds, we should teach our descendants how to live for freedom and how to live in it, how to remember and respect the foundations.

- And the foundations are Serbia, the Serbian people and our red-blue-white flag. The foundation is this holiday celebrating our identity, our history, but also our differences, which brought glory and suffering in the past and outline a clear plan for the future - emphasizes President Vučić, thanking the representatives of the Serbian people from countries in the region who came to the ceremony in Belgrade and to all the people who celebrate today's holiday.

- I want to say a big thank you to our people in Republika Srpska and their representatives who are here today, Presidents Dodik and Cvijanović. I want to say a big thank you to our people in Montenegro and their representatives who are not ashamed to say that they are Serbs. I want to say a big thank you to our tormented people in Kosovo and Metohija, their representatives who are here tonight, but also to all those living in the region who were not allowed to display the Serbian flag today because of the threats made by their regimes, but who are here tonight in spirit, and whose hearts beat for us, for their Serbian people - said President Vučić.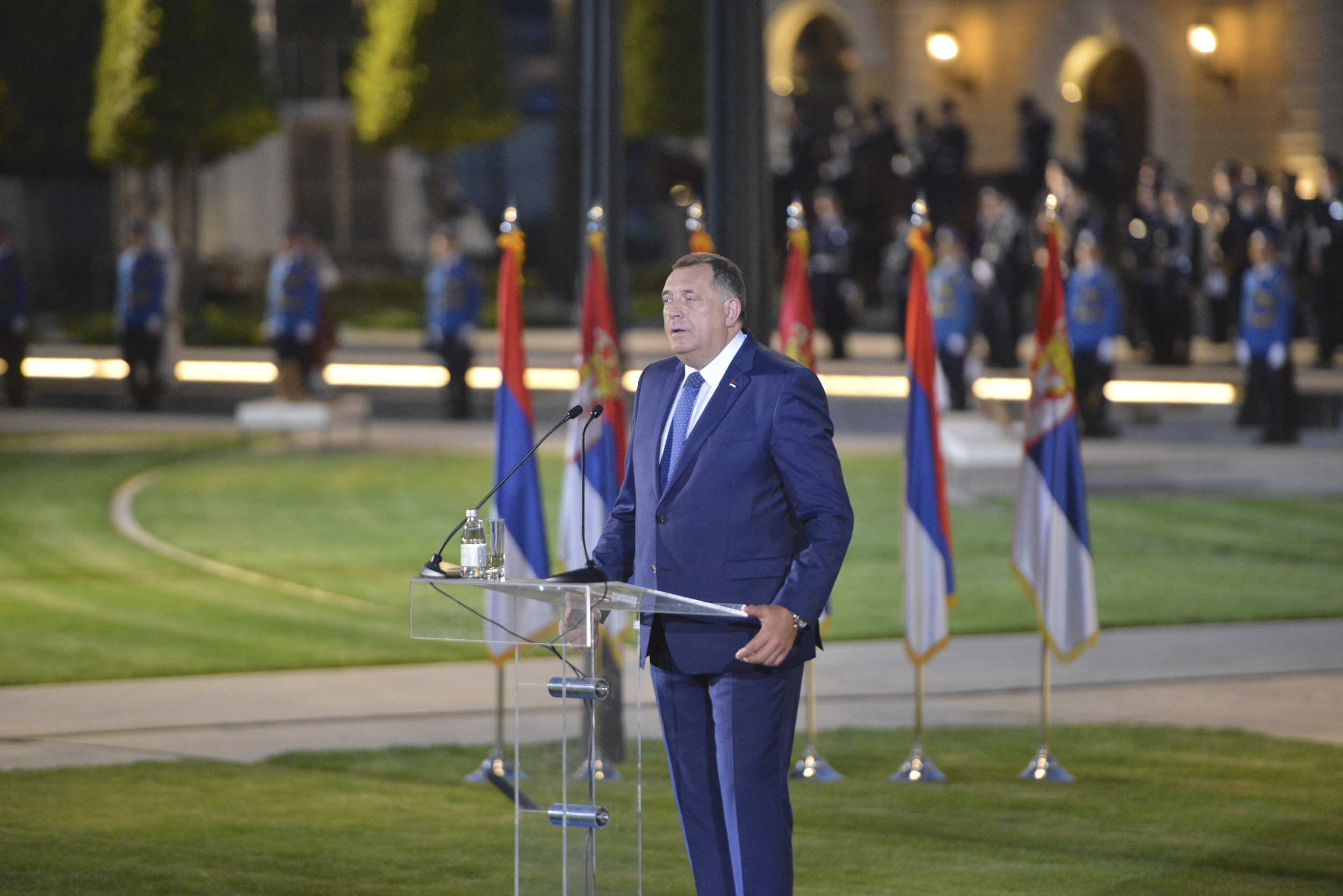 The Serbian member of the Presidency of Bosnia and Herzegovina, Milorad Dodik, began his address with verses by Aleksa Šantić: "Where there is a Serbian soul, there is my homeland". He then thanked Serbian President Vučić for his efforts to bring us together on the occasion of this holiday.

- We have always shown unity in the most difficult times in history and that determined the character of our people, the character that differs from others who easily accepted servitude and tutelage, while freedom was most often secured by Serbs, throughout history and centuries - Dodik says, noting that Serbs have always stood in defence of their freedom before the greatest powers, went through hell, but did not give up their freedom, without which they cannot live.

Dodik says that Republika Srpska is proud that, together with the National Assembly of the Republic of Serbia, it adopted the Law on the Protection of the Cyrillic Script on this very day.

- It is the result of our joint efforts and unity. I believe that this is the first in a series of laws that we will adopt together, and that President Vučić's leadership produces such a powerful manifestation of our unity every year, because we, the Serbs from Republika Srpska, are proud of that - said Dodik.
His Holiness Porfirije, Serbian Patriarch, referred to the Christian principles, the principles of gospel and Saint Sava by which the Serbian people live, explaining that they are the way to overcome conflicts and introduce the beauty of unity and freedom among all good and honest people.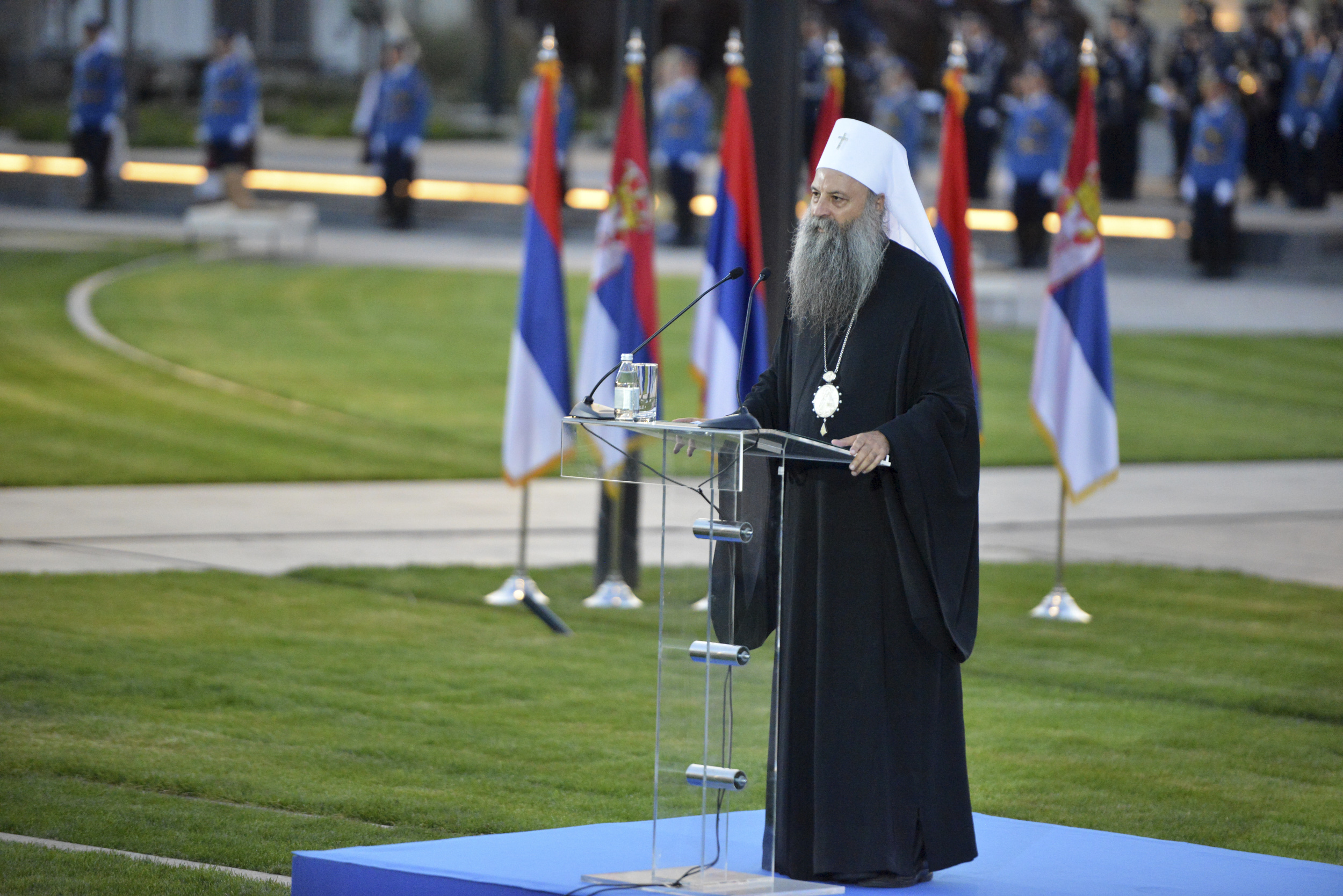 - I pray on this day, together with all of you gathered here, I pray to God that we should never be inspired by base and selfish motives, that we should never dispute over those selfish motives and interests, but that we should be one and that we should build unity with others. It doesn't matter how successful we are at achieving that. It is important to be on that path, to make an effort, to organize ourselves and our country so that our virtue can set a good example to others. That way, no matter what others think of us or what they do to us, we will be blessed. I wish a happy and blessed holiday of unity, freedom and the national flag to the entire Serbian people - Patriarch Porfirije said.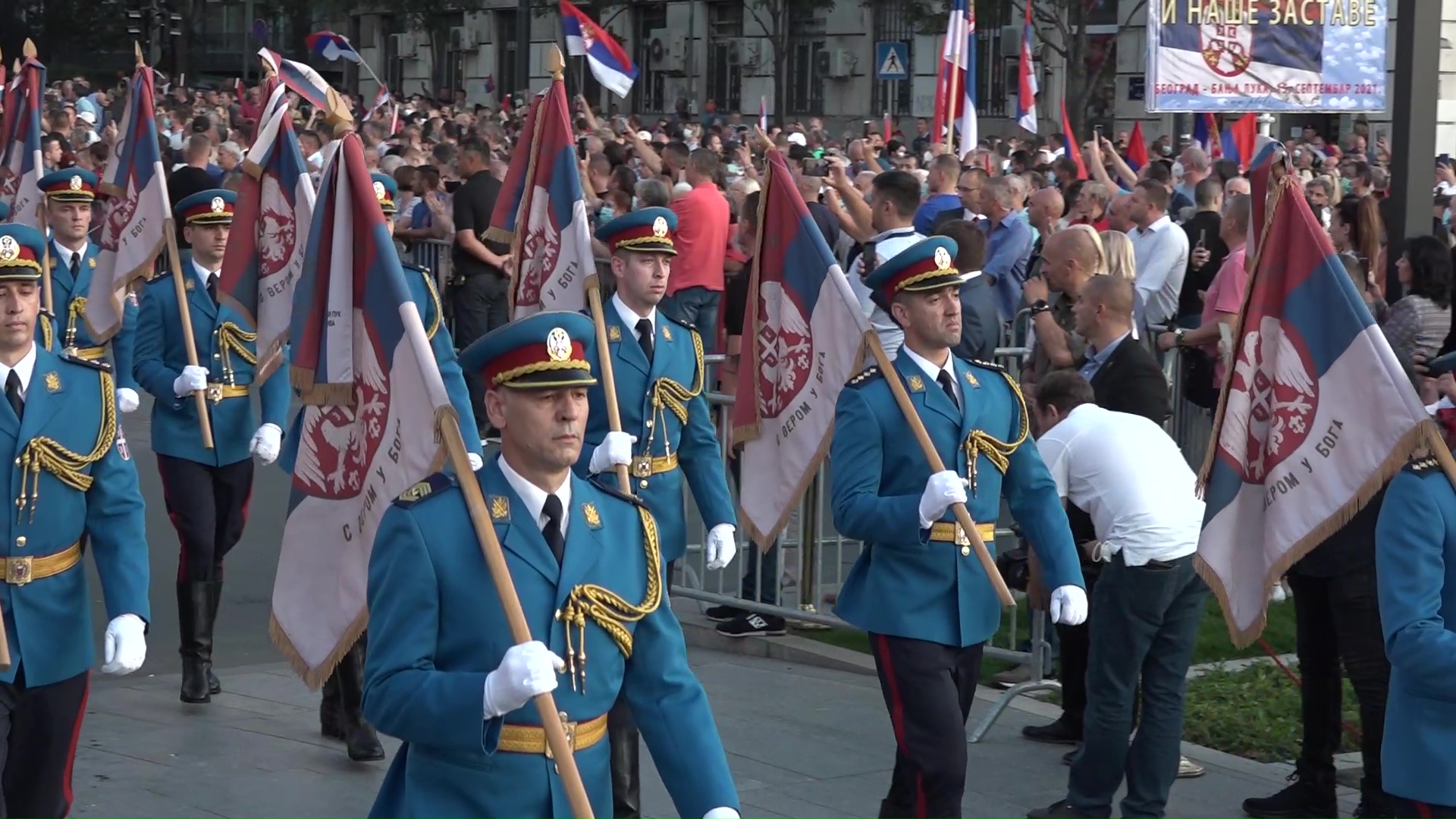 The celebration ended with fireworks and the song "This is Serbia", and shortly before that event, members of the Guard Battalion fired a gun salute from Kalemegdan's Sava Plateau to mark the Serbian Unity, Freedom and National Flag Day.



15.09.2021

mp4
(162,32 MB)