Minister Vulin presents the Russian Defence Attaché, Colonel Sobakin, with a Military Memorial Medal

Today, the Minister of Defence, Aleksandar Vulin met with the newly appointed and the outgoing Russian Defence Attachés in Belgrade, Major General Alexander Zinchenko and Colonel Andrey Sobakin.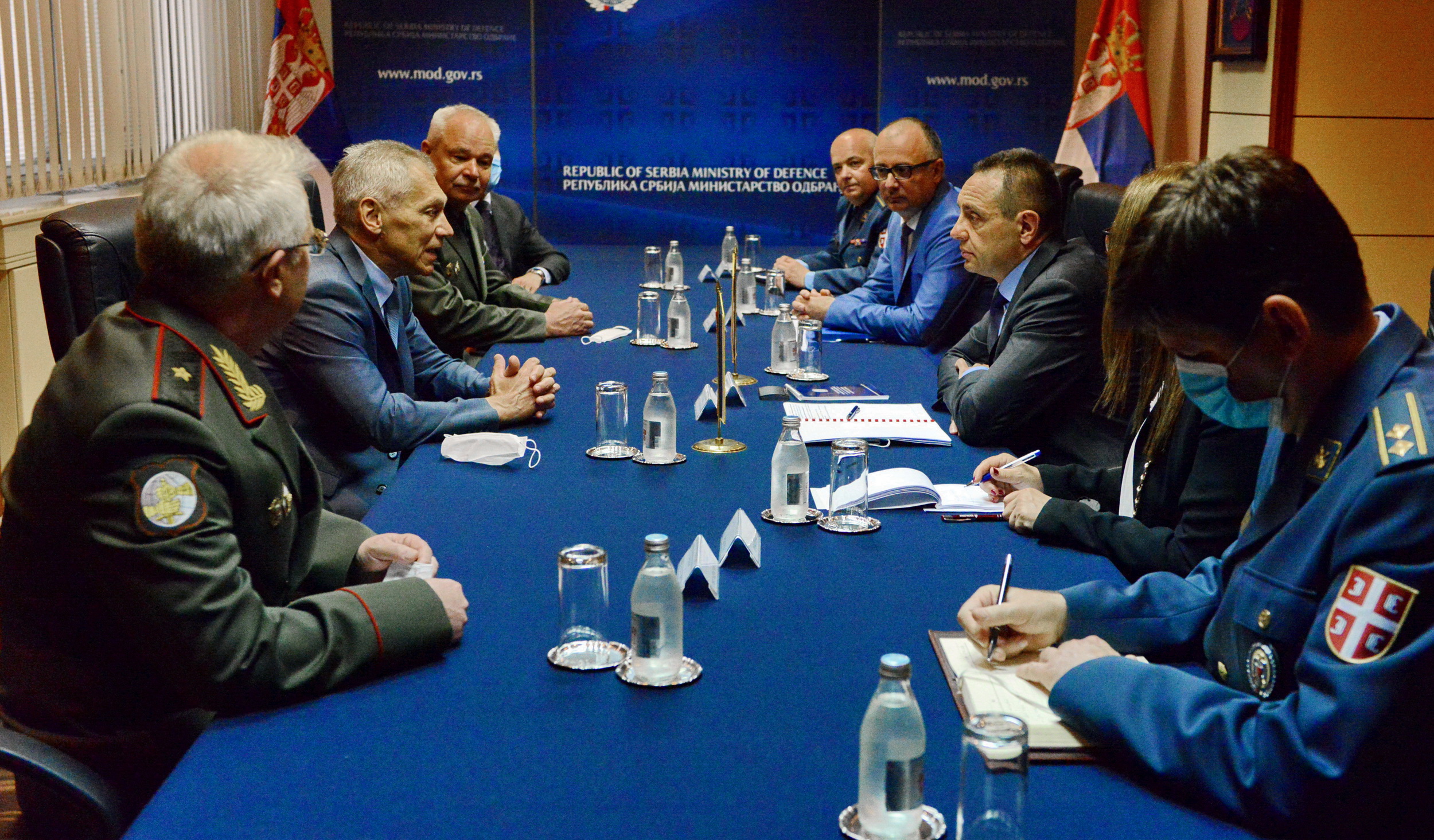 The meeting was also attended by the Assistant Minister for Defence Policy, Milan Ranković, MSc, and the Ambassador of the Russian Federation in Belgrade, Alexander Botsan Kharchenko.

Minister Vulin presented the former Russian Defence Attaché with a Military Memorial Medal for outstanding contribution to the defence system of the Republic of Serbia and thanked him for excellent cooperation, results and commitment which greatly contributed to the strengthening of cooperation between our two brotherly countries in the field of defence.

According to Minister Vulin, by appointing General Zinchenko to the position of the Defence Attache, the Russian Federation showed that it attaches considerable importance to its relations with Serbia. He expressed belief that the newly appointed attaché will make a great contribution to the further development of cooperation between Serbia and Russia in the field of defence, and wished General Zinchenko much success in performing his new duty.

At today's meeting, Minister Vulin thanked Russia for giving constant support to the preservation of territorial integrity of Serbia and its national interests, saying that he is genuinely pleased and honoured by the personal invitation of the Minister of Defence of the Russian Federation, Sergey Shoygu, to attend the ceremony marking the Day of the Victory over Fascism in the Second World War on 24 June in Moscow, especially at such a time when there are attempts to revise history and rewrite historical facts.

The common conclusion of the participants in the meeting is that cooperation between Serbia and the Russian Federation in the field of defence is constantly developing and that it is at its historical peak, which is confirmed by numerous activities within military-technical cooperation, assistance of the Russian Federation in the fight against Covid-19, as well as joint exercises of the Russian and Serbian Armed Forces.