Concert of cadets of the Military Academy at Republic Square


The Military Academy Music Section, with the support of Stanislav Binički Artistic Ensemble of the Ministry of Defence, held a concert tonight in Belgrade's Republic Square. The performance was organised as part of the Belgrade Winter event.

The audience in the capital enjoyed a varied music programme and could be assured that cadets, in addition to mastery of military virtues, knowledge and skills, also participate in other aspects of social life and that they are in every sense the future and pride of our military and state.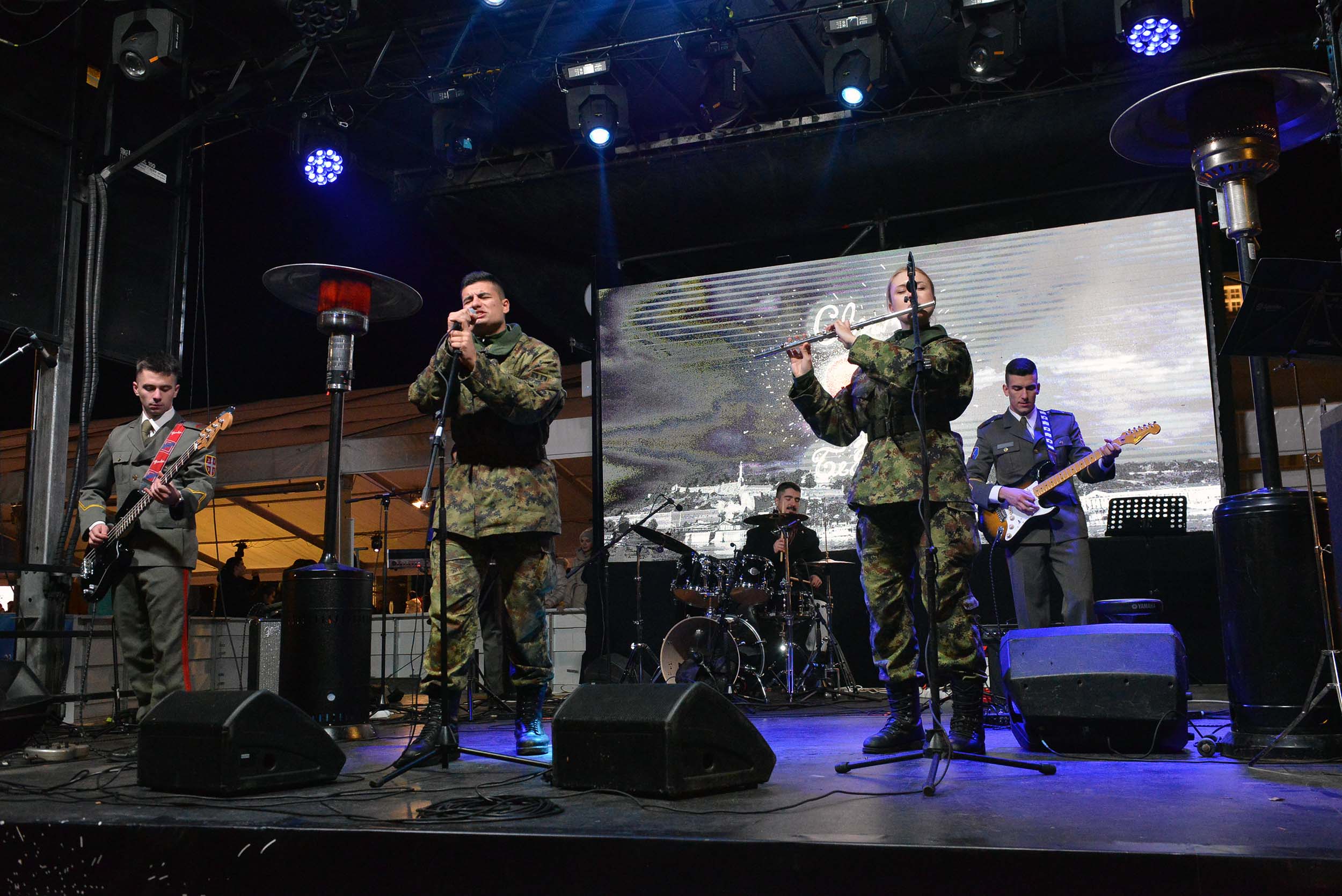 Associate prof. Lieutenant Colonel Srđan Blagojević emphasised that the Military Academy has a long tradition of nurturing and developing the cultural and artistic inclinations and skills of its cadets.

- The results of folklore, dance, rhetorical, visual art and other artistic sections that exist in the General Jovan Mišković barracks have been noticed. The Military Academy Music Section has existed for many years, but has experienced a real resurgence in the past few years. A large number of cadets have decided to join it and contribute with full fervour for it to be heard about outside our gates, Lieutenant Colonel Blagojević says, adding that the enthusiasm of the cadets has also influenced the management of the Military Academy who decided to support them in that purpose, so this year they purchased state-of-the-art musical instruments for their section.


He emphasises that all this contributed to holding the concert on the Republic Square and making the cadets feel proud that they have the opportunity to present themselves to their fellow citizens in the best way.

142nd Class Military Academy cadet Sara Lisinac, a member of the Music Section, said that she had heard of it before enrolling in the Military Academy.

- Since I graduated from the primary music school, the possibility that, in addition to gaining military knowledge and skills, I could continue to pursue music was one of the reasons that contributed to my decision to enrol in the Military Academy. There is a great atmosphere in the Music Section and we are happy to spend our free time in it, while new instruments have contributed to making the results of our work even better, Cadet Lisinac says.

Tonight's performance was an opportunity for Belgraders to talk to cadets of the Military Academy and students of the Military High School and to find out more information about the conditions of competition and enrolment in military schools.