Official Seeing Off of the Peacekeepers of the Third Brigade to Lebanon
In barracks "Knjaz Mihailo" in Niš, a ceremonial seeing off was held of an infantry company and force protection platoon of the Third Army Brigade, staff officers and members of National Support Elements to the multinational mission UNIFIL in Lebanon.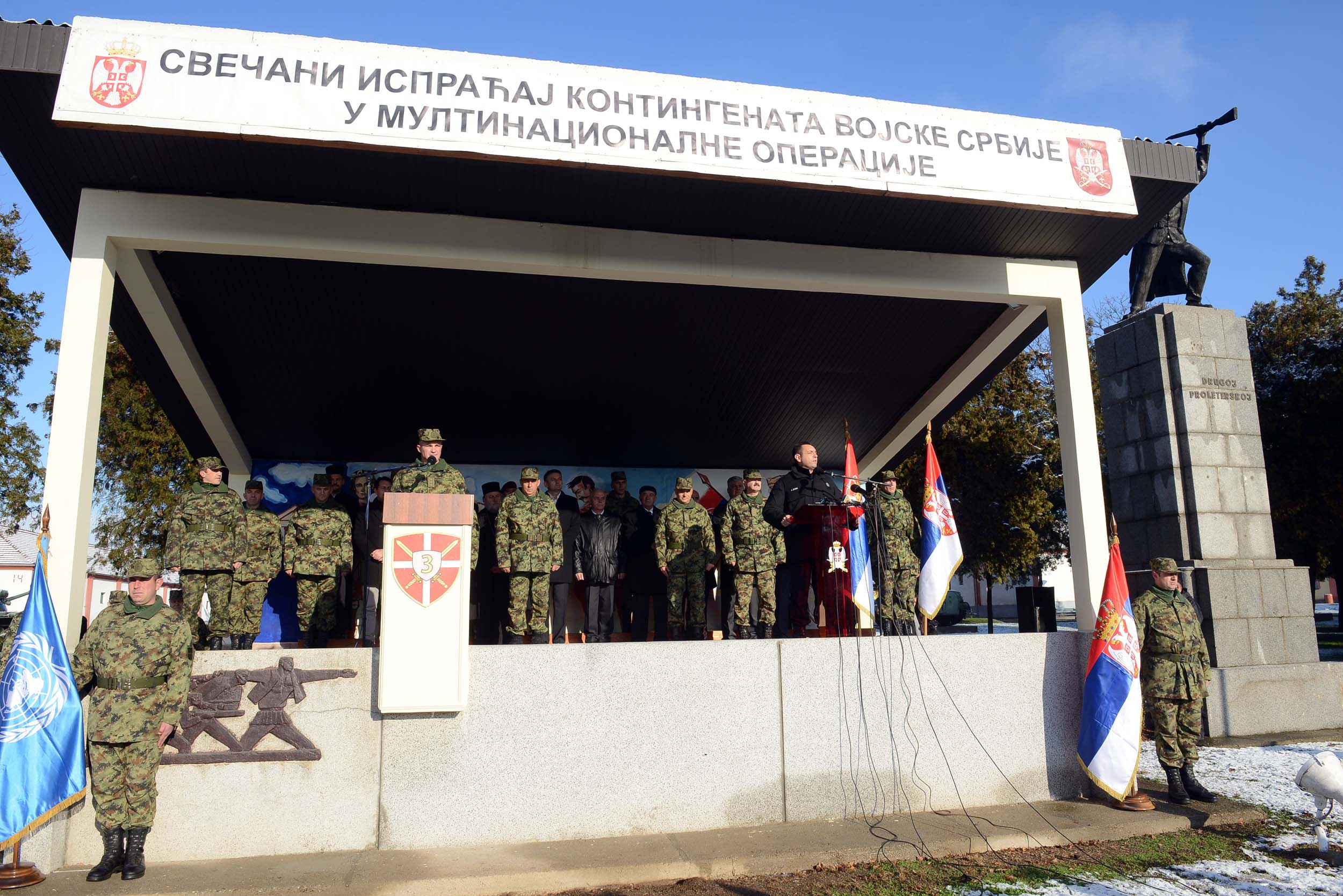 The ceremony was attended by the Minister of Defence Aleksandar Vulin, Chief of General Staff of the Serbian Armed Forces General Ljubiša Diković, Army Commander Lieutenant Colonel General Milosav Simović, the Third Brigade Commander Colonel Predrag Grbić, representatives of the Ministry of Defence and Serbian Armed Forces, local government, religious communities, and families and friends of the peacekeepers.

In his address to the ceremonial formation, Minister of Defence Aleksandar Vulin stressed that on that day we were seeing off those who would spread the glory of the Serbian flag and Serbian state very far.

- We are proudly bidding farewell because we can send such people, equipped and trained, ready to work for the wellbeing of every human being who requires assistance. You are going very far, to a country torn by wars and conflicts, hates. You are going far away to ease human suffering, torment and pain. You are going far away to carry our flag with you so that some children very far from here could remember it as a symbol of peace, security and safety, as a sign of kindness that they will remember from your sleeves, when you have ran your fingers through their hair, helped their parents, when you restored in a child the faith in human kind.
Minister Vulin said that we would wait for our peacekeepers, together with their families.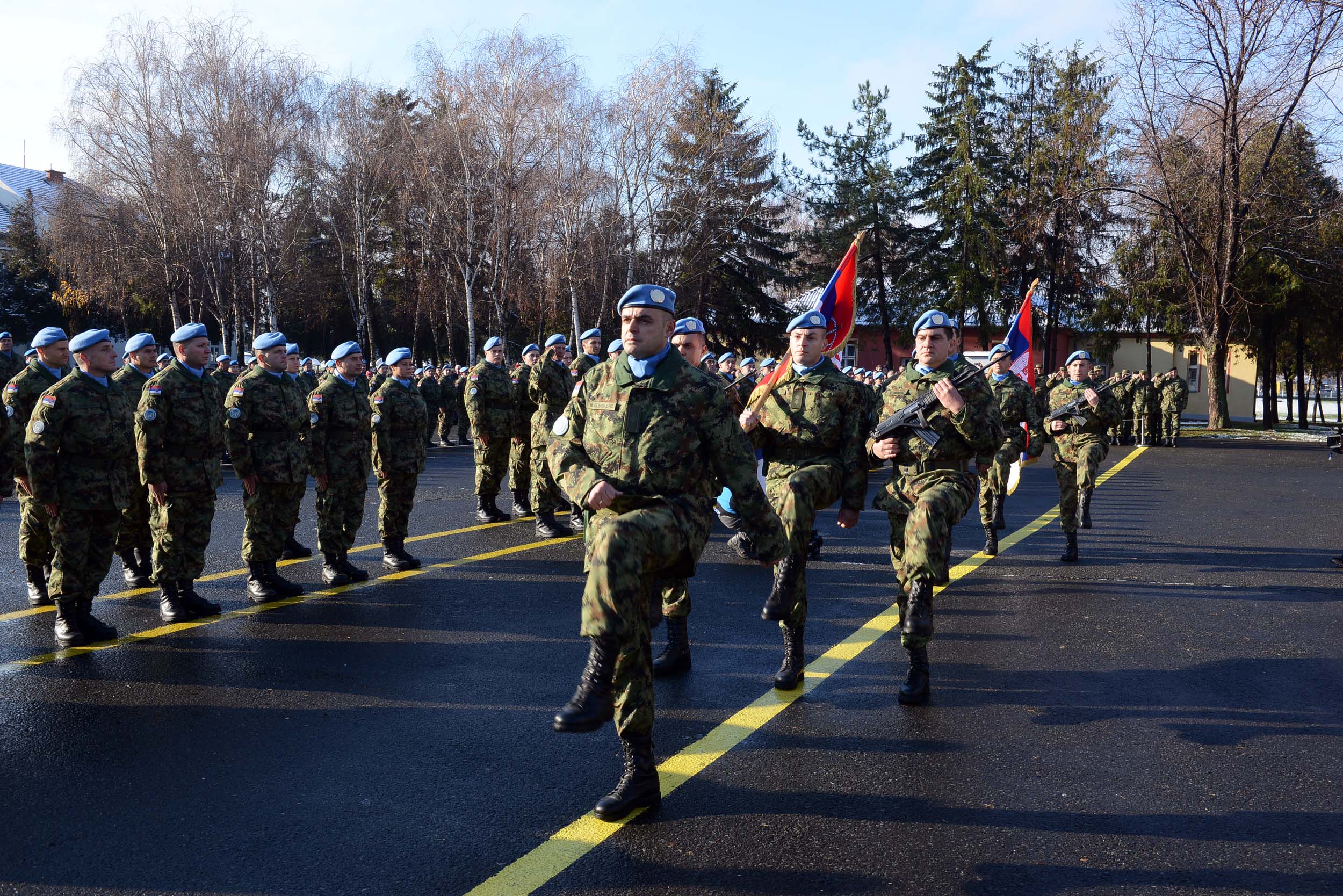 - Full of pride we will worry about you, although we will not say it out loud, we will think about what you do, what you look like, what you deal with and whether it is difficult for you. We will wonder whether you are afraid, sure that you are thinking of us, that you are thinking of your country and all of us that you have left behind here. Do not ever forget that your sons are walking next to you, who are proud of you. They will talk in their schools that their father is far away, and that he is protecting Serbia even there because there as well Serbia is to be protected. It is protected by showing how organised, strong and brave we are, and it is protected by making friends even in the places where hatred and hostility are the way of life. It is protected in a way that we here can be assured and proud that wherever you are, you are carrying and raising the flag high and with dignity, that holy flag because of which you exist and live, the flag of the Republic of Serbia. We will wait for you and think of you, certain that where you are, you are protecting your Serbia, and that is why I wish you good health, I wish you to be brave, just like you are and to return to us. And when you return, to tell us how you have spread the glory of Serbia, how many human beings has become aware that far away there exist a people and one country where freedom and goodness are paramount values – Minister of Defence Aleksandar Vulin said.

Chief of General Staff of the Serbian Armed Forces General Ljubiša Diković underlined that the members of the Serbian Armed Forces attached great importance to the quality of execution of tasks in all assigned missions.

- It is generally known that wherever the members of the Serbian Armed Forces went out from barracks, in order to help the population affected by natural and other disasters, or to reconstruct roads, communications, they have always completed their tasks in quality fashion. This particularly applies to the quality of the execution of tasks in the second mission of the Serbian Armed Forces, in peacekeeping operations, and that is particularly important because it is the matter of international environment, about the work with the members of other armed forces. That is an excellent opportunity for us to see how much we are worth in that environment, how much we are capable to execute highly important peacekeeping tasks with others – General Diković said and pointed out that he was extremely satisfied with the way in which our officers, non-commissioned officers and soldiers approached to the tasks execution.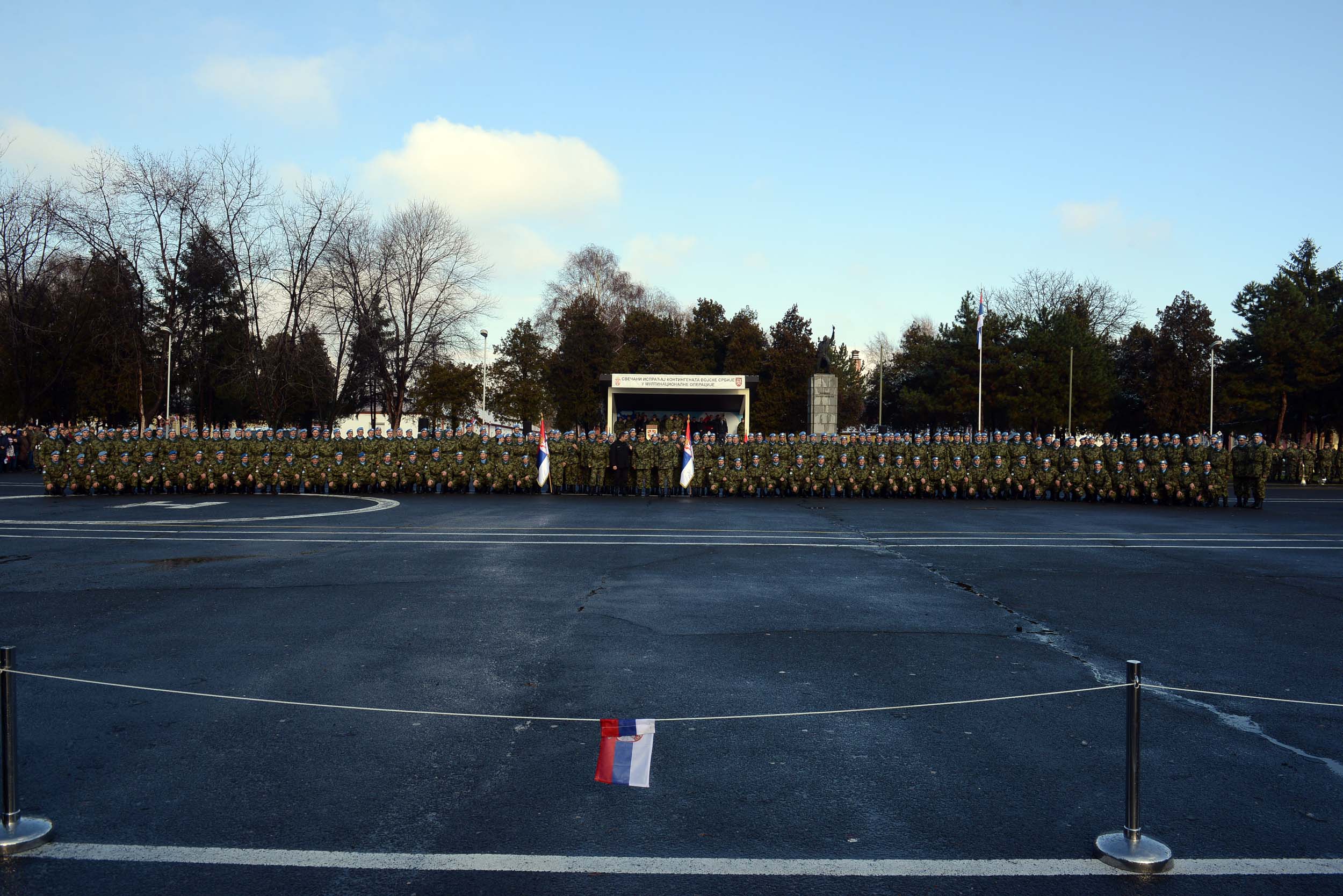 The total of 130 members of the infantry company will be engaged on peacekeeping in the region of the Middle East and Lebanon, as part of a Spanish contingent, while the force protection platoon will be part of an Italian contingent in the Sector West. Seven staff officers we seen off to the mission and five members of the National Support Element who will perform their responsible duties in the Sector East.

At today's ceremony, the minister of defence conferred the state flag to the commanders of the infantry company, force protection platoon, who promised, on behalf of their colleagues, that they would honourably and professionally discharge all tasks assigned in the mission, in line with the mandate and tasks of the mission.

Today, at the airport "Konstantin Veliki" in Niš, Minister Vulin and General Diković welcomed the members of the Serbian Armed Forces who were in the previous six months deployed to the peacekeeping mission in Lebanon.