The new armoured vehicles for the Serbian Armed Forces and the Police
Serbian Prime Minister Aleksandar Vučić, accompanied by Minister of Defence and Minister of Interior, Zoran Đorđević and Nebojša Stefanović, respectively, visited today the Complex Combat Systems Factory in Velika Plana.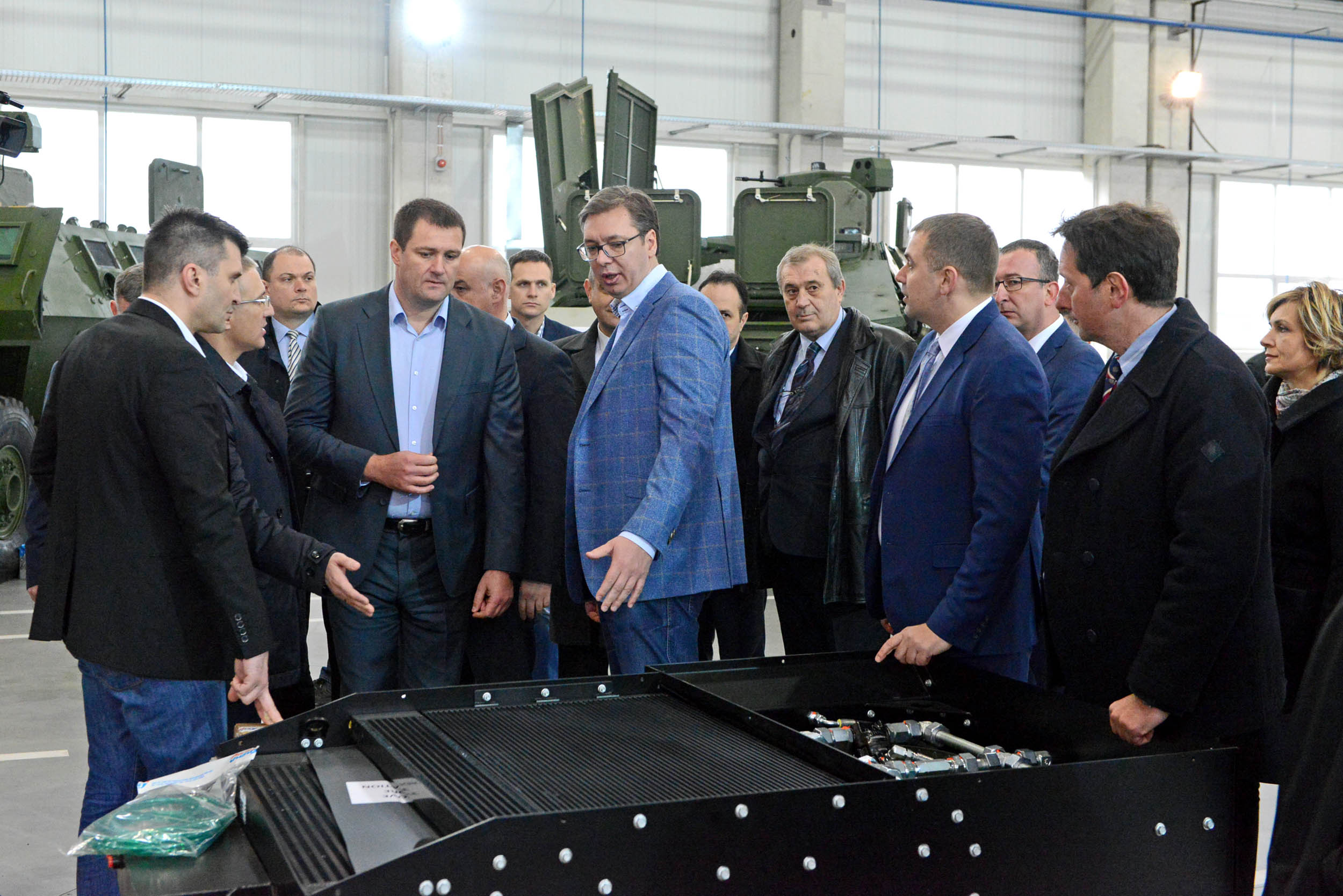 Today's visit and presentation of Milosh armoured vehicle was attended by Acting Assistant Minister of Defence for Material Resources Nenad Miloradović, Director of Yugoimport SDPR Jugoslav Petković and Director of Complex Combat Systems Factory Ognjen Oliverić.

Mr Vučić said that our army and police are becoming much better and more modern equipped with Milosh and Lazar armoured vehicles, as well as Nora howitzers for the Serbian Armed Forces. Also, he noted that Milosh is 4x4 heavily armoured vehicle, and that the Special Anti-Terrorist unit of the Serbian Police will receive six of them, with a 12.7 mm machine gun, while the Gendarmerie will get six Lazar 3 vehicles. The Serbian Armed Forces receive 12 Lazar vehicles armed with cannons and 12 155 mm Nora howitzers.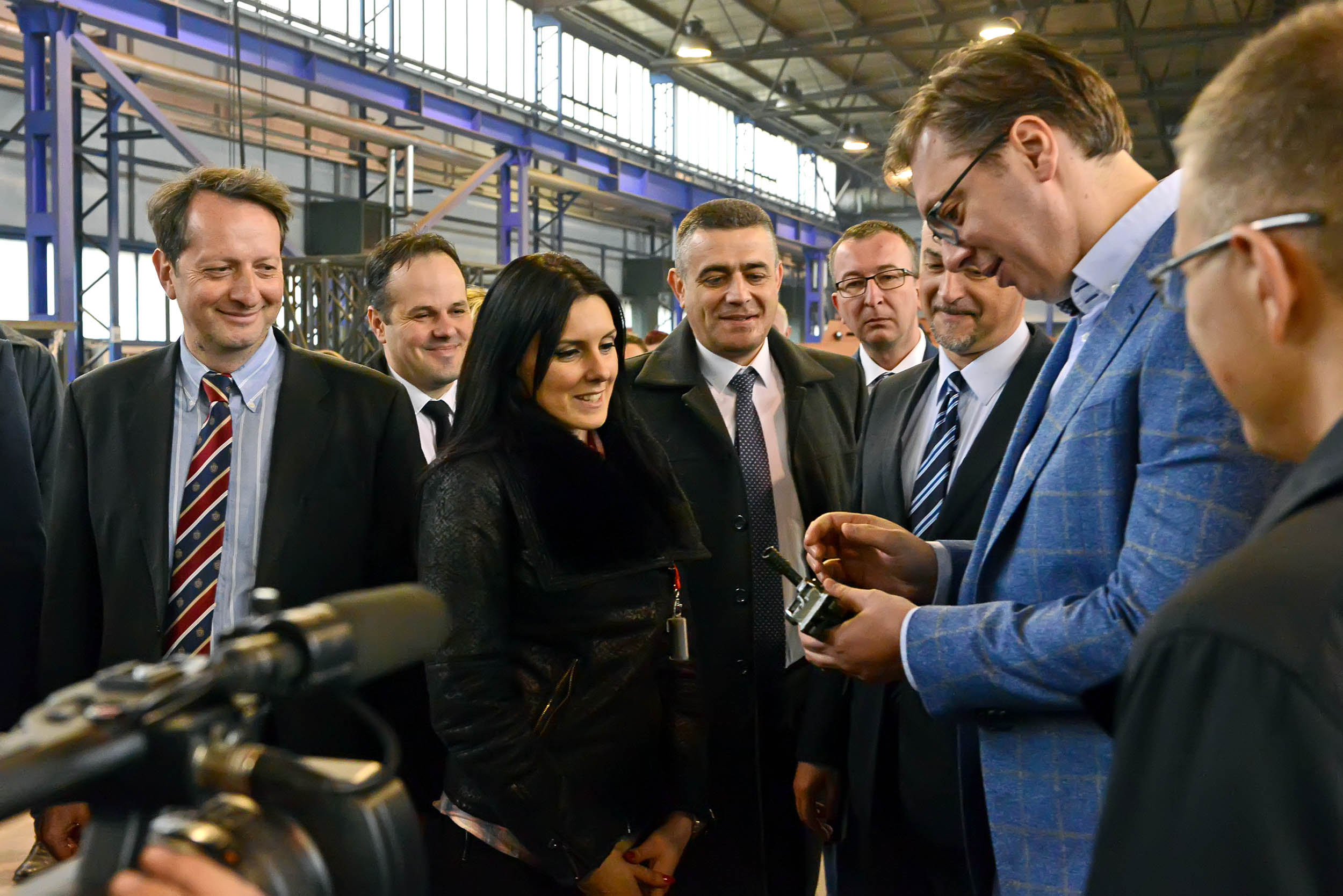 - This plant is an indication of what we managed to change in recent years. The new halls are being built for the new production plants. We do this for two reasons - the first is that the defence industry is very important in creating a larger gross domestic product in the development of Serbian economy and that the defence industry is becoming and will be one of the key factors in the rapid progress of our overall economy and what will make the standard of living for Serbian citizens bigger and better. On the other hand, we hereby equip our army and police, and we can consider these tools very powerful prevention for anyone who would think of endangering the security, sovereignty and independence of Serbia, the Prime Minister said.

Vučić mentioned that he suggested to the representatives of the defence system to find ways to engage our best engineers in order to produce also trucks for domestic use and tools that Serbia imports today.

- If we manage that, it will be a great deal for the FAP and the chance for an increased number of employees. We also wish to improve conditions, and instead of tarpaulins on trucks to set up containers where members of the Armed Forces can have generators, medical assistance and air conditioning, and have a much better protection against armour-piercing 7.62 to 12.7 mm ammunition, Vučić said and repeated that he was very pleased with the progress of the defence industry, which is the "driving force of our economy and the guarantor of security and stability of our country".

He added that there were orders for 700 to 800 of these vehicles from abroad, but "we cannot produce even ten, because we do not have enough capacity, and therefore we will try to increase this capacity." Also, Vučić said that the Government is prepared to invest 15 to 20 million euros in a new line of FAP for armoured vehicles.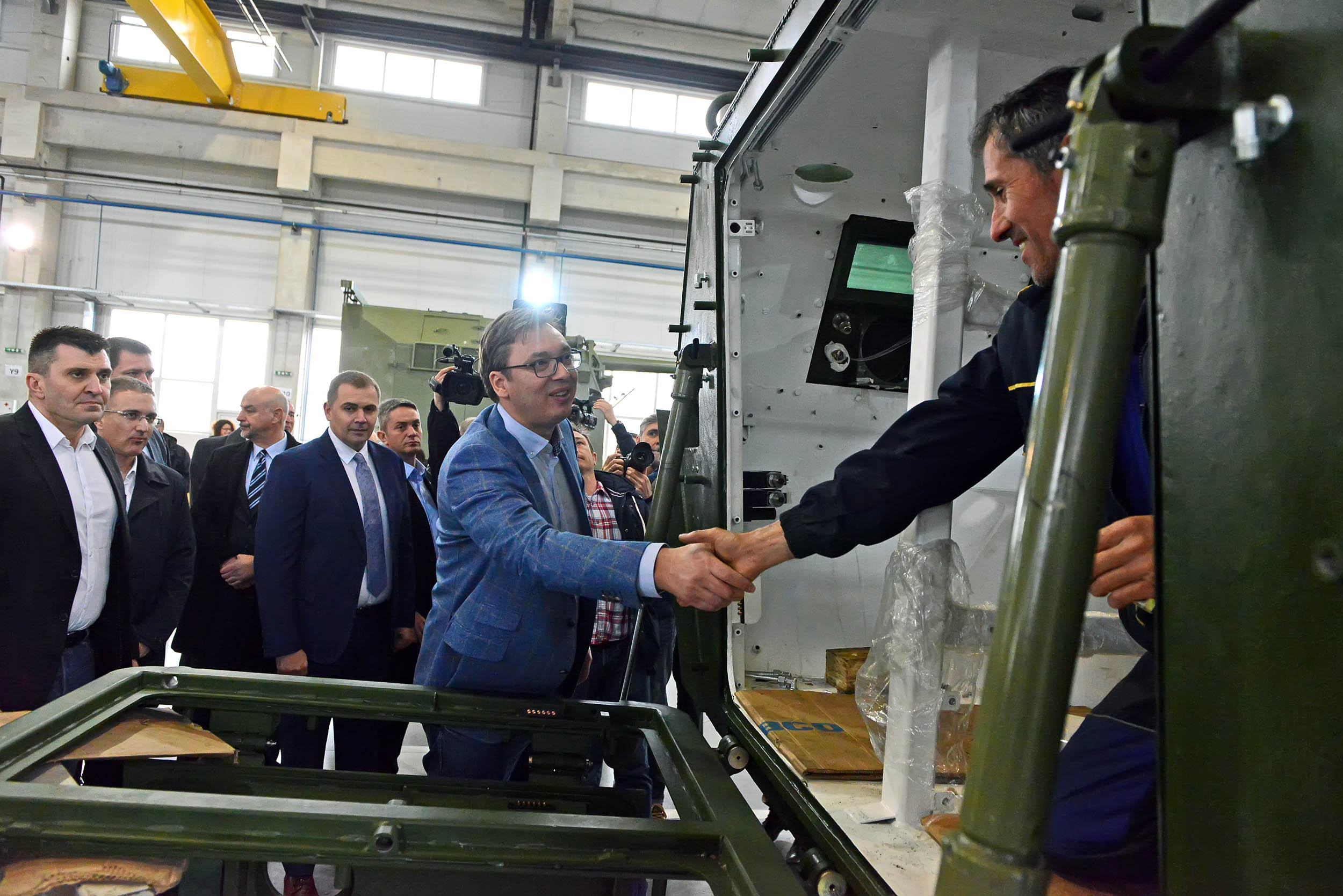 Modern multi-purpose armoured combat vehicle "Milosh" is intended for the performance of a wide range of missions in the activities of police and armed forces. It can be used for patrol missions, reconnaissance missions, as a command vehicle, for transportation and support to the units for special operations, counter-insurgency and counter-terrorism, anti-tank operations, for the border and territory control.

The main concept of the vehicle is based on a self-supporting hull, modern drive and transmission assemblies and an independent suspension system which ensures high mobility in any terrain and weather conditions with the maximum combat weight exceeding 14 tons.

"Milos" is equipped with five loopholes for firing with personal armament, observation holes with ballistic protection, air-conditioning and CBRN protection systems, modern communication equipment, command and information system and night vision and driving cameras. Six 82 mm smoke pot launchers are mounted on the hull roof. The concept vehicle is such that it can be equipped with different types of weapons and specialized equipment.

The standard version of "Milosh" accommodates 8 member crew, out of which 4 members are located in the rear part of the vehicle with the possibility of fast disembarking and embarking by means of the rear hydraulic ramp or the rear door. Four members in the front part of the vehicle disembark and embark the vehicle by means of four standard side doors.