Title
Minister Vulin: Domestically produced armament on helicopter H-145 is a great recognition for our engineers

Today, in the Arms and Military Equipment Test Centre "Nikinci", testing was continued on our aircraft weapons developed by Military Technical Institute and Yugoimport SDPR and produced by Utva from Pančevo. The weapons include a rocket launcher 80mm and gondola with machine gun 12,7mm on helicopter H-145, and this time the testing was conducted in day and night conditions and in flight. Both our and German experts are pleased with the results achieved so far.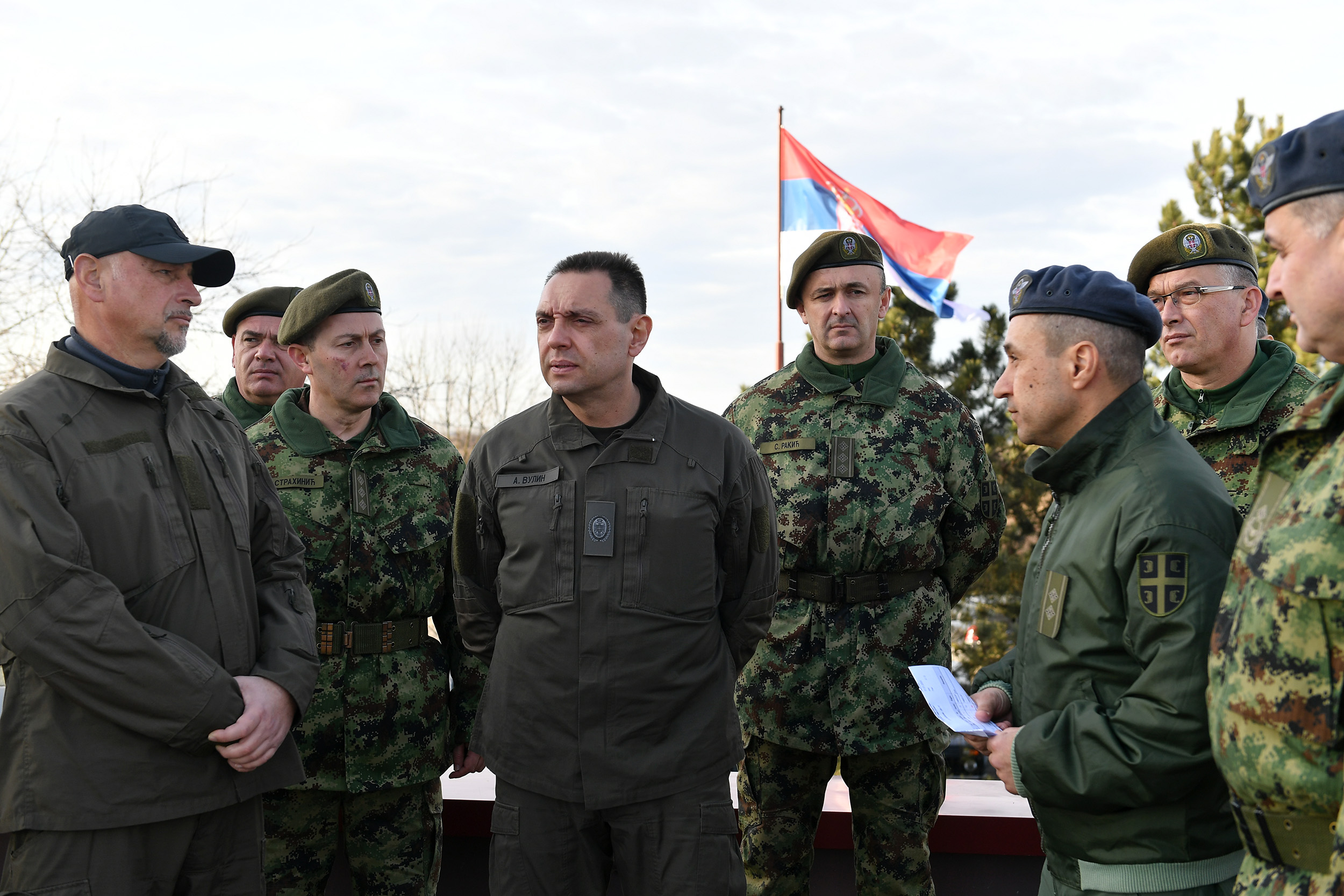 - Integrating domestic weapons into one of the best world helicopters H-145 is a great recognition for our engineers and our defence industry – said Minister of Defence Aleksandar Vulin who attended the testing in Nikinci.

- Each aircraft belonging to the Ministry of Defence has to be equipped to be used as military aircraft which means that it has to carry weapons and has to be capable of using it. We have had the opportunity to see that domestically produced weapons are efficient, that they are well employed and that we will be in a position to offer it at the world market in the future. The one capable of manufacturing; the one able to produce such weapons; the one able to integrate it into the world's best helicopter in its class, is capable of selling and realising it, thus showing how much space there is for Serbian defence industry on the world market – Minister Vulin concluded.

Assistant Minister of Defence for Material Resources Nenad Miloradović PhD underscored that they had had opportunity on earlier occasions to witness a segment of testing relating to static firing, and he explained that tests involving firing during flight had been conducted on the testing ground "Nikinci" for an entire week.

- All safety tests and tests of integration of fire-control systems HForce and electronics of these two weapons on that helicopter have been completed. Several dozen missiles and several thousand 12,7mm rounds were fired, and now we had an opportunity to see burst firing of seven missiles from 80mm launcher and an appropriate number of firing from a 12,7mm machine gun stressed adding that the testing would continue over the following week, which would conclude the live firing testing programme.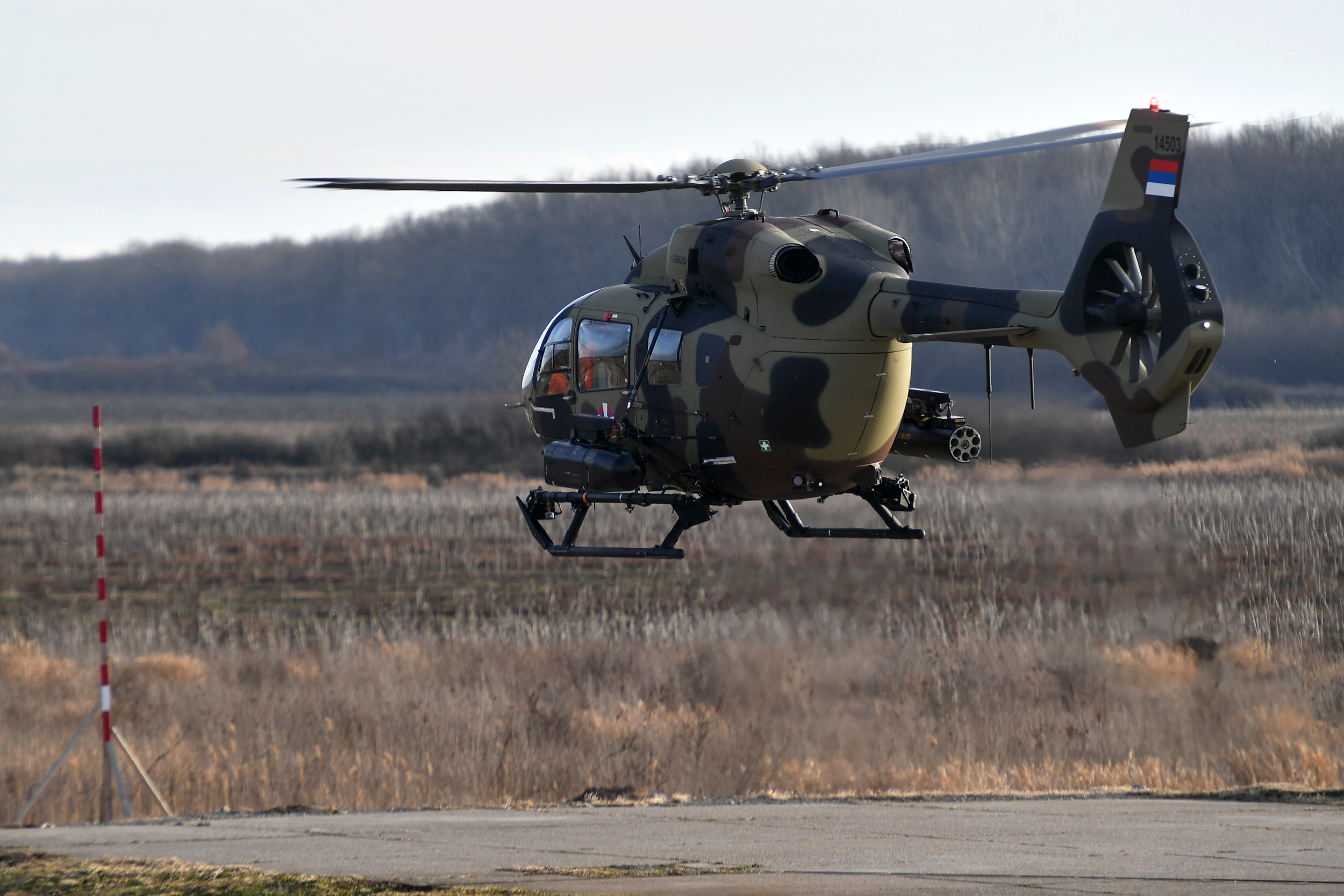 According to him, the test results are very good.

- The German experts and people here in charge of integration of weapons into this aircraft, say that they are very satisfied with the performances of our weapons. This is the first phase of equipping those helicopters with our weapons, while the work is going to be continued on the integration of guided weapons into this helicopter, and into HForce system as well - Assistant Minister Miloradović stressed.

Director of the Military Technical Institute Colonel Bojan Pavković highlighted that the tests were conducted on the weapons developed by the Military Technical Institute and Yugoimport SDPR on helicopter H-145.
- This is an extremely significant testing for us which confirms the fact that we are capable of developing a weapon that can be employed on complex aircraft systems. As we have seen, the weapons are serviceable and we will continue our work on developing both unguided and guided missiles for the seven-barrel launcher that has been tested here, which could enrich this weapon system – Colonel Pavković underlined.

The testing conducted in the testing ground "Nikinci" was attended by Head of Planning and Development Department of the General Staff Brigadier General Milan Popović and Director of the Technical Test Centre Colonel Slobodan Ilić.