New Issue of "ODBRANA"
July edition of the magazine "Odbrana" is brimming with attractive texts and just as attractive photographs that we would recommend to you.

After a brief review of the most important activities of the principal officials of the Ministry of Defence and Serbian Armed Forces, which are traditionally IN FOCUS, we draw your attention to the DISCUSSION WITH THE REASON which we had with Acting Director of the Centre of Military Medical Establishments Belgrade, Lieutenant Colonel Predrag Radonjić on the occasion of 30th anniversary of those institutions.

The section titled SYSTEM, as you got accustomed, is brimming with numerous reports from training, information and attractive photographs from shooting ranges and training areas where the armed forces, continuously upgrade their capabilities, and daily, over and over again justify the confidence of their people.

On the occasion of the jubilee of 126th Brigade for Air Surveillance, Early Warning and Guidance, we bring you a story about a unit decorated with the Order of National Hero for exceptional service in the defence of the country in 1999.

The section ARSENAL brings you a comprehensive text on one of the largest exhibitions of arms and military equipment "Eurosatory", held in Paris last month, where the achievements, projects and developmental capacities were presented by more than 1800 exhibitors from 63 states of the world, among which no less than 39, the Republic of Serbia being one of them, had their national pavilions. The delegation of the Ministry of Defence and Serbian Armed Forces was among 227 official delegations that visited this year's exhibition.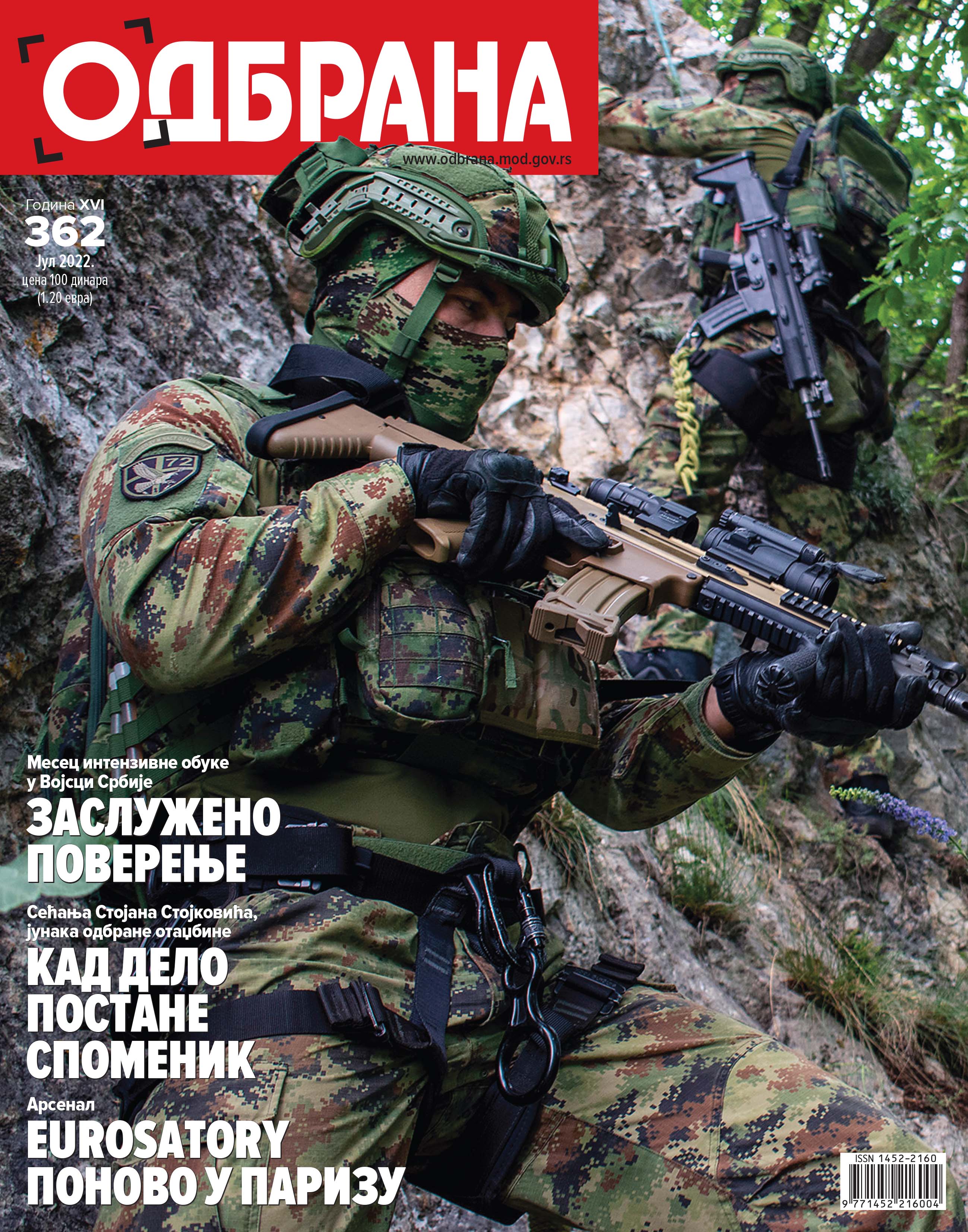 The section ABOUT offers an exclusive story about Stojan Stojković, one of the heroes of the defence of the fatherland, owing to whose courage, and fighting near the village of Glamočelj, in August 1998, the lives of two tank crew members were saved and a tank preserved. The VIEWS bring a one of a kind retrospect of 23rd anniversary of the Kumanovo Treaty, with "thousands of human lives" standing behind it, while thematic section GLOBAL brings a text about a helicopter landing over the river of Meghna in 1971 during Pakistani-Indian war, which brought about unexpectedly great effects.

After section CULTURE which brings a retrospect of a rich season of the Artistic Ensemble of the Ministry of Defence "Stanislav Binički", and section SPORTS, which is rather rich section in this issue, read about ever richer tourist offer of the Military Establishment "Tara" which could arouse your interest in visiting some of the destinations out of their rich offer.

SPECIAL ADDITION is dedicated to marking a significant anniversary - 110 years of the First Balkan War.

There are many reasons to get your copy of July issue of "Odbrana" in time.


CONTENT OF ODBRANA 362

FRONT PAGE
Pg. 2
IMPRESSUM AND CONTENT
EDITORIAL
Pg. 3
A single word
HUMANITY
IN FOCUS
Pg. 4
Activities of the Ministry of Defence and Serbian Armed Forces in June
COURAGE AND WISDOM IN DIFFICULT TIMES
DISCUSSION WITH THE REASON
Pg. 8
Thirty years of the Centre of Military Medical Establishments Belgrade
PEOPLE MAKE THE SYSTEM
SYSTEM
Pg. 12
126th Brigade ASEWG in the year of its jubilee
HEADING TO THE FUTURE NOT FORGETTING THE PAST
Pg. 16
Training in operating motor vehicles
INTERNSHIP WITH LICENCE
SYSTEM - SPECIAL ADDITION - TRAINING
Pg. 19
Month of intensive training in the Serbian Armed Forces
DESERVED TRUST
ARSENAL
Pg. 28
Exhibitions of arms and military equipment
EUROSATORY ONCE AGAIN IN PARIS
ABOUT
Pg. 34
Memory of Stojan Stojković, hero of defence of fatherland
WHEN DEED BECOMES MONUMENT
VIEWS
Pg. 38
23 years of the Kumanovo Treaty
SIGNED BY THOUSANDS OF HUMAN LIVES
GLOBAL - CONFLICTS IN SHADOW
Pg. 40
Important helicopter landings
AERIAL BRIDGE OVER MEGHNA
CULTURE
Pg. 44
Artistic Ensemble of the Ministry of Defence "Stanislav Binički"
SUMMER MARKED BY OPERA
SPORTS
Pg. 46
Second all-round international cadet cup
CHERISHING TRUE VALUES
Pg. 50
Regatta "Trophy of the Naval Academy and the town of Livorno 2022"
FULL SAILS
Pg. 52
13th CISM Futsal Cup for Peace
CHAMPION TITLE
STANDARD
Pg. 54
Military Establishment "Tara"
EVER RICHER TOURIST OFFER
ANNOUNCEMENTS
Стр.56
Service information, competitions
К-3
Service information, competitions
SPECIAL ADDITION - 219
110th Anniversary of the First Balkan War - the Balkan Wars (1912–1913)
CREATION OF THE BALKAN ALLIANCE