Military Healthcare System Strengthened by 51 Members
Today, the military healthcare system has been strengthened by 51 doctors, medical technicians, pharmacists, laboratory and chemistry technicians and employees of other professions, who received their documentation on permanent employment from Head of the Military Health Department General Radivoje Anđelković PhD at a celebration held at the Military Medical Academy in Belgrade.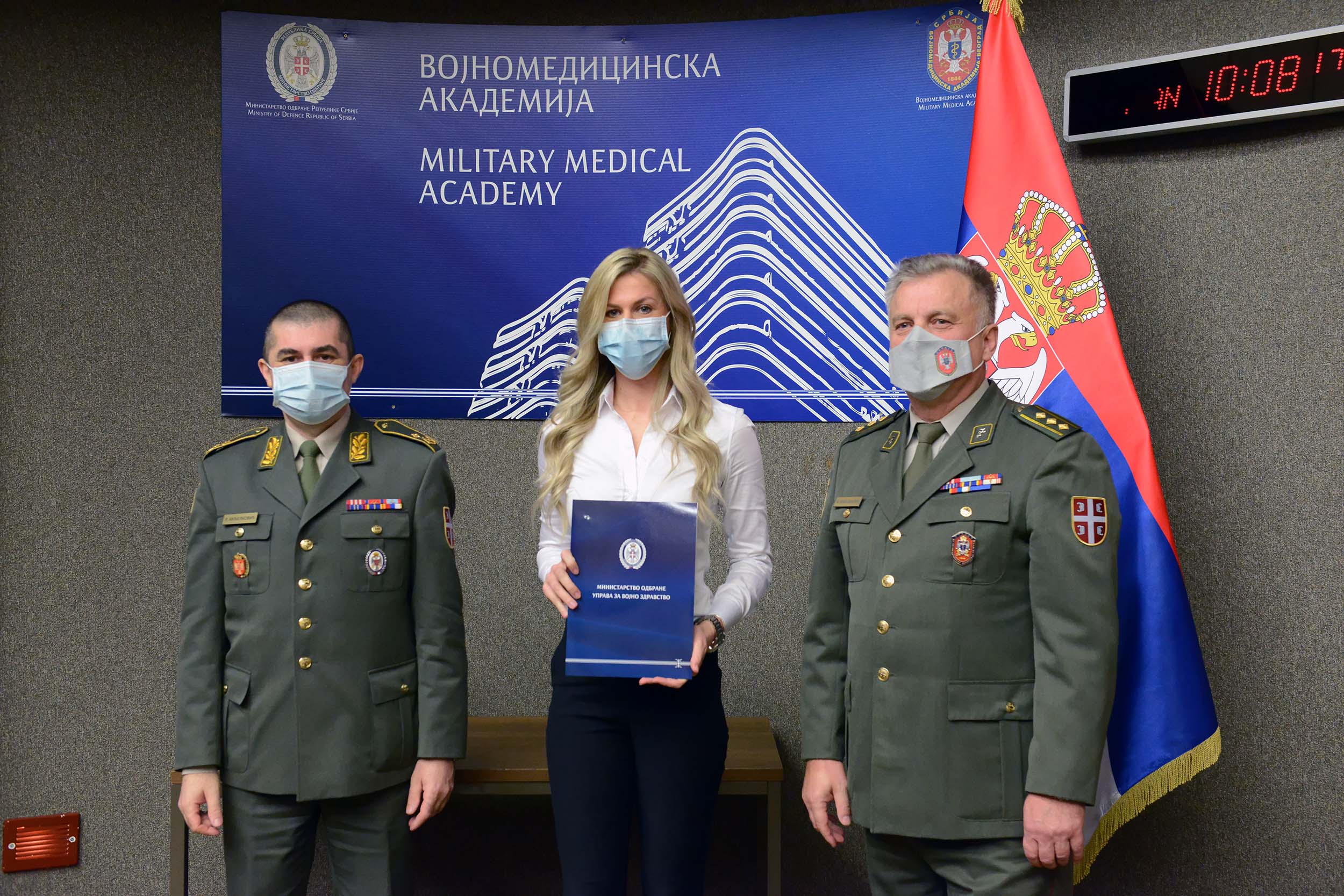 Deputy Prime Minister and Minister of Defence Nebojša Stefanović PhD congratulated the newly employed, pointing out that he was proud of the fact that on that day the system employed the youth of Serbia, which at the same time enabled us to ever stronger fight to protect the health of our armed forces and all citizens of Serbia.

"The confidence that our people have in the military healthcare system is immense. It has been deserved through the effort, competence and dedication of numerous generations of military doctors and other medical staff. Today, you have been permanently employed, and you have also been given an opportunity to work with the best, to learn from the best and one day to even outperform them. Take that opportunity. It is not given to everybody. Also, today, our military healthcare system is getting a reinforcement, a significant help, on its two fronts where it fights its battles making superhuman efforts", Minister Stefanović stressed.

He reminded that it will soon be two years since we have been fighting against Covid pandemic. The military healthcare system joined that fight with all its might, and with almost the same intensity it fights for the health of all non-Covid patients, having in mind that the MMA has opened its doors to civilians 24 hours a day.

"I am extremely proud of all our men. They have showed how tirelessly, fearlessly one should fight for our people and for Serbia. That is why I am particularly glad that today they have received help – their new colleagues. Since I assumed the duty of the minister of defence, with today's employment, we have strengthened the military healthcare system by the total of 325 young newly employed people, and that is something that I am truly proud of", stated Minister Stefanović who is currently in self-isolation due to coronavirus.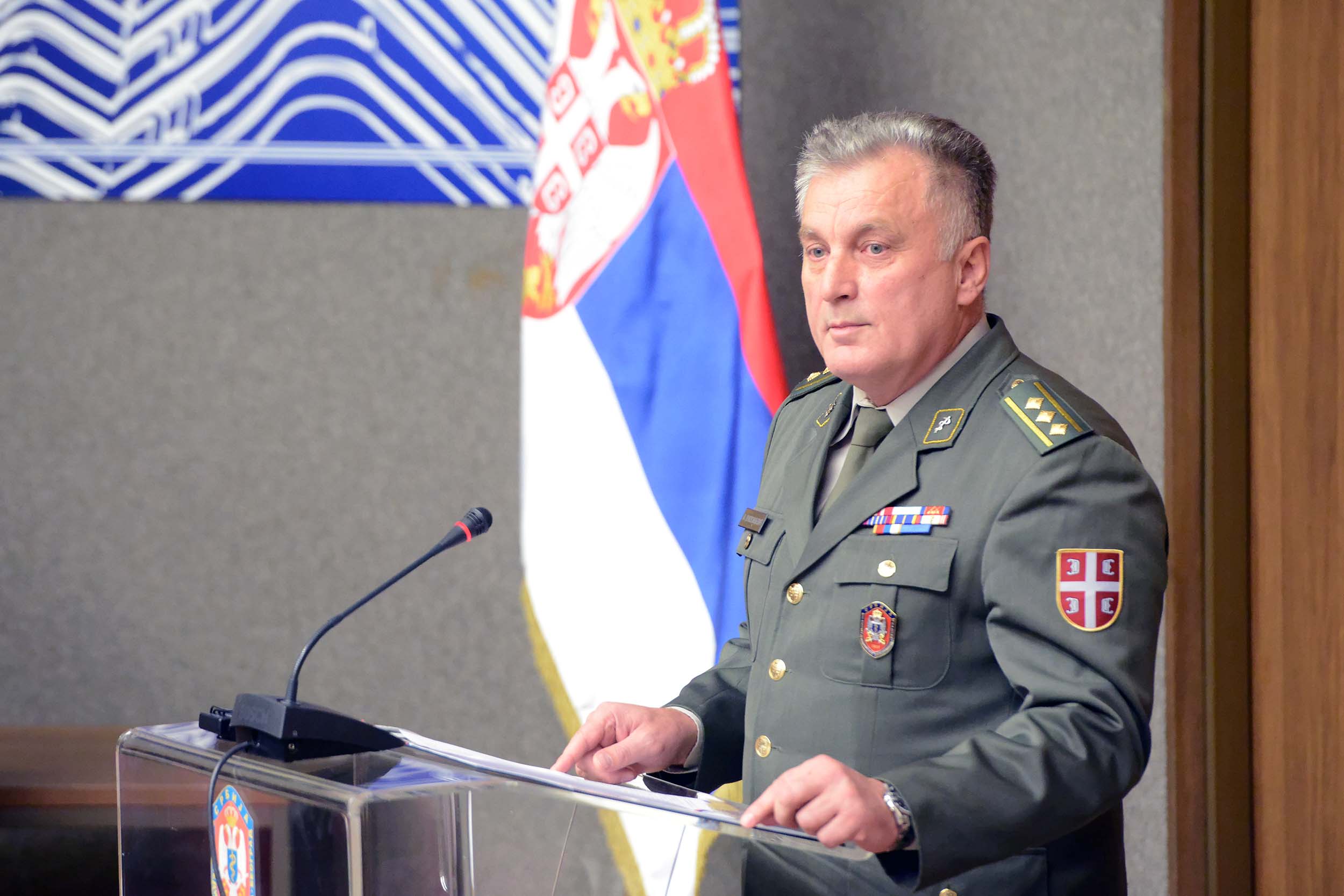 At the celebration, the newly employed were welcomed by Head of Military Medical Academy Colonel Professor Miroslav Vukosavljević MD, who pointed out that it was the first in a row employment of new staff announced for this year, which is the continuation of the strategy to strengthen the military healthcare system through manning.

- The decisions of the ministry of defence on employment are at the same time decisions that prevent the weakening of our first line of defence, which has been particularly important in previous two years. All of you make that first line, whether you are in direct contact with the ill, or with the members of their families, or you provide support in other way, performing your duties conscientiously and responsibly with the aim to improve health. When providing the best medical care, the fundamental starting point is the people, and in that chain of protection of our patients' health, all professions are equally important – Colonel Vukosavljević underlined.

As he stressed, the calling of a military health worker is characterised by virtues such as heroism, dedication and selflessness, concurrently with the devotion to one's collective.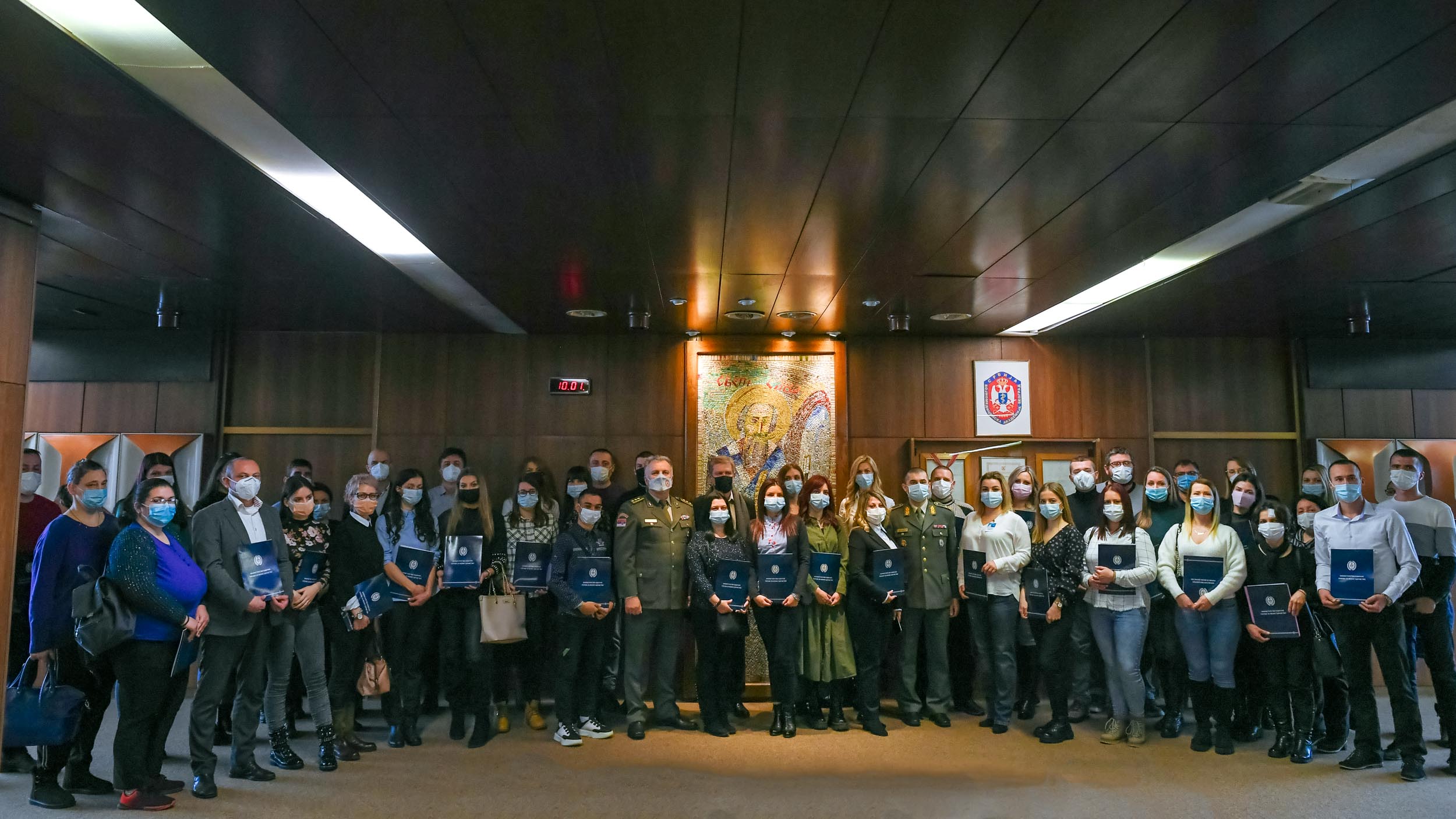 - A large collective has its advantages, and flaws as well, but over all those years that I have spent under this roof I am convinced that the MMA is a quite unique and in many ways irresistible establishment. It is recognised all over the world as a place where great professionals come from and a place where not only the citizens of our country, but the citizens from neighbouring countries come because they rely on 178 years long tradition. We leave to you the heritage of quality in every respect, as well as to the generations that are yet to come. We will be there for you to provide support whenever you need it, and we will unequivocally expect from you to preserve the heritage and to advance it - Colonel Vukosavljević underscored.

Among other, Nenad Vojinović received the documentation on permanent employment today, and he considers his work in the MMA Clinic for Orthopaedic Surgery and Traumatology as an opportunity to help his fatherland. Marijana Dragićević, who is starting today her permanent employment as a theatre nurse in the MMA Surgery Block, points out that it is important for her to do the job that she likes.

- I am very pleased to be permanently employed, because I can plan my future – Marijana stressed.