President Vučić: In nine months the Serbian Armed Forces Will Double their Power

Today, President of the Republic and Supreme Commander of the Serbian Armed Forces Aleksandar Vučić, together with Deputy Prime Minister and Minister of Defence Nebojša Stefanović PhD and Chief of General Staff of the Serbian Armed Forces General Milan Mojsilović, attended the "Open Day" event, hitherto largest tactical-technical display which the Ministry of Defence and Serbian Armed Forces organised in Kragujevac.

On that occasion, President Vučić announced that as early as January or February of the following year, the Serbian Armed Forces would be two times stronger than they were on that day.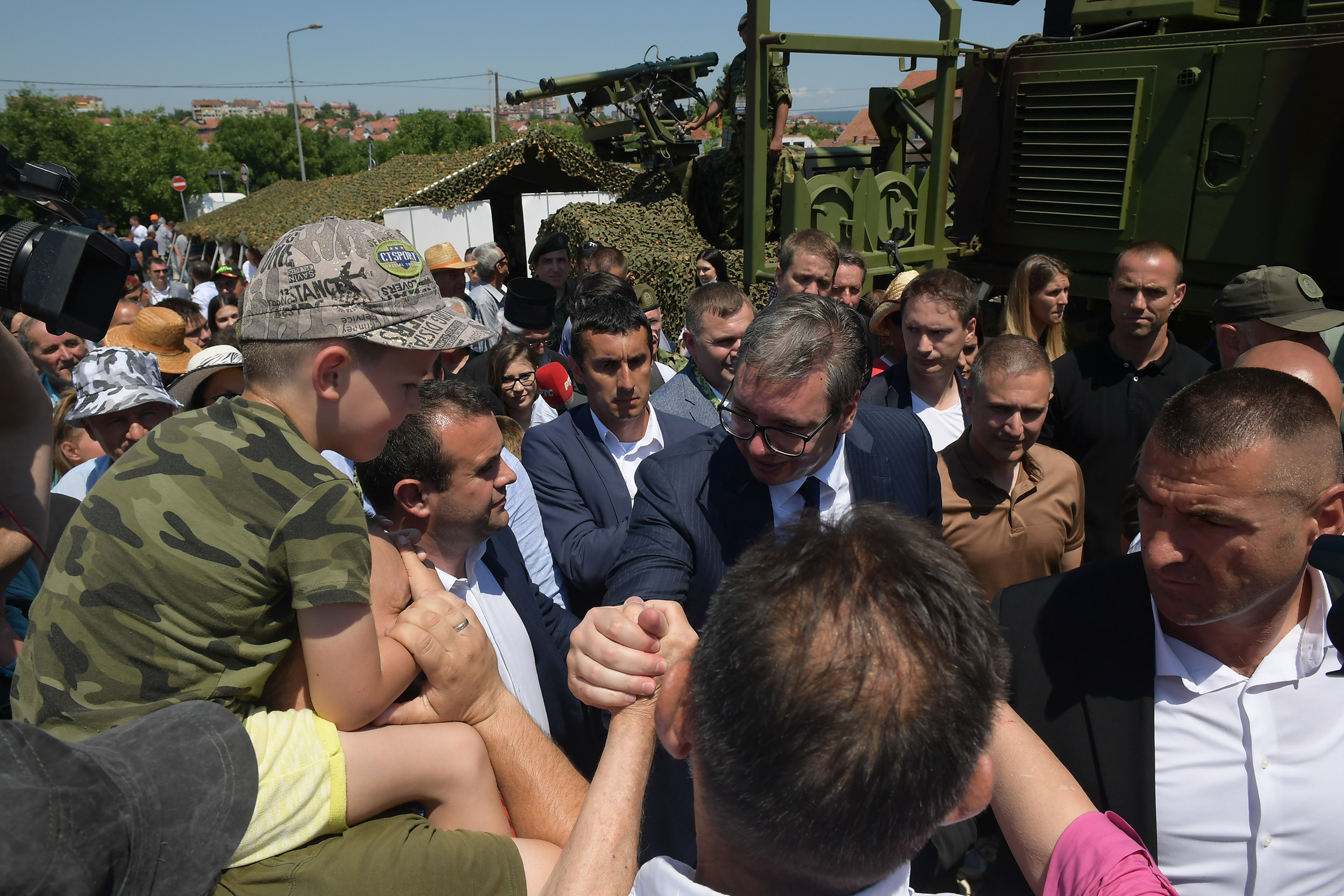 - Imagine everything that you saw yesterday, and in just nine months it will be double – said the president during the tour.

He expressed his gratitude to the minister of defence and Serbian Armed Forces for having organised the display saying that everything that was presented belonged to our people.

-I am the happiest when I see that people can enter into our helicopters. They should not be afraid of them, but the others should – the President of the Republic emphasised and added that such events should be organised more often.

- I thank our defence industry factories. Yesterday, the people did not notice 11 "Pasars" that came from our factory, and that is very encouraging. I congratulate you and our factories – Vučić said.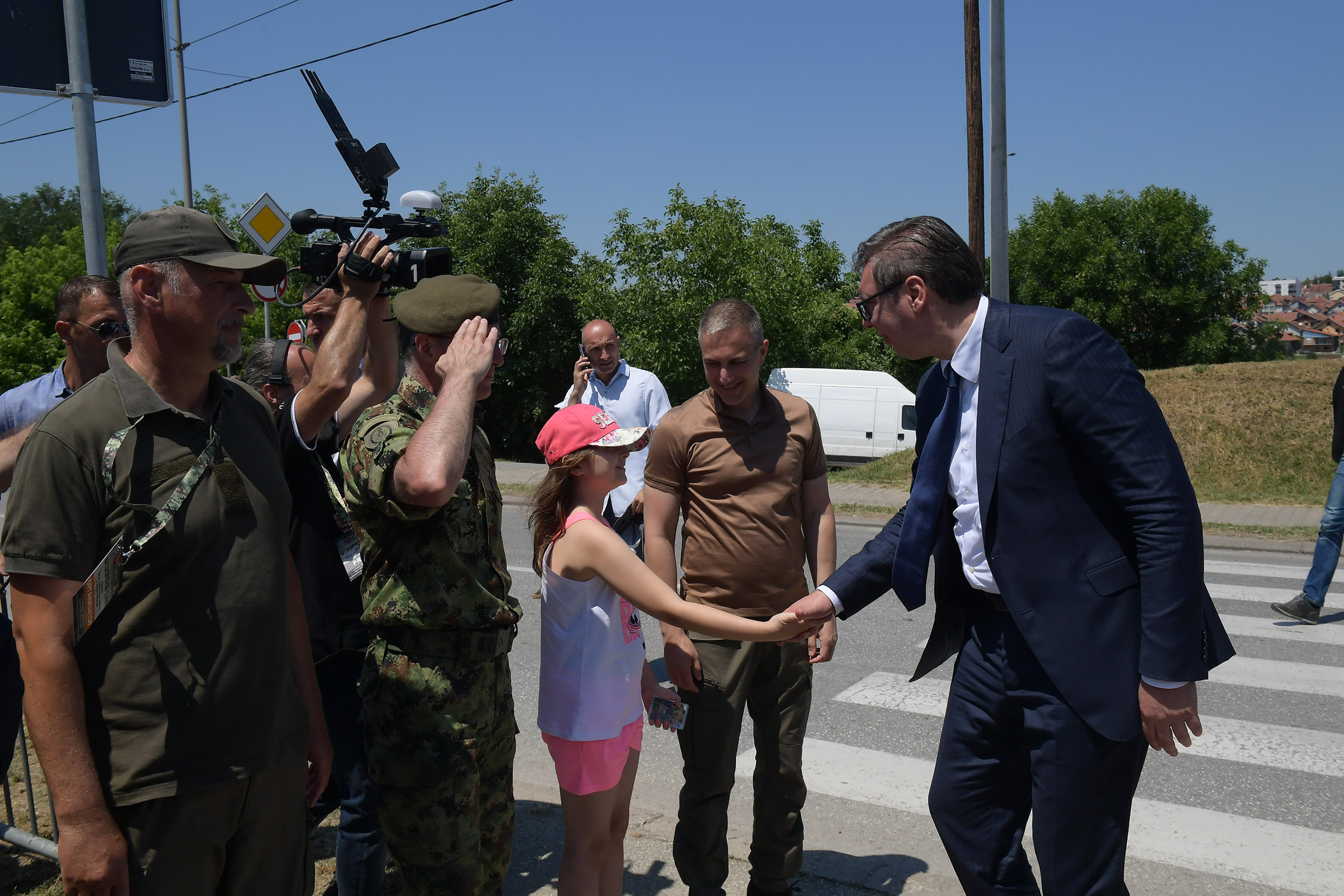 Today's holiday, Vidovdan, was an opportunity for the citizens of Serbia to see numerous assets of arms and military equipment owned by our armed forces, such as modernised tank M84-AS1, multipurpose armoured fighting vehicle 4x4 "Miloš", multipurpose armoured vehicle 8x8 "Lazar 3", self-propelled gun-howitzers 155 мм "Nora" B-52, which are the products of our experts and national defence industry, but they can also see the assets procured from other countries for the requirements of our armed forces, some of them being AD system "Pantsir S1-2", tanks T-72MS, armoured reconnaissance vehicle BRDM-2MS, armoured vehicle "Humvee", helicopters H-145M, Mi-17B5 and Mi-35-M.

Apart from the assets that were used yesterday during the exercise "Momentary Strike 2021" held on Pešter, the citizens' attention was equally drawn by self-propelled artillery systems "Tamnava" and "Šumadija", short range unmanned aerial vehicle "Sparrow", and the kamikaze-drone presented for the first time called "Raven" and armed drone "Gad-fly".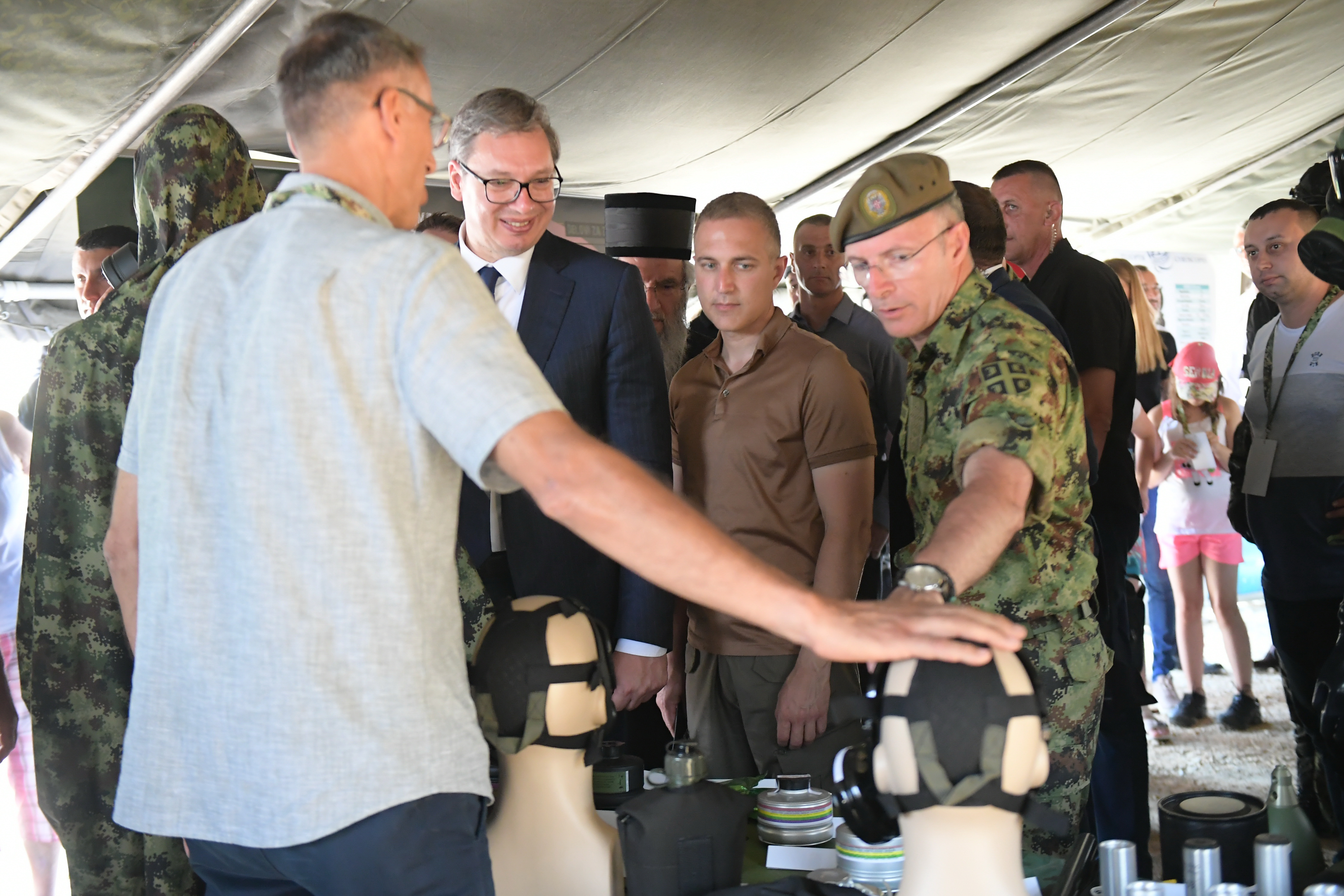 The "Open Day" event included an exhibition of uniforms and weapons from the holdings of the Military Museum "Serbian brave men and heroes from 1914 to 1999", and Sport Shooting Club of the Military Academy "Akademac" enabled interested citizens to try their luck in shooting from air rifle and pistol. Also, the members of the Serbian Armed Forces demonstrated practical use of martial arts and segments of service dogs' handling, while the youngest visitors with great joy had their photographs taken with pilots and special units' members and had their faces masked with camouflage paint.

Along with the sounds of marches and military music performed by Ceremonial Orchestra of the Guard, visitors of the "Open Day" event could enjoy in the famous soldiers' beans.

Magdalena Dragićević from Kragujevac and her children will bring many good impressions from the "Open Day" event.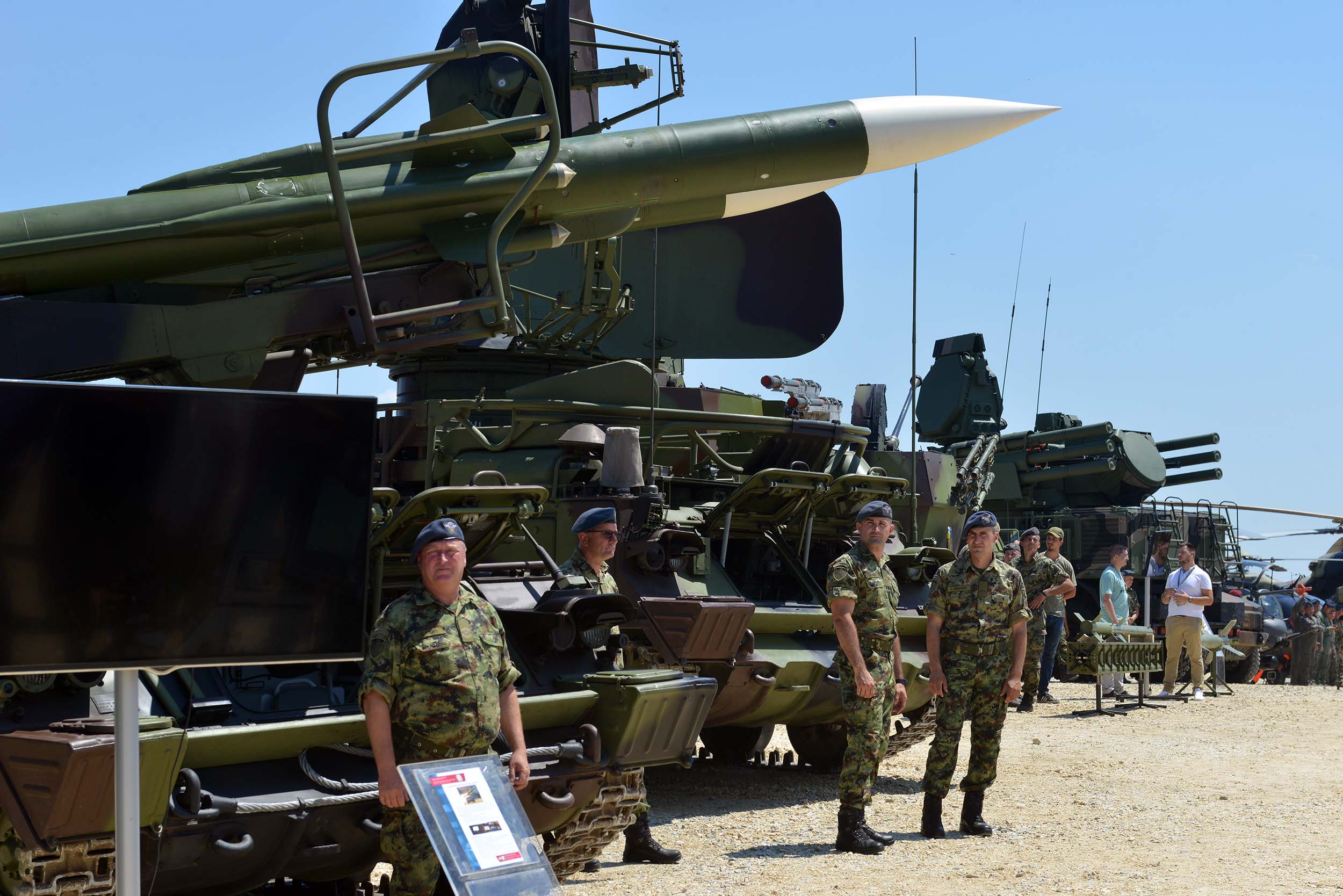 - I think that this is the right thing to do. We absolutely love the soldiers' beans, especially my youngest son Lazar. The "Beans" is awesome - Magdalena Dragićević exclaimed, and together with her three daughters and son states that the greatest impression was left on them by AD system "Pantsir", helicopters and missile systems and they all had their photographs taken next to those weapons.

Anja Mihajlović who was born in Kosovo and Metohija visited today the display of arms and military equipment in Kragujevac and she did not hide her exhilaration of being able to see the helicopters and of being able to "take a peek" in each of them.

- Last year I had tried to enrol on the Military Grammar School, but sadly I did not make it, but I will do it in four years when I try to enrol on the Military Academy - Mihajlović said.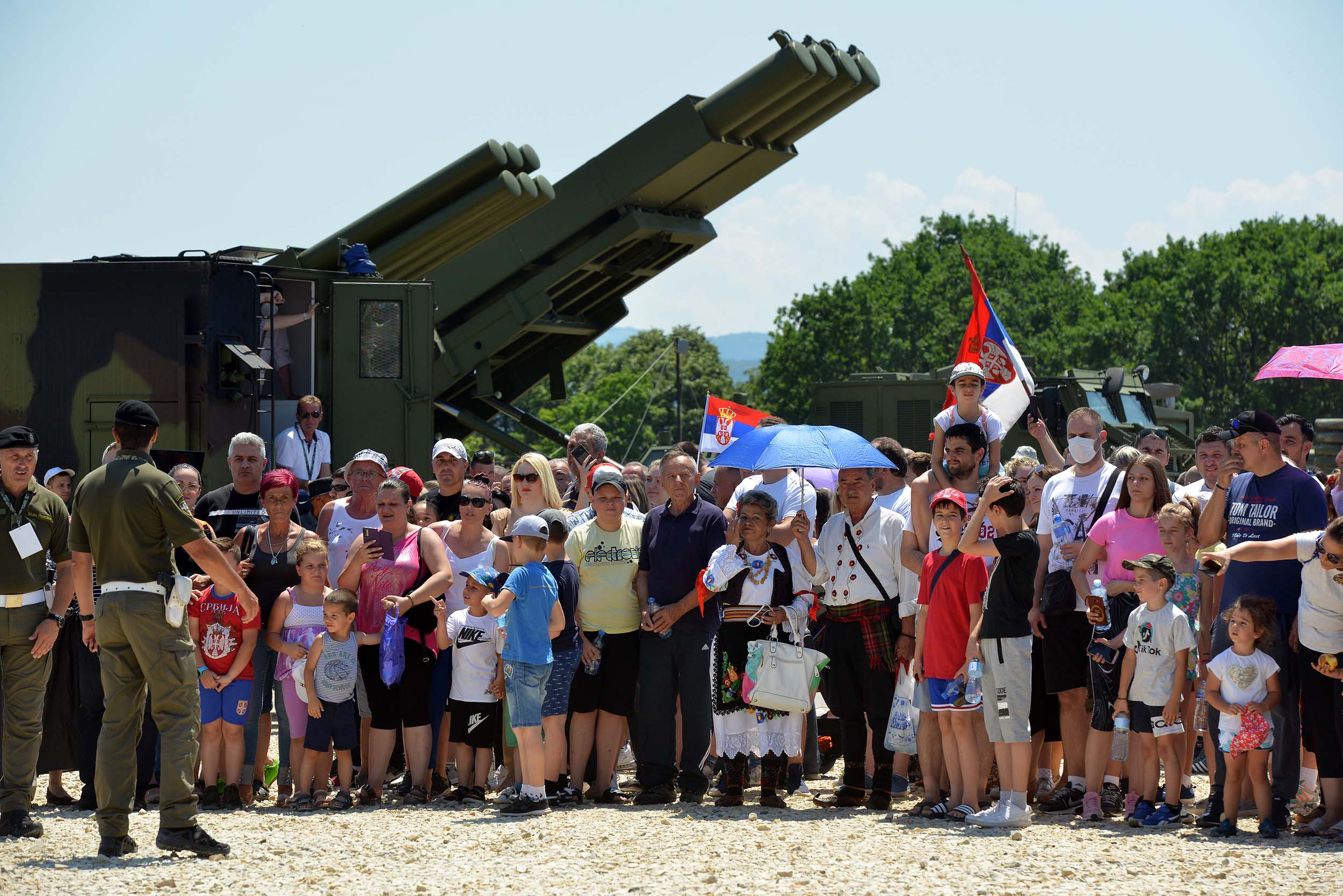 According to Radojica Janković from Kragujevac, the state of the armed forces is much better today than it used to be 30 years ago when he served military service, as a member of a special mechanised unit.

- Now everything, the arms, rifles, tanks, transporters, is much more replenished. Many assets have been modernised and better made than they used to be – Janković stresses and states that by coming to power Aleksandar Vučić has considerably contributed so that the armed forces can have new equipment, from uniforms to armament.