Minister Stefanović attends Defence Exhibition in United Arab Emirates
At the invitation of the Vice President and Prime Minister of the United Arab Emirates, the Ruler of Dubai and Minister of Defence Sheikh Mohammed bin Rashid Al Maktoum, the Deputy Prime Minister and Minister of Defence Nebojša Stefanović, PhD, attended the opening of the 15th International Defence Exhibition and Conference "IDEX 2021" in Abu Dhabi.

Prior to the official opening of the fair, Minister Stefanović met informally with the UAE Minister of State for Defence Affairs, Mohammed Ahmed Al Bowardi Al Falacy.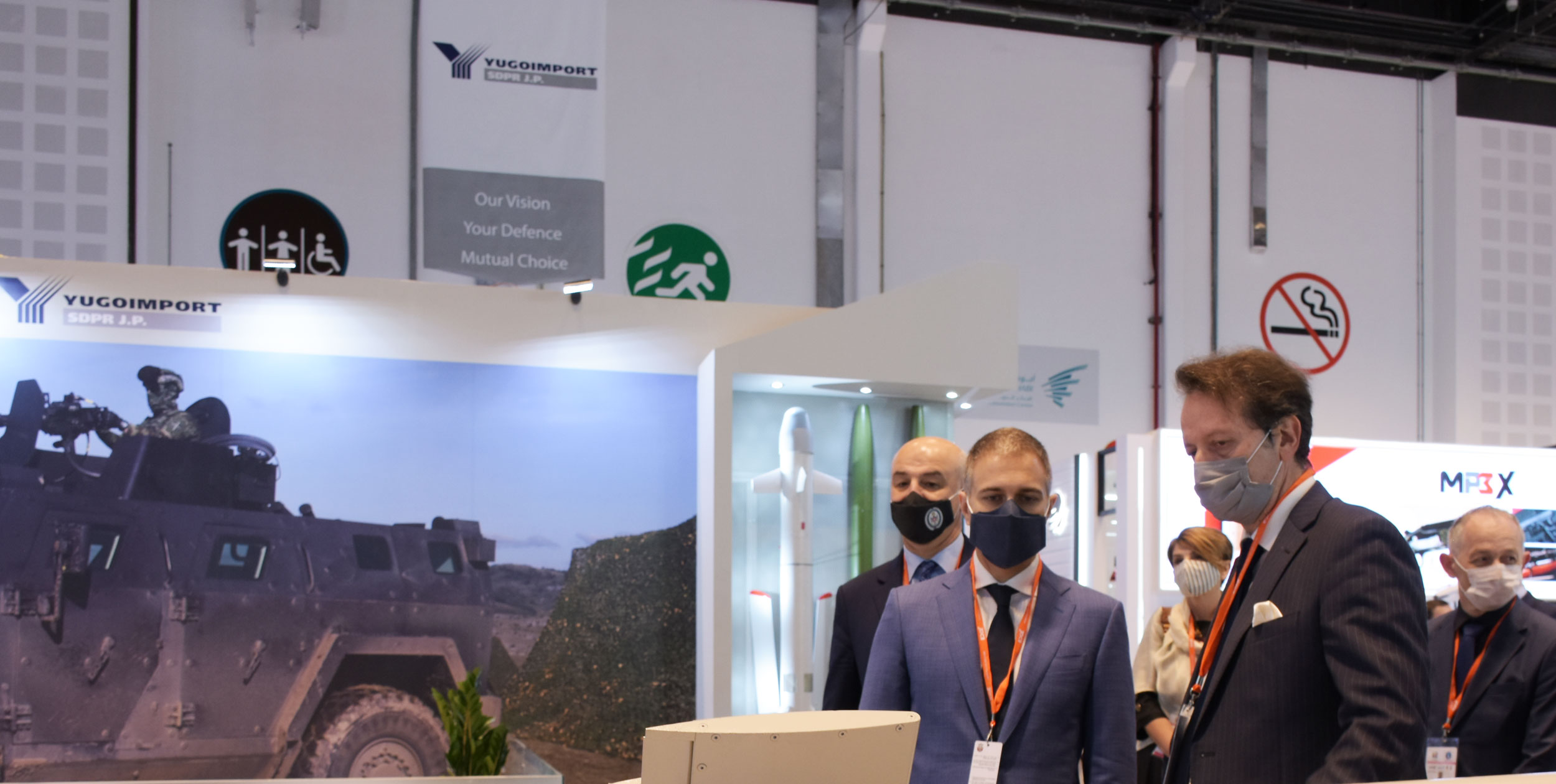 According to Minister Stefanović, this major weapons and military equipment fair is a good opportunity for our defence industry to present what it has created in the previous period and what it can produce.

- It is a good opportunity for our hardworking people and our factories to present their products, including everything that has been introduced into the armament of the Serbian Armed Forces, as well as some new projects that we are working on, including complex combat systems - said the Minister of Defence.

He emphasized that during the Defence Exhibition, he would meet with fellow defence ministers from several countries, with whom he would discuss mutual cooperation.

- We will talk about what we can do in these complex Covid-19 circumstances to help make our armed forces more efficient, to increase the number of joint exercises that would keep our multifunctional operability good, and at the same time to hear my counterparts' ideas about our further joint endeavours and the possibility of concluding new agreements that would lead to our country's progress - said Minister Stefanović.

On the first day of the fair, the Minister of Defence also visited PE Jugoimport SDPR's stand, where a part of Serbian Defence Industry's production program is presented.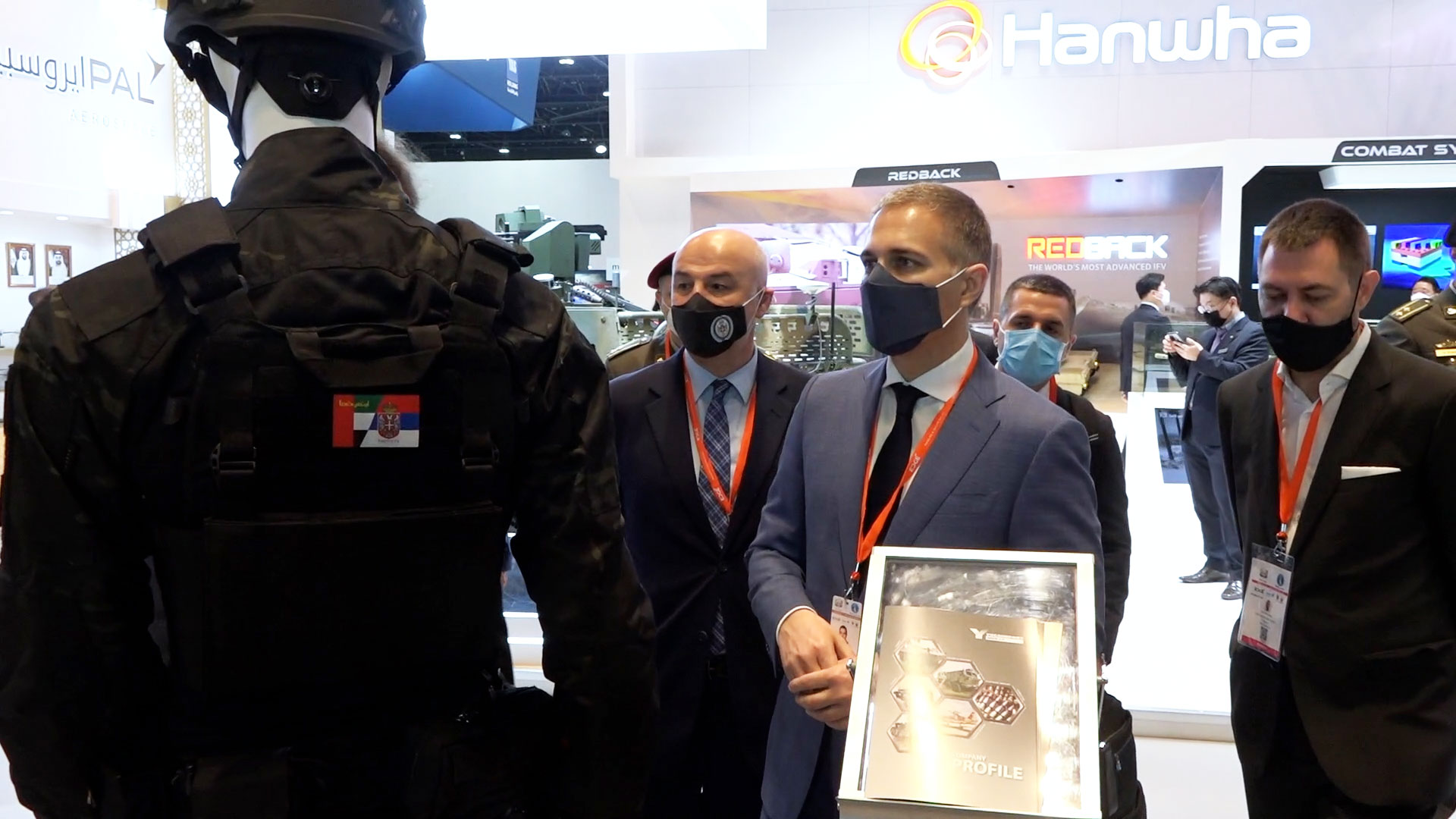 One of the exhibitors at one of the largest and most important international weapons and military equipment exhibitions is the Jugoimport- SDPR Company whose aim is to present solutions and new achievements in the field of Serbian Defence Industry weapons and military equipment production program.

The International Defence Exhibition and Conference (IDEX) is held biennially under the patronage of His Highness Sheikh Khalifa bin Zayed Al Nahyan, President of the UAE and Supreme Commander of the UAE Armed Forces.

IDEX is the only international defence exhibition and conference in the MENA region demonstrating the latest technology across land, sea and air sectors of defence. It attracts attention of state and military representatives, i.e. the users of armament and military equipment, which is a good opportunity for the world to see what Serbian Defence Industry has to offer.

Despite the coronavirus pandemic, this year's IDEX, located at the Abu Dhabi National Exhibition Centre (ADNEC), has gathered more than 900 exhibitors from 59 countries and is held in strict compliance with prescribed Covid-19 protective measures.