Great Combat Efficiency of "Small Miloš"

Contemporary concept of warfare is characterised by a requirement to replace personnel in all potentially dangerous and life-threatening situations. The Serbian Armed Forces have recognised this requirement and on those very grounds they have developed and introduced in arms and military equipment system a remotely controlled fighting unmanned ground platform "MILOŠ N".

It is a remotely controlled mid-size electrical unmanned ground combat platform "MILOŠ N", and the primary use of that system is support to the infantry and special units for incapacitation and neutralisation of individual and group infantry targets at distances of up to 800 metres.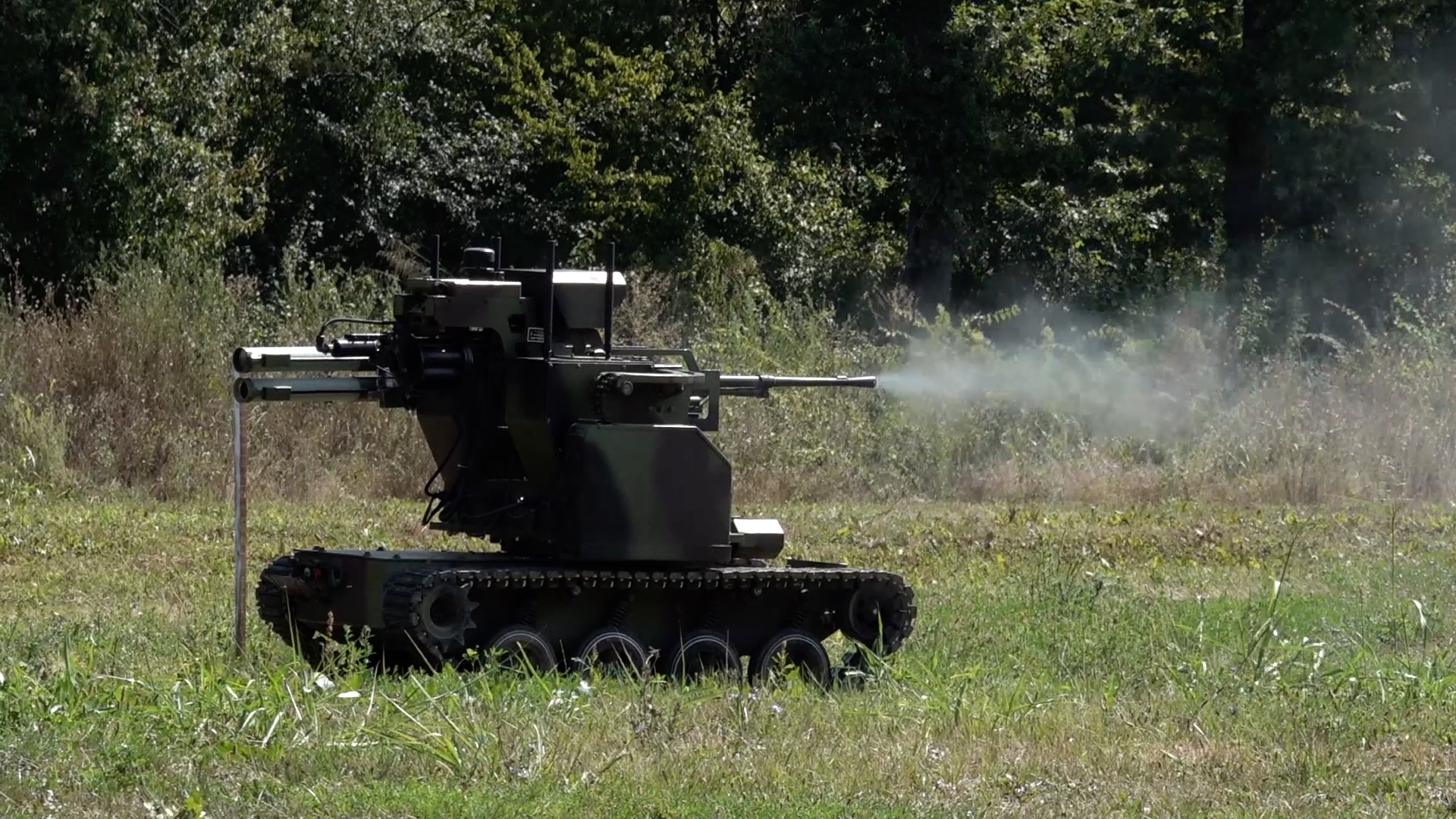 It is widely known under the name of "Small Miloš" and it has two weapon subsystems - 7.62mm calibre machine gun M86 and 40mm calibre revolver grenade launcher. The capacity of the combat package is 500 7.62x54mm rounds and 6 40x46mm rounds. The system possesses a modern opto-electronic system with day and thermal vision camera with changeable zoom and a laser rangefinder. It is all integrated with a fire management system which can, on the basis of measured distance to the target and chosen weapon subsystem, automatically assume necessary firing elements. The system is operated from a safe distant place from a command-logistic vehicle or by means of portable operator's desk. It possesses a modern communication system which ensures reliable vehicle operation even in urban terrain i.e. the conditions without optical visibility.

Current vehicle autonomy is somewhat more than 90 minutes, but tests are already in progress of a new battery package which will multiply enhance the autonomy and speed of movement of the vehicle.

Tactical advantage in relation to other platforms in the same category is reflected in the fact that it can go through standard width door (80 cm), and climb staircase, thus enabling additional versatility, or it can move and execute tasks within buildings. The platform has ballistic protection against weapons of 5.56mm and 7.62mm calibres.

"Small Miloš" has proven to be a highly precise combat vehicle, and as a pioneer of unmanned ground platforms in our armed forces, it has opened a door for further modifications and upgrades. Currently, tests are in progress of logistic-transport variant named "MILOŠ L", which will, apart from standard logistic requirements of delivering supplies to the first lines of combat, such as ammunition, food, and water, be used for evacuation of the wounded from the firing posts.

The forthcoming period will bring planned modifications of the system "MILOŠ N" through integration of larger calibre weapons which would make this system an anti-armoured vehicle. One of the upgrades planned for the upcoming period is implementation of smart functions that would provide "Small Miloš" with a capabilities of automated movement, recognition and avoidance of hurdles and return to initial position, and of autonomous movement i.e. following troops during their movement.

Having in mind that the primary use of the remotely controlled unmanned platform "Miloš" is protection of personnel, the range which the vehicle "Miloš" can maintain from the command-operating vehicle is around two kilometres. Together with machine gun range of 800 metres, that means that the vehicle operator is at a distance of 2,8 kilometres from the frontline. This vehicle is efficient for elimination of targets at the distance of 800 metres with a machine gun and up to 350 metres with grenade launcher.

The unmanned remotely controlled platform "Miloš" has already demonstrated its qualities and it will considerably improve operational capabilities of the Serbian Armed Forces.