The Ministry of Defence thanked the local businessmen who helped in the fight against Covid-19

The ceremony of presenting military recognitions and certificates of appreciation to companies, individuals and media that donated funds and provided support to the Ministry of Defence and the Serbian Armed Forces during the fight against the Covid-19 infectious disease, was held today at the Guard's Club in the Topčider barracks.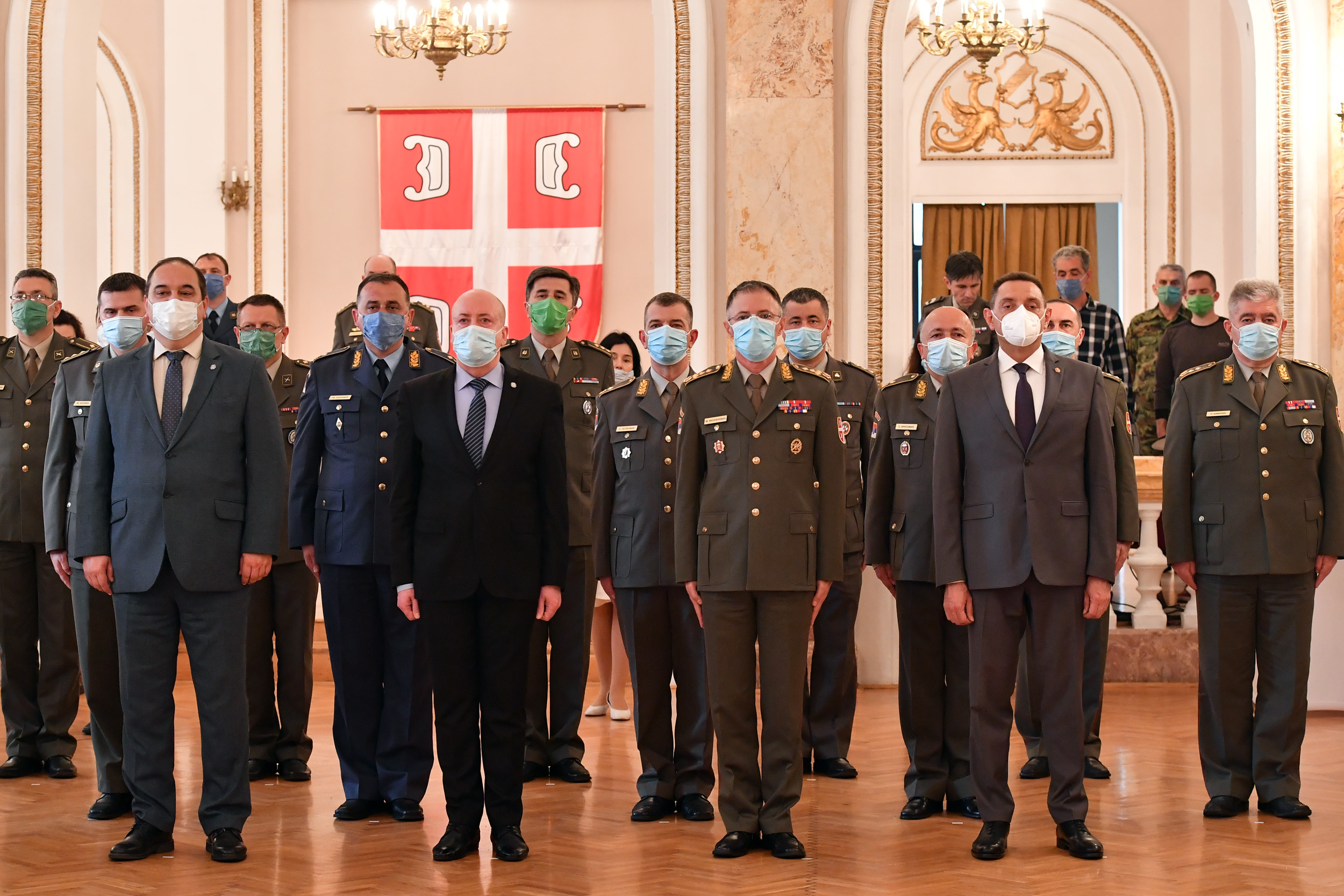 The Minister of Defence Aleksandar Vulin thanked all those who donated funds to prevent the spread of the Covid-19 infectious disease, on behalf of Serbia, on behalf of the President of the Republic and the Supreme Commander of the Serbian Armed Forces, Aleksandar Vučić, and on behalf of every soldier and patient. Serbia showed its best and most beautiful side when it was the hardest.

- You were there and you still are. That is why I am grateful to you both on behalf of Serbia and on behalf of the Supreme Commander of the Serbian Armed Forces, Aleksandar Vučić, on behalf of the citizens of Serbia, on behalf of every soldier and every patient. I am grateful that we were able to stand so proudly in front of foreigners, to show them what we are able to do and what kind of hospitality we were able to show them. Thank you for the fact that none of our soldiers, none of our health professionals were neglected or lacked a hot drink, that they did not lack protective equipment and disinfectants, that they did not lack food or newspapers. Thank you for taking care of them as if they were yours, and in fact they are yours. Thank you very much on behalf of the state of Serbia, which showed its best and most beautiful side, just as we did, together with it - Minister Vulin pointed out.

The Minister of Defence said that a country like Serbia cannot be measured by the number of its inhabitants and square kilometres, by its gross domestic product or by wealth, but only by the value and virtue of its people.

- We have shown that we are better; we have proved to be more organized, richer, more mutually responsible and safer than many great and more powerful nations. Size and power do not reside in bank accounts, in Swiss vaults. Greatness and power are reflected in the strength and industriousness ​​of people who are ready to share their piece of bread with someone so that they would not be hungry. In the times of "holy selfishness", you have shown that above that principle that rules this world, there is another bigger, more important principle - "holy love" for the people you live with and for the country you live in - said Minister Vulin.

During the fight against the coronavirus, we could see big and powerful countries, rich nations snatching aid, respirators, and medicines from each other. We could see that there was no organization, no state, and no people in many rich and powerful cities, Minister Vulin said, adding that thanks to our people, such a thing could not be seen in Serbia.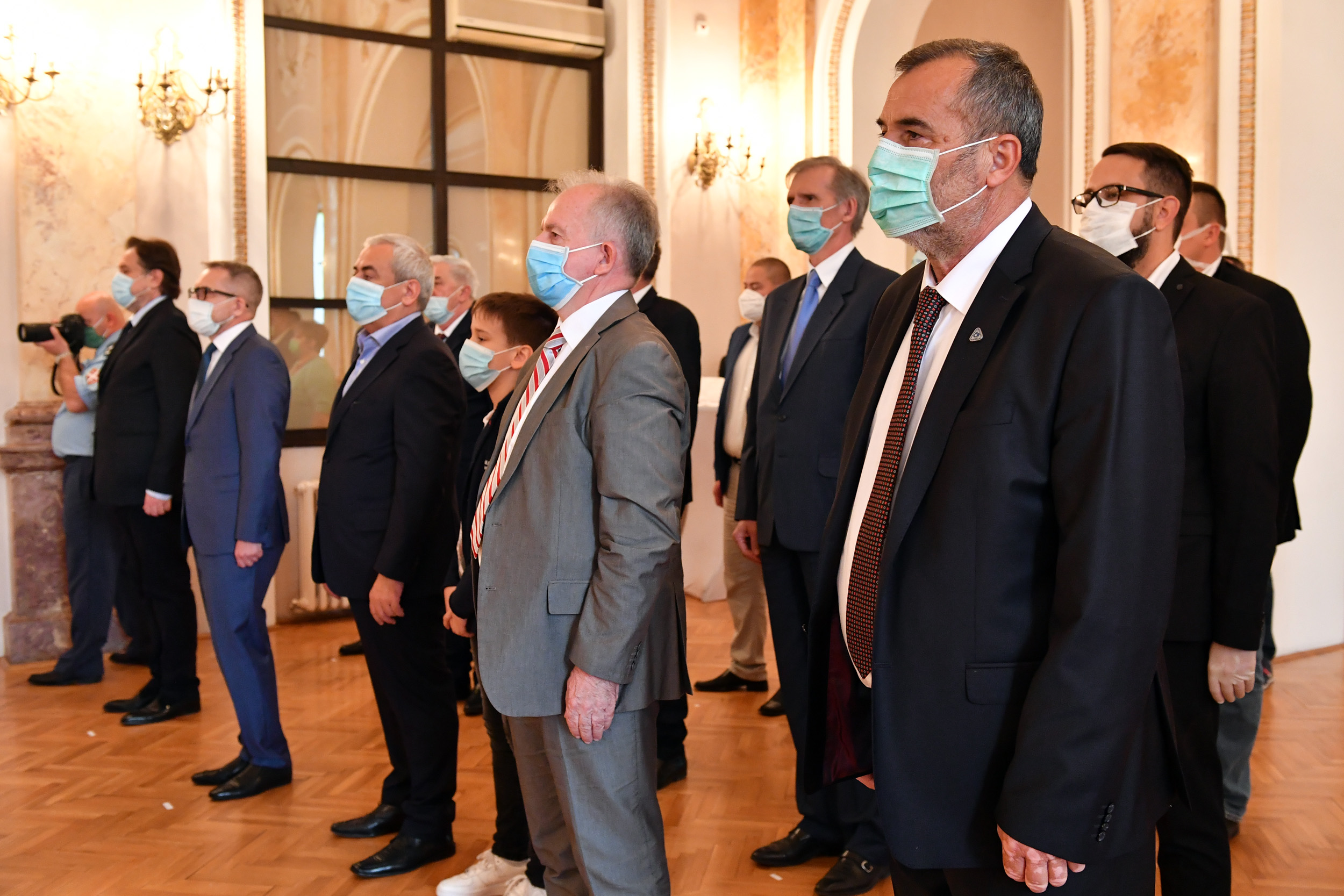 - In this country, no one was left alone, without a medicine, without hope, and no one can say that the state pushed them away, forgot them, left them behind, asked whether they had health insurance or not, how rich or poor they were. In this country, everyone had the right to live and no one's father or mother was taken off the respirator because they were too old. No one is too old or too young for us. There is not a single life that is not worth fighting for. Thank you for being there in the most difficult moments - Minister Vulin emphasized.

All those who helped in the fight against the coronavirus were not asked or expected to do so, the Minister of Defence points out and adds that the volunteerism that everyone has shown is all the more valuable. He told the gathering that they made us proud, because they showed that there are so many people who are ready to be with all of us, and to help even more than they can.

- Thank you for showing us your best and most beautiful side in this difficult moment, for showing that no one in this country is, will not and must not be alone, for showing that you are there when no one is paying attention, when the lights are out, and the camera lenses turned away - said Minister Vulin.

On behalf of the awarded, the owner and director of the "TERMOMONT" company, Dejan Burčul, addressed the gathering, thanking everyone who has been fighting against coronavirus for months – health professionals, soldiers and police officers.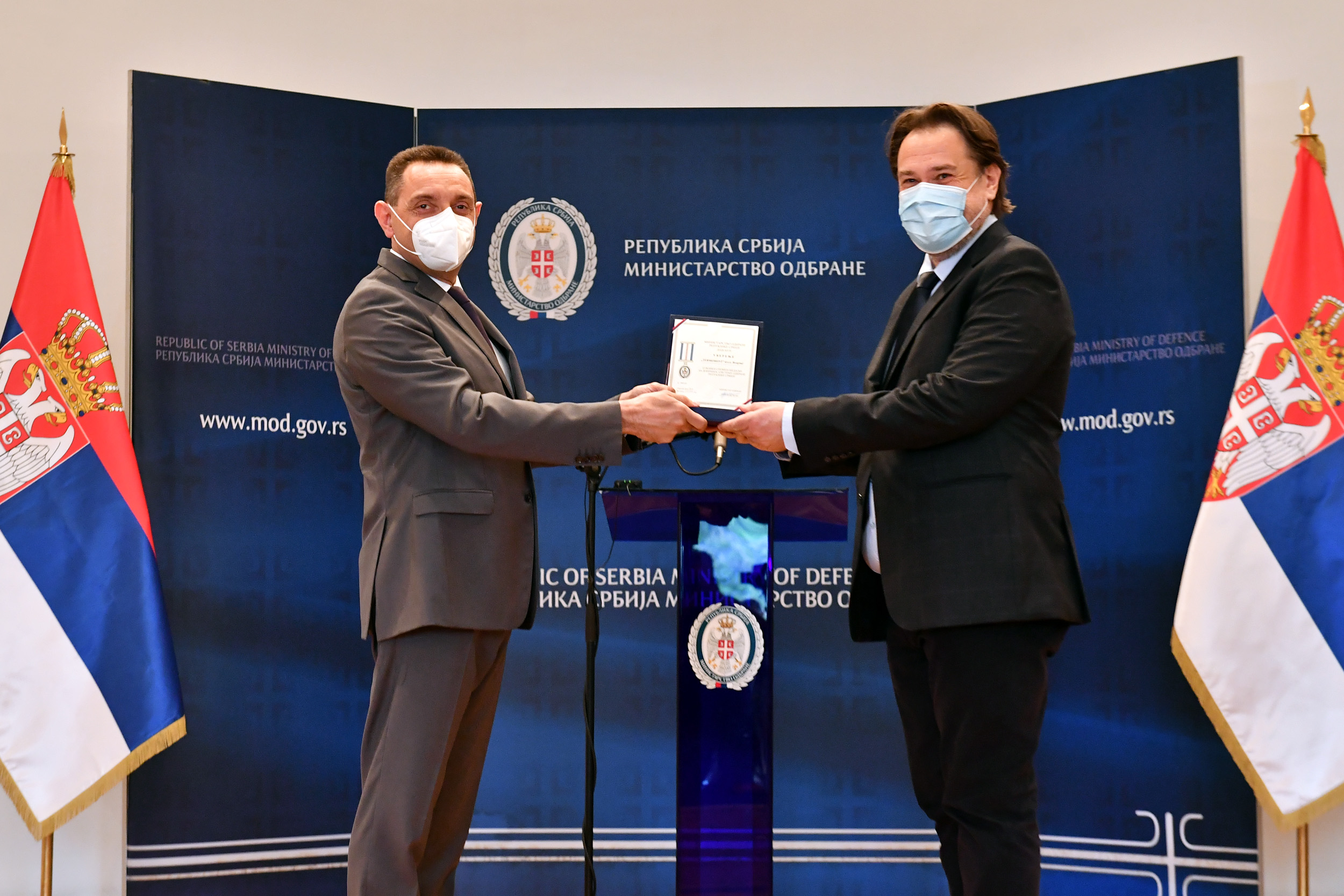 - I would like to thank the Ministry of Defence, first of all the Minister of Defence, because they recognized our desire to help, that they believed in us and enabled us to carry out the project to the end. I would also like to thank my colleagues from "TERMOMONT", but also our partner companies "Bauwesen", "Šumadijaput" and "Elektromont" who helped us complete the project. What we are proud of is not the speed with which we completed the project, nor the quality of work. We are proud of the unity - a dozen companies with hundreds of employees worked as one, without previous preparation. We succeeded in our intention to complete the hospital in record time and to provide our fellow citizens with a place where they will receive quality treatment. I hope that we have shown exceptional motivation, I know that we are all delighted with the project, that we have all worked together and raced against time and I hope that we have at least partially shown how much we care about our country, the country that we love and live in - said Burčul.


At today's ceremony, as a sign of recognition for successful cooperation, Minister Vulin presented military commemorative medals for exceptional contribution to the defence system of the Republic of Serbia to the following companies: "Termomont" Ltd. Belgrade, "Infrastructure Development and Construction" Ltd., "Gazprom Neft", "Milan Blagojević - Namenska" JSC Lučani, "Hilton Belgrade" Hotel, "Zastava Tervo" Kragujevac, "Messer Tehnogas" JSC Belgrade, Unionclean Ltd. Belgrade, "Prva Iskra - Namenska proizvodnja" JSC Barič, "DIS" Ltd. and Yumco JSC Vranje.

The Chief of the General Staff of the Serbian Armed Forces, General Milan Mojsilović, presented plaques of the Ministry of Defence to the representatives of the following companies: "SIGMA" Ltd. Kula, "Trefoil inženjering", Ltd, "Kleemann Liftovi", "Slodes" hotel Rakovica, "Prva petoletka - Namenska" JSC Trstenik, B92 Fund, "MERCATOR-S" Novi Sad, "VINEX ETIL" Ltd. Zrenjanin, "KNJAZ MILOŠ" JSC Aranđelovac, "MLEKARA ŠABAC" JSC Šabac, "FRUCTUS" Ltd., "PHUKET" Ltd, "IVOX" Ltd. Smederevo, "POLIPAK" Ltd. Batočina, "MOZZART" Ltd., Public Utility Enterprise "VODOVOD" Sremska Mitrovica, "FIREFLY PRODUCTIONS" Ltd. Belgrade, "MAĆI-001" Ltd., "MILLENNIUM TEAM", "HIP-PETROHEMIJA" Pančevo and "Espresso expres" Ltd.

The State Secretary in the Ministry of Defence, Aleksandar Živković, presented certificates of appreciation from the Ministry of Defence to the representatives of the "My Place" Hotel in Niš, the "Ratko Mitrović" Student Resort on Zlatibor, the "Adligat" Society for Culture, Art and International Cooperation, "Berkosan Balkans" Ltd. Nova Pazova, "SIGMA PROMET" Ltd. Bečej, "Adria Media Group", "Adria Media Magazines", daily newspapers "ALO", "INFORMER", "POLITIKA", "SERBIAN TELEGRAPH", "NOVOSTI COMPANY" Belgrade, "NAŠ PEČAT" JSC Belgrade, "BORBA NESPAPER PUBLISHING COMPANY" JSC Belgrade, the Holy Synod of Bishops of the Serbian Orthodox Church, "COLOR MEDIA INTERNATIONAL" and "Nedeljnik" magazine.

Deputy CEO of NIS, Vadim Smirnov, pointed out that he was much honoured to have the opportunity to receive recognition on behalf of Gazprom Neft, which decided to help the Republic of Serbia by making a donation immediately after the introduction of the state of emergency.

- This assistance is quite natural, because when we talk about security, the first thing we talk about is the Ministry of Defence, but our company is also an important link when we talk about energy security. We have been cultivating cooperation with the Ministry of Defence for many years - Smirnov emphasized, adding that "this cooperation comes from the heart" and that they feel obliged to help the Armed Forces, which always show how important an institution it is for our country and which is always there when it is difficult, and this donation was a way to facilitate their work.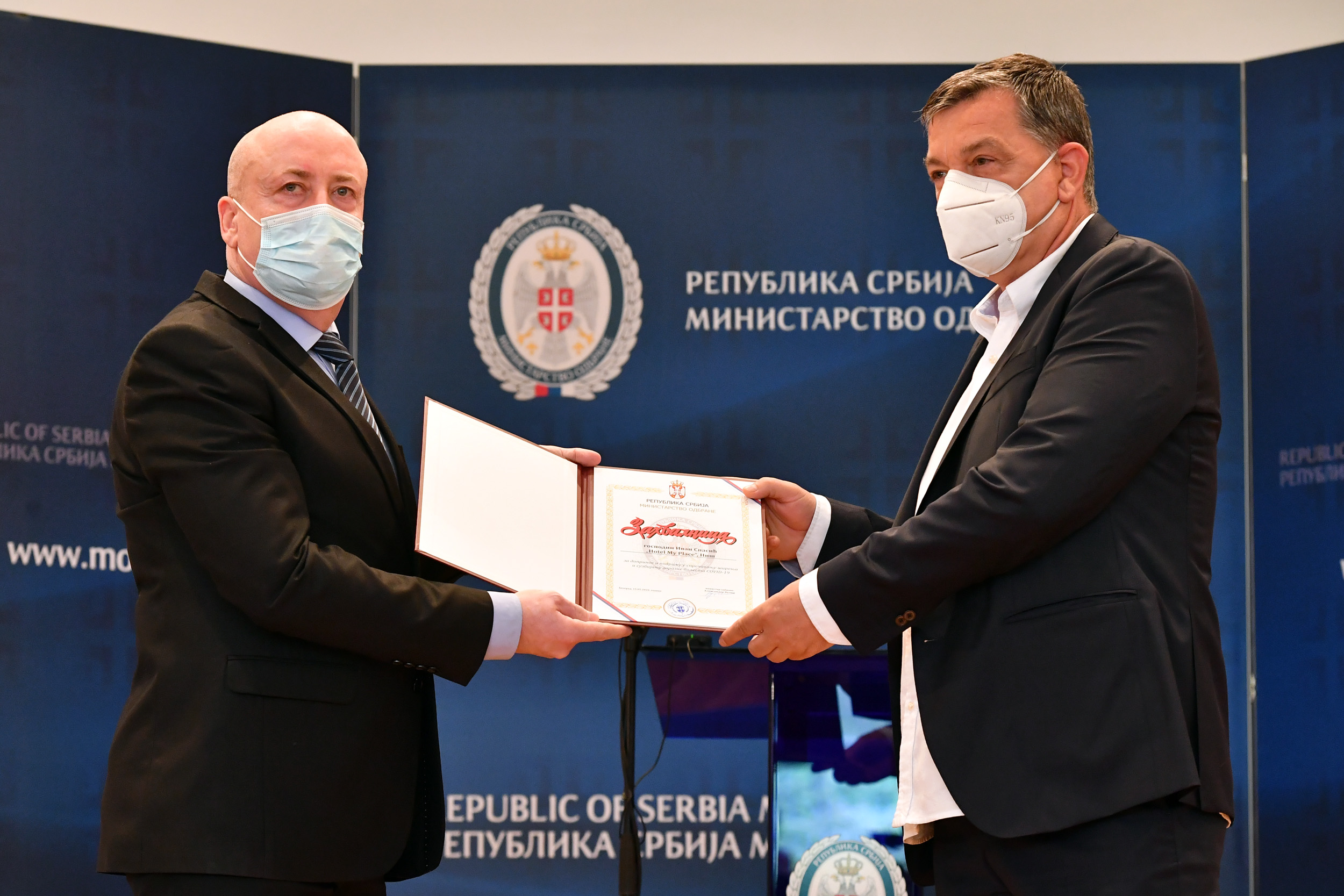 Recognition was also presented today to the Regional Director of the "Unionclean" Company, Danilo Marić, who, thanking for the recognition, pointed out that the company donated equipment and disinfectants from their own range of products.

- We were really pleased that we did it, because the expression itself "state of emergency" says that everything was extraordinary and we wanted to show and prove with all our hearts that the state can count on us - Marić pointed out, adding that each of those present at today's ceremony helped as much as they could, thus confirming a high degree of social responsibility and patriotism.

On behalf of the "Knjaz Miloš" Company, the award was received by Milana Petrović, the Public and Corporate Affairs Manager of that company, who thanked the Ministry of Defence and the Serbian Armed Forces for the recognition.

- We are grateful for the opportunity to support patients, medical staff and the Serbian Armed Forces in this great fight by continuously supplying them with water. We sincerely hope that this fight is mostly behind us, and our fellow citizens and our state can always count on the "Knjaz Milos" Company to assist them in both good and challenging times - said Milana Petrović, adding that, after the introduction of a state of emergency, the company supplied all Covid hospitals with water, and later temporary hospitals as well.

According to her, the recognition that the company received today is an indicator that the support they provided was important, and the credit, as she said, belongs to all employees of the "Knjaz Milos" Company, because of their responsibility and solidarity.
Today's ceremony was also attended by members of the Collegiums of the Minister of Defence and the Chief of the General Staff of the Serbian Armed Forces.