Minister Vulin in the Štark Arena: All members of the military are doing their best to help their country now when it is most needed

Today, the Minister of Defence Aleksandar Vulin visited members of the Serbian Armed Forces who are engaged in setting up beds and preparing a temporary hospital in Belgrade's štark Arena, which is being prepared to admit and accommodate patients with Covid 19.

After visiting and talking to the members of the Serbian Armed Forces, Minister Vulin pointed out that setting up beds and providing everything needed on the first level of the Belgrade Arena is in progress and it will be completed soon.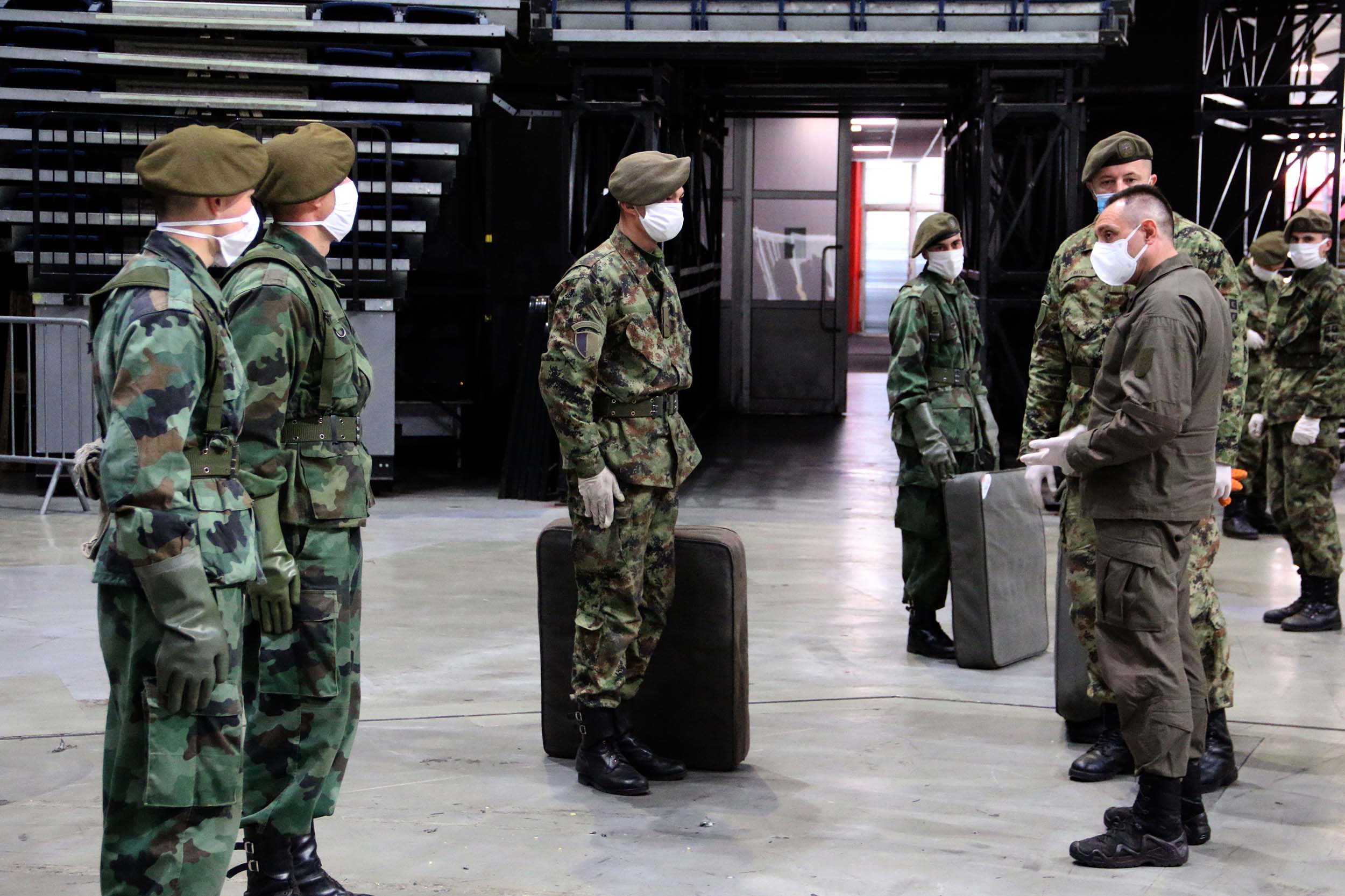 - I want to share with you great pride and I believe that all the citizens of Serbia and all Serbs, regardless of where they live, feel the same way when they look at their military, when they look at these children who work with so much energy and enthusiasm. These are boys and girls who are doing voluntary military service. Neither of them asks how long they need to be here, what they need to do. They are all highly motivated and are really doing their best to help their country now when it is most needed. These boys were setting up beds at the Belgrade Fair and in the Sports Hall, and now they are doing it again in the Belgrade Arena – the Minister of Defence stressed, adding that it testifies to how organized the Serbian Armed Forces are and how important it is for a country to have its own armed forces.

If we didn't have the military, Minister Vulin asked, who would arrange the beds and the mattresses, who would know where they were stored and bring them to the right place? Who would find those boys and girls who work with so much enthusiasm and discipline?

- On behalf of all the citizens of Serbia, I want to thank all the members of the Serbian Armed Forces for this enormous enthusiasm and tremendous work - said Minister Vulin.

Speaking about the preparation of the Belgrade Arena for the temporary hospital, the Minister of Defence pointed out that setting up 1,500 beds is planned there.
- Setting up 350 beds is planned on the first level, more than 800 beds will be arranged in the booths and galleries, and, if necessary, there is another smaller hall where beds will be set up. Medical care will also be provided here 24 hours a day, and it is even easier here than in other halls, because there are already a large number of showers and toilets, so it is easier and the conditions are better. We will finish all this quickly. We have already disinfected the premises, and it will be done again when everything is finished - Minister Vulin emphasized, adding that this facility is ready if it is needed.

Minister Vulin also stressed that the Belgrade Arena will also have an area for leisure activities, so TV sets and other means of entertainment will be provided. The Minister of Defence also pointed out that there are a large number of companies and institutions that are willing to donate something, from daily and weekly newspaper publishing businesses, to manufacturers of coffee and tea makers, food products, televisions, mobile phone chargers and other devices.

Lieutenant Colonel Nikola Fatić, Commander of the Command Battalion of the Training Command, emphasized that his unit is working with the members of the Second Training Centre from Valjevo to establish a temporary hospital in the Belgrade Arena.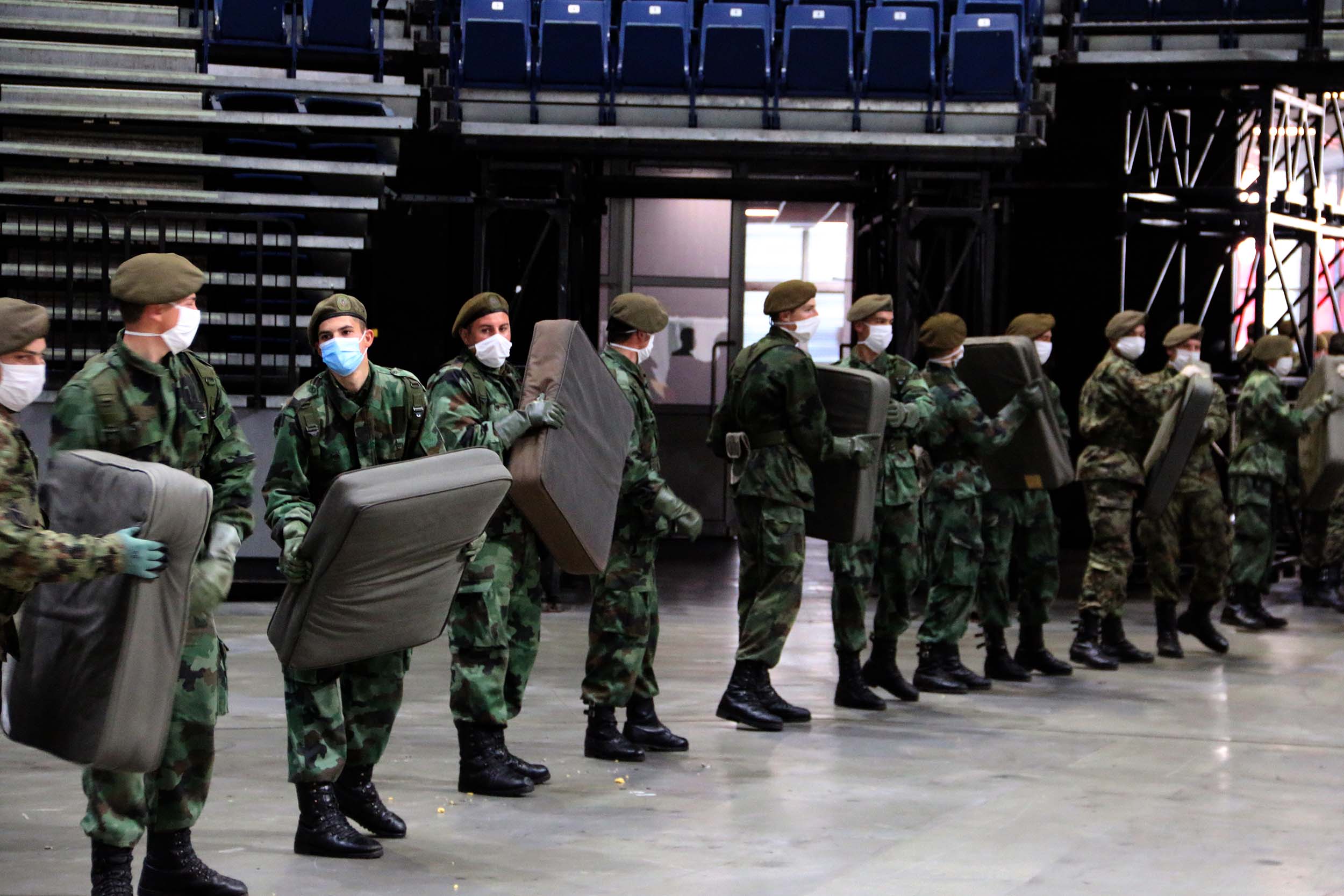 - We will set up 350 beds today and accomplish the task we have been given - said Lieutenant Colonel Fatić.

Together with her colleagues, Private Marija Zarić was tasked with setting up beds today. She said that she was very proud that she was given the opportunity to help those in need in such a difficult situation.

- Our task is to set up and make the beds and equip the temporary hospital for the patients - said Private Zarić.

Vlastimir Milosavljević, a soldier doing a voluntary military service, came with his colleagues from the Training Center in Valjevo to help set up beds as quickly as possible in the Belgrade Arena.

- I am glad that I can help and that I am here, that I serve Serbia - said soldier Milosavljević, adding that he and his friends had already participated in setting up beds at the Fair and in the "Pionir" Hall.