Contract with Airbus Helicopters
Following the identified areas of cooperation in High Level Memorandum of Understanding signed between the Government of the Republic of Serbia and Airbus Group in October this year, Contract for procurement of nine H145M helicopters, associated services and industrial cooperation was signed between Airbus Helicopters and Ministry of Defence and Ministry of Interior of Republic of Serbia.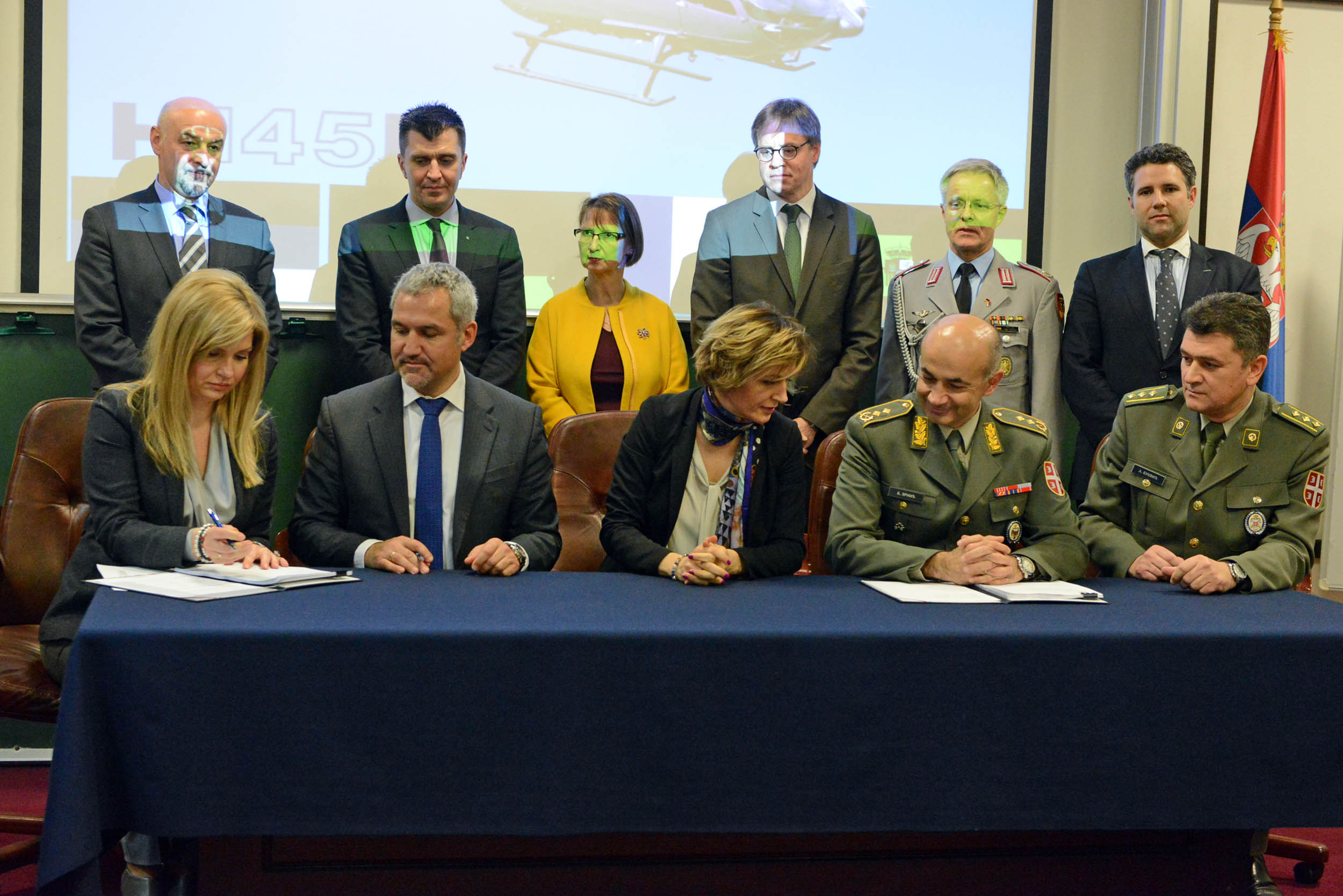 With this procurement, Serbian Air Force and Police are being equipped with latest generation helicopters to perform most demanding missions (transport, search & rescue, combat, medical evacuation, surveillance & security, etc.)

Scope of the signed contract includes:

-Procurement of nine H145M helicopters with associated logistic support (spare parts, tools and documentation),

-Transfer of technology for maintenance and repair of purchased helicopters,

-Equipping, training and Certification of Aeronautical Plant "Moma Stanojlovic" as centre for maintenance of Gazelle helicopters, as well as MOMA inclusion in Airbus Helicopters overhaul network

- Support to Serbian manufacturing plants and R&D institution in order to obtain relevant qualifications and certifications, combined with seeking of opportunities for engagement of Serbian industrial capabilities and procurement of its goods and services.

Beside representatives of Ministry of Defence, Ministry of Interior, Serbian Armed Forces, Airbus Helicopters and Airbus Group, official signing ceremony was attended by Minister of Defence Republic of Serbia Mr. Zoran Djordjevic, Her Excellency Christine Moro ambassador of Republic of France in Serbia and His Excellency Axel Dittmann, ambassador of Republic of Germany in Serbia.