Pontoon bridge on the Danube dismantled
Members of the first pontoon battalion of the River Flotilla dismantled the pontoon bridge which, during 63 days, linked the Zemun quay and Great War Island.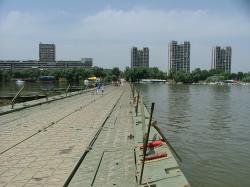 36 floating barges and two in the were dissembled in a complex and demanding action into two parts which were then hauled by 4 tugboats early this morning down the Sava River in the length of 107 kilometers, from the Great War Island down to to the barracks "Macvanski partizanski odred" in Sabac.

In order to navigate the bridge safely, after sundown the pontoon battalion will spend a night and will continue the trip tomorrow so the arrival of the pontoon battalion can be expected after almost 36 hours of sailing, tomorrow at 18.00 hours, where the bridge will be completely dismantled into parts and transported to barracks.

362 meters long bridge was set up on 30 June this year under the Agreement on the provision of engineering services between the Zemun municipality and the Serbian Army. During the previous two months 17 members of the first pontoon battalion were engaged on maintenance and providing safe crossing over the bridge.