SAF CHOD visits Croatia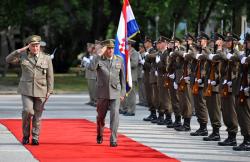 The delegation of the Serbian Army, led by Chief of Staff Lieutenant-General Ljubisa Dikovic, is paying an official visit to Croatia and the Croatian Armed Forces.

General Dikovic met with Chief of General Staff of the Croatian Armed Forces, Lieutenant General Drago Lovric. Generals Dikovic and Lovric discussed bilateral military cooperation, military cooperation within regional initiatives and modern concept of defense.

During the meeting, both sides highlighted the possibility of expanding bilateral cooperation in line with available financial resources, while the cooperation of SAF river flotilla and the river combat flotilla of the Croatian Army were given as a very successful example.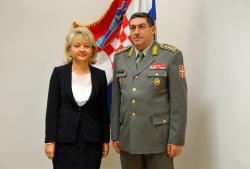 General Dikovic stressed that the Serbian Army has its capacity for active military cooperation, and is therefore offering the RCBD Training Centre in Krusevac and base "Jug" near Bujanovac. He said that there is room for further promotion of cooperation through joint training and exercises, exchange of experiences in implementing the NCO corps, and in participation in EU combat groups.

During his visit to Croatia, general Dikovic met today with Deputy Secretary of Defense Visnja Tafra. At the meeting they discussed defense cooperation between the two countries, strengthening security and stability in the region and participation in international military and peacekeeping operations.

Dfurthermore, General Dikovic met with President of the Republic of Croatia prof. Dr. Ivo Josipovic.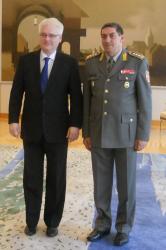 President Josipovic expressed his satisfaction that the Serbian Army and the Armed Forces of the Republic of Croatia were cooperating. The fact that these two armies were cooperating is important and sends a powerful message.

This is the first official visit of the Serbian Chief of General Staff to the Republic of Croatia. The cooperation between the Serbian Army and the Armed Forces of Croatia to date was most intense when it comes to cooperation of the military police forces, RCBD, telecommunications and logistics, and in defense in the fields of public relations and military education.

(Photo: Ministry of Defence of the Republic of Croatia)