Foreign military representatives visited River Flotilla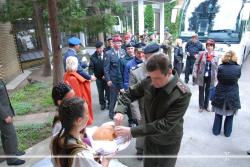 In the organization of the Defence Policy Sector of the Ministry of Defence and the Command of Land Forces, foreign military representatives accredited to the Republic of Serbia visited Serbian Armed Forces River Flotilla in Novi Sad on 17 May.

Warship Captain Andrija Andric, the flotilla commander, introduced the foreign military representatives to the missions and tasks of the River Flotilla. They had the opportunity to see the demonstration of the unit's operational capabilities from the auxiliary ship "Sabac".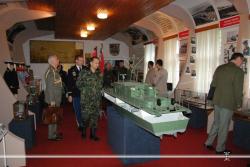 During the navigation which lasted for an hour and a half, the foreign military representatives could observe from the immediate vicinity the dynamics of the river minesweepers in countermine operations and manoeuvrability of landing assault boats. Also demonstrated were the use of pontoon units and the work of mine divers.

The foreign military representatives have expressed the utmost interest in further development of river units of the Serbian Armed Forces and the project of building a new "Majurska ada" military base.
A visit to Karadjordjevo residence was organized for the guests and their wives.