Romanian armed forces deputy CHOD visits Serbia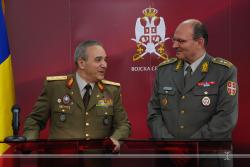 During a three-day visit to Serbia, Deputy Chief of Romanian Armed Forces Lt. Gen. Dan Gika-Radu met with Deputy Chief of Staff of SAF Major General Milan Bjelica.

On this occasion ,General Bjelica said that they discussed bilateral cooperation, which is on a very high level.

- We have had a long and successful collaboration with the Romanian army as our armies were the first to begin carrying out joint exercises. Each year, according to the plan of bilateral military cooperation, we perform several exercises. "Air Solution" between the two Air Forces is a typical joint exercise, then exercise "Tisa" where the engineering and river units are deployed as well as other exercises performed in the past, said General Bjelica.

He added that representatives of the armed forces of Serbia and Romania discussed the possible involvement of the Serbian Army in multinational battalion "Tisa" that would be involved in the third mission of the military.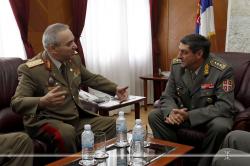 We have offered the Romanian Army capabilities of our regional centers such as the RCBD center, then training and education of personnel for multinational operations the Jug military base and the Centre for Peacekeeping Operations, training at the Military Academy and the Military Medical Academy, as well as other forms of cooperation including cooperation in military economy.

General Gika Radu expressed his satisfaction with the results of today's meeting and praised the outstanding achievements of the Serbian Army in the past decade.

- Serbian Army is a respectable force, both nationally and internationally. I am very honored to be a part of development of bilateral cooperation and I am convinced that we have done much, but also we have the ability to do more, especially in the bilateral military cooperation. Despite difficult economic conditions we have many areas in which we can develop and concretize our cooperation, continuing the tradition and history that connect us, including mutual trust, said General Gika-Radu, wishing the Serbian Army to confirm its status and credibility, which is saying that Romanian Army and Serbian are partners in international cooperation.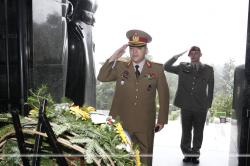 Speaking about the priorities of future cooperation between the armed forces of Romania and the Serbian Army General Gika-Radu emphasized the support and development of multi-national battalion "Tisa", improving all of the activities planned at the level of military branches, then the development of cooperation in activities related to command and control and interoperability among defense systems.

During his visit to Serbia, Deputy Chief of the Romanian military was also received by and Serbian Army Chief of Staff Lieutenant-General Ljubisa Dikovic as well as by State Secretary in the Ministry of Defence Tanja Miscevic.

General Gika-Radu visited the Center for Army training and Viminacijum, the remains of a Roman palace, in Pozarevac, while also laying wreaths at the monument on Avala mountain and toured the barracks in Jakovo, while the he will also visit the Jug base.