Defence Consultations between Serbia and Greece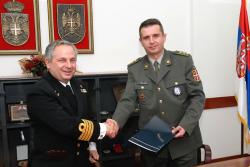 In the Department for International Military Cooperation, regular bilateral defence consultations were held between the delegations of the Ministry of Defence of the Hellenic Republic, led by Colonel Simeon Konstantinidis, the Head of a division within the International Relations Directorate, and the Ministry of Defence of the Republic of Serbia, led by Colonel Predrag Kraljevic, Acting Head of the International Military Cooperation Department.

They discussed the issues of the achieved level of bilateral military cooperation, analysed cooperation in 2011 and defined priorities for the next period. The guests were briefed on the achieved level of the defence reform, international cooperation activities of the Serbian Ministry of Defence and the plans for 2012.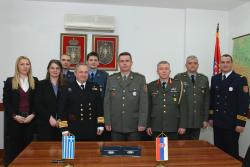 Both sides assessed that the cooperation in the field of defence is developed. The principal areas of cooperation are military education, joint training of Special Forces and cooperation in the field of air force. Questions were raised regarding further promotion of cooperation as well as establishment of cooperation in the field of military medicine and religious service in the armed forces.

The Greek side expressed their readiness for joint engagement in operation "EUNAVFOR - ATALANTA" and prepared a draft technical agreement that will be submitted for consideration. Engagement of a Serbian officer from the units of the Serbian River Flotilla on the Greek military ship is expected in the second half of 2012.

There was signed the 2012 Plan for Bilateral Military Cooperation containing twelve activities.