Concert "Spring in Belgrade"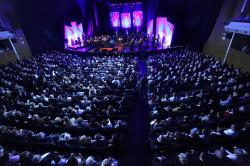 The MoD art ensemble "Stanislav Binicki" under the baton of maestro Vojkan Borisavljevic gave a concert last night under the title "Spring in Belgrade".

19 eminent performers from former Yugoslavia, participants of former very popular festivals " Belgrade spring" and "Opatija".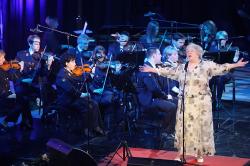 Belgraders has a unique opportunity to see such figures as Lola Novakovic, Radmila Karaklajic, Dubravka Nesovic, Beti Djordjevic, Nada Pavlovic, Mirjana Besirevic, Zafir Hadzimanova, Boba Stefanovic, Zarko Dancuo, Zorana Lekovic, Predrag Cune Gojkovic, Ljiljanu Petrovic as well as the "Lutajuca srca" band. Lado Leskovar came from Slovenia just to take part in the concert, while Dragan Mihajlovski arrived from Macedonia. Furthermore, the audience had an opportunity to enjoy the hits of Djordje Marjanovic, Minja Subota, Zoran Georgijev and Miki Jevremovic.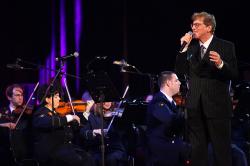 At the initiative of art ensemble and under the auspices of MoD, the first concert was given last year with the purpose to revive the sounds of the evergreen music of the festival Belgrade spring which in 1960s and 1970s gathered the most prominent singers in SFRY.

The ensemble "Stanislav Binicki" opened the concert with the song, also ending the concert with it, when all performers sang it together n memory of Dusan jaksic, who passed away recently, and who also participated in the last year's festival.

The program was hosted by the traditional host pair, Mica Orlovic and Dunja Figenvald, and the evergreen hits performed were "Moj dragi Beograde", "Ne idi, zlato moje", "Pocnimo ljubav ispocetka", "Potrazi me u predgradju", "Zvizduk u osam", "Sve moje jeseni su tuzne", "Ruze su uvele"and other compositions.

The Belgrade spring" manifestation hose tradition was continued by "Spring in Belgrade", a new festival, will mark 50 years of existence next spring and we expect a rich musical program.