Opening of Exhibition "Serbian Paining of XX century (1950-2000) - Selection from Private Collections"


The Gallery of the Central Military Club was the venue of opening of an exhibition "Serbian paining of XX century (1950-2000) - selection from private collections" which was organised by Foundation "Blue" and Media Centre "Odbrana".

Lieutenant Colonel "Biljana Pašić" from the Media Centre "Odbrana" pointed out that the author of the exhibition, a historian of art Nikola Kusovac, chose works of more than 50 artists who had marked the artistic scene of the second half of the 20th century.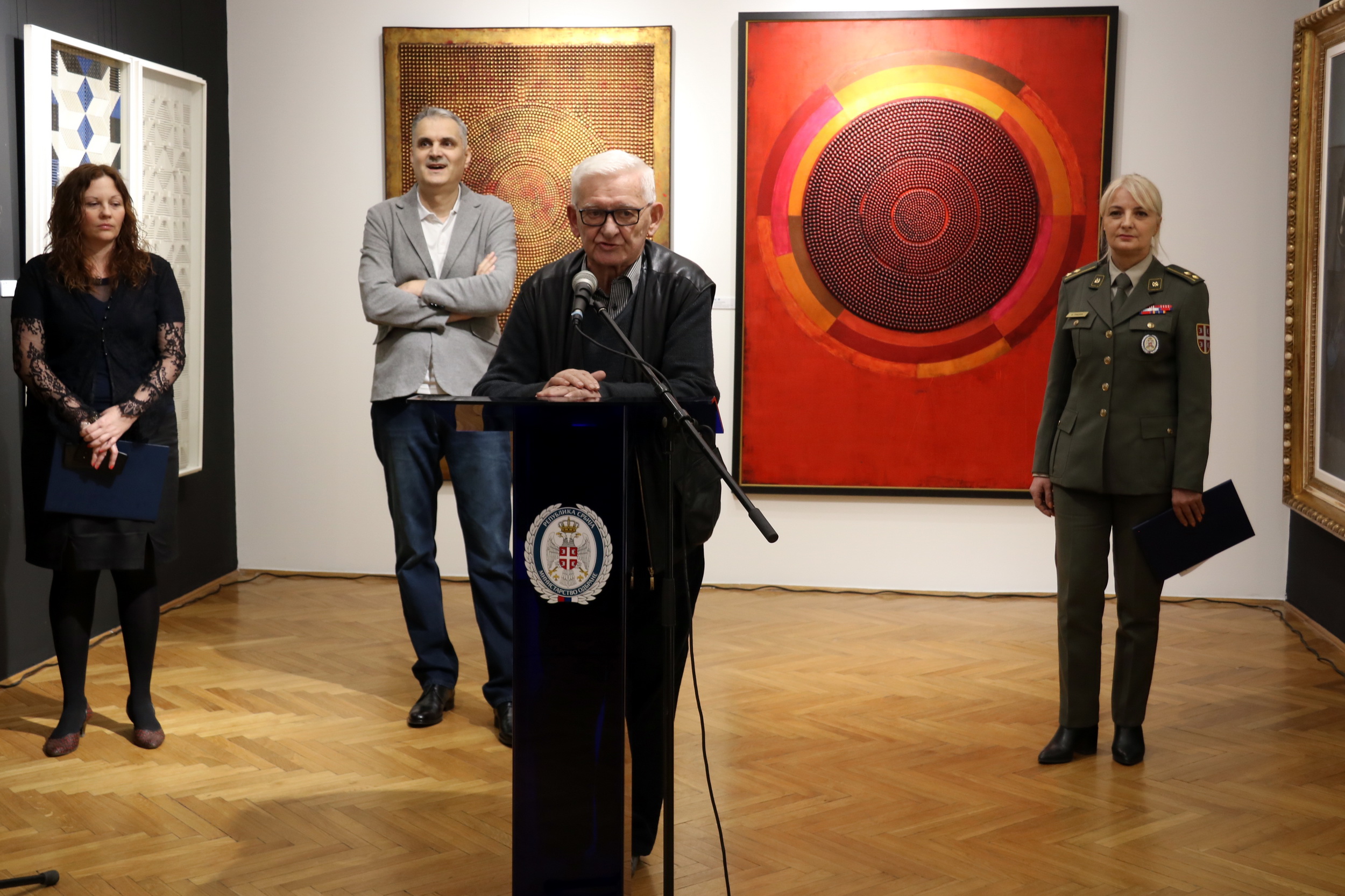 - Majority of exhibited work is considered to be cultural heritage of exceptional importance and they have been exhibited at great artistic exhibitions of the world such as the Biennial of Venice, Alexandria, Tokio, Sao Paolo and the most important art events in the country. We are sure that you will enjoy in front of the works of the most significant artists which include: Petar Lubarda, Milo Milunović, Peđa Milosavljević. Mića Popović, Pedar Omčikus, Stojan Ćelić, Aleksandar Tomašević, Lazar Bozarević, Leonid Šejka, Ljuba Popović, Olja Ivanjicki, Radomir Damnjanović, Vladimir Veličković and the other great names - said Colonel "Pašić".

Addressing the visitors, who came in a large number, Jelena Knežević, Head of the Gallery of the Central Military Club said that the exhibition would last until 1st February and that over that period there would be expert and author guides.

On behalf of the foundation "Blue", director Nikola Stojčević, thanked everyone who had assisted the organisation of the exercise and publication of a monograph of Nikola Kusovac, which significantly mapped and marked the cultural heritage carefully safeguarded in private possession, including "Dunav Insurance", Ministry of Culture of the Republic of Serbia, City Secretariat for Culture.

Opening the exhibition, an art historian Nikola Kusovac said that the exhibited works were in fact just a part of what could be found and read in his monograph.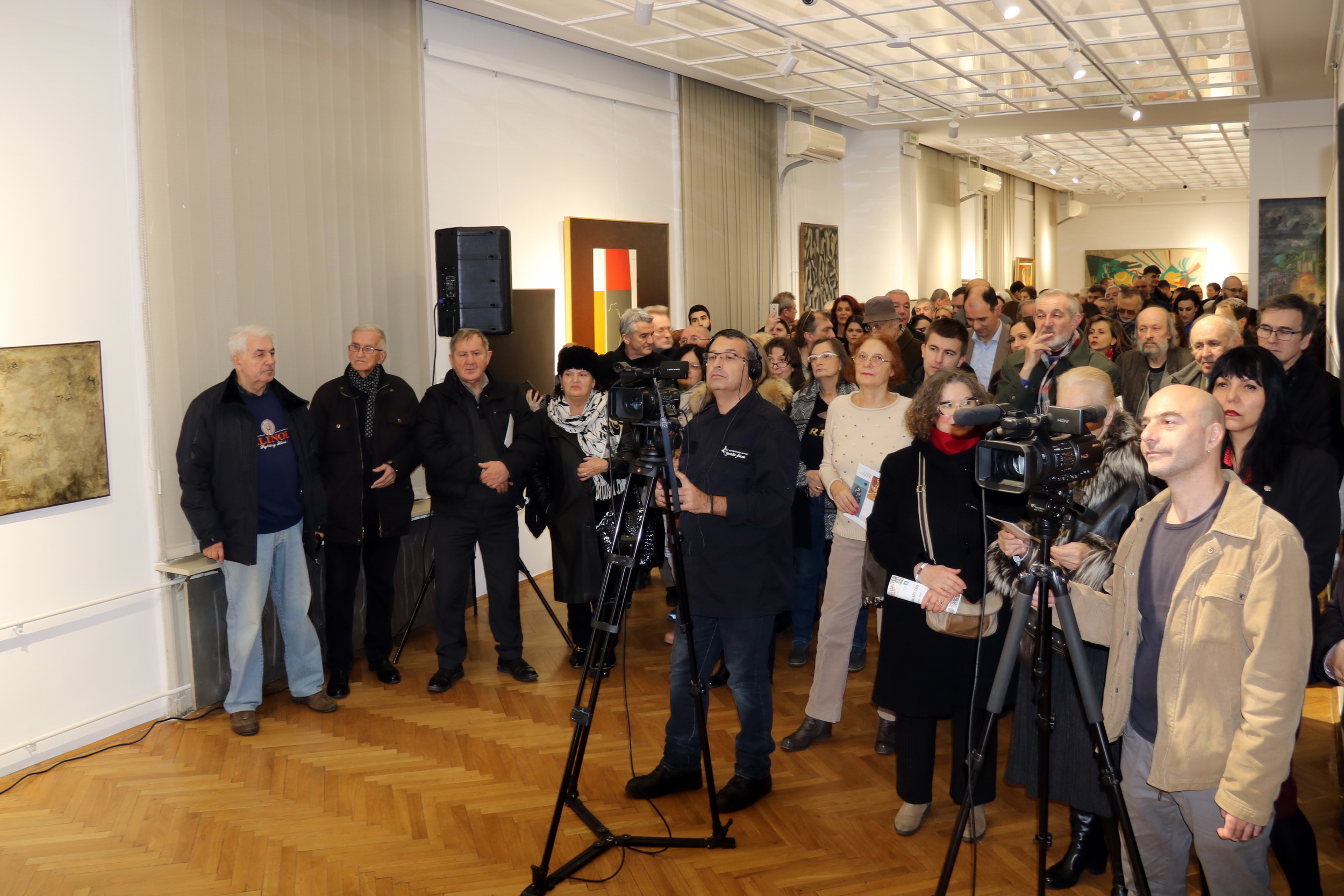 - The essence is in the book, and the book contains my views on our art of the 20th century. They are not just my own, bur of those as well on whose shoulders I stand. I was lucky that one of those shoulders was the one of Milan Kašanin. I would say that the exhibition is a tribute to Miloš Kašanin, since the base for my artistic views stems from a warning of his, written after one of our appearances in the world. Then he wrote that we insist on presenting ourselves to those who do not want even to look at us - Kusovac said.

The reason for the opening the exhibition in the Gallery of the Central Military Club, according to Jelena Knežević, is the rich exhibiting history which dates back to 1953, when the Gallery was founded and because of the similarities in terms of the themes and authors safeguarded by Artistic collection of the Central Military Club with more than 1500 works.