Minister Vulin meets US Ambassador Godfrey
Defence Minister Aleksandar Vulin has met today with the new US Ambassador to Belgrade, Anthony Godfrey, on the occasion of the beginning his term as ambassador to the Republic of Serbia.

Minister Vulin wished Ambassador Godfrey a lot of success at his new position.

- The relations between the Serbian Ministry of Defence of and the US Armed Forces are based on partnership and activities of bilateral military cooperation and are realised on the basis of common interests – Minister Vulin pointed out, emphasising the importance of improving the operational and functional capabilities of the Serbian Armed Forces through joint training and exercises with the US Armed Forces, further development of the South base and cooperation with NATO within the Partnership for Peace programme.

Serbia, as a militarily neutral country, is open to cooperation with all partners in the areas of common interest, Minister Vulin said, emphasising that KFOR is the most responsible structure for maintaining peace and security in the territory of Kosovo and Metohija. The decision to downsize the KFOR troops should depend on the continuous assessment of developments in the political and military sphere and security status indicators, rather than on the basis of defined dates, underlining that, under the current conditions, the reduction of KFOR troops has a negative impact on the security of the non-Albanian population in Kosovo and Metohija.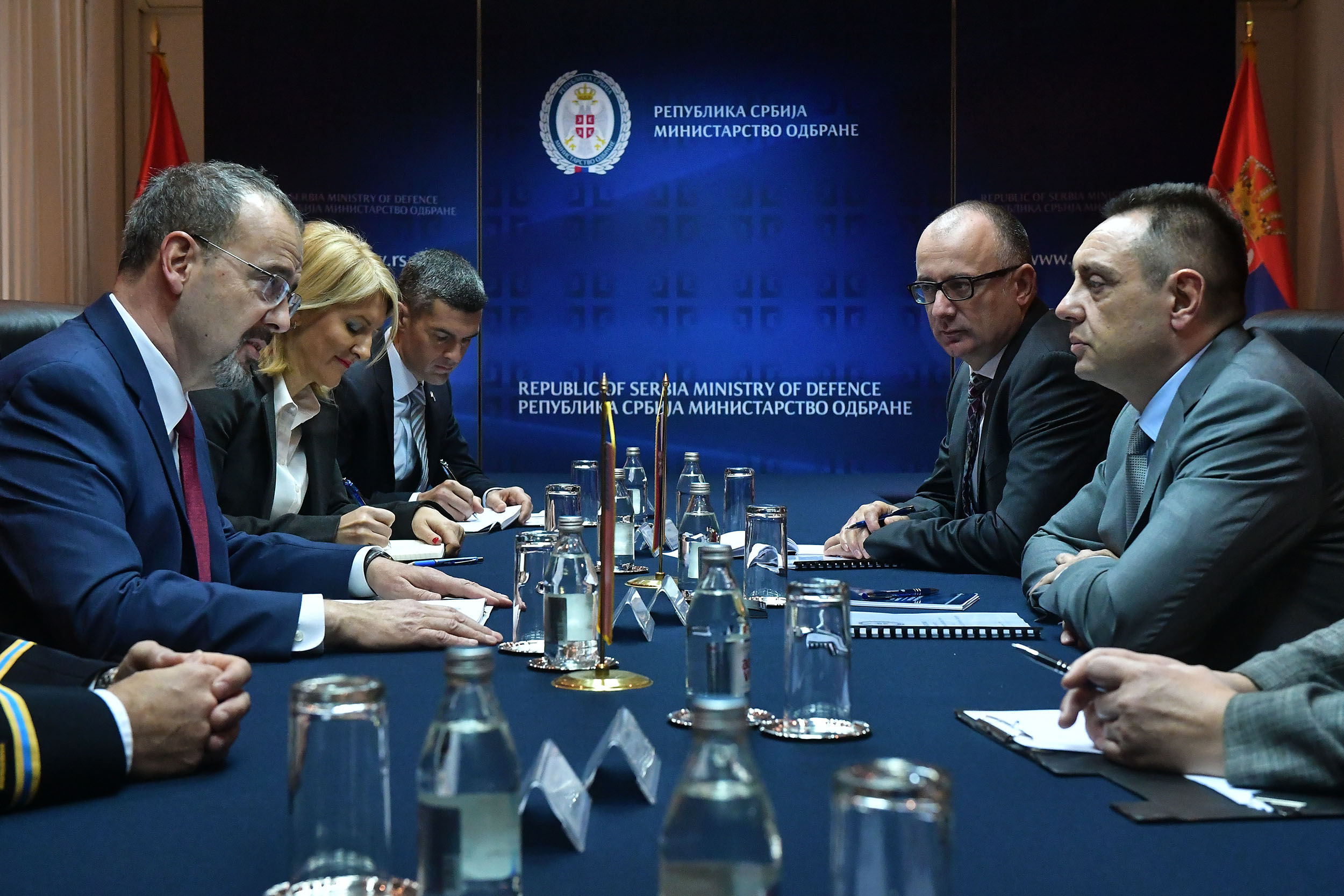 Minister Vulin also conveyed the views of the Republic of Serbia regarding the current issues of the political and security situation in the region, with a focus on the unchanged position regarding the status of Kosovo and Metohija, noting that Serbia is deeply concerned about the support of certain NATO members to changing the mandate of the so-called "KSF" and the essential formation of the so-called "Kosovo Army", underlining that the said situation is extremely worrisome and unacceptable.

Ambassador Godfrey thanked for the reception, noting that he was aware of the degree of military cooperation between the two countries. He praised Serbia's support and emphasising the importance of the KFOR mission, as well as transparency in the media's presentation of cooperation with KFOR, which contributes significantly to a positive atmosphere and stability.

Ambassador Godfrey added that he expected cooperation to be raised to a higher level in the forthcoming period. He told Minister Vulin that the United States are committed to maintaining peace and prosperity in the region and that they will cooperate constructively with the Government of the Republic of Serbia in that regard.