Noble Corporal Ždero saves the life of a boy

Minister Vulin: Where the Serbian Armed Forces are, there is help

Minister of Defense Aleksandar Vulin received today Corporal Uroš Ždero, a military ambulance driver from the Health Care Department of 17 Mechanized Battalion of 1 Land Forces Brigadefrom BačkaTopola, who bravely saved the life of a boy (born 2013) injured in a car accident yesterday on the road Novi Sad - Subotica, near Stari Žednik.

Following the crash of an Audi with Austrian license platesand a truck, in which three menwere killed, Corporal Ždero arrived at the spot driving a military ambulance.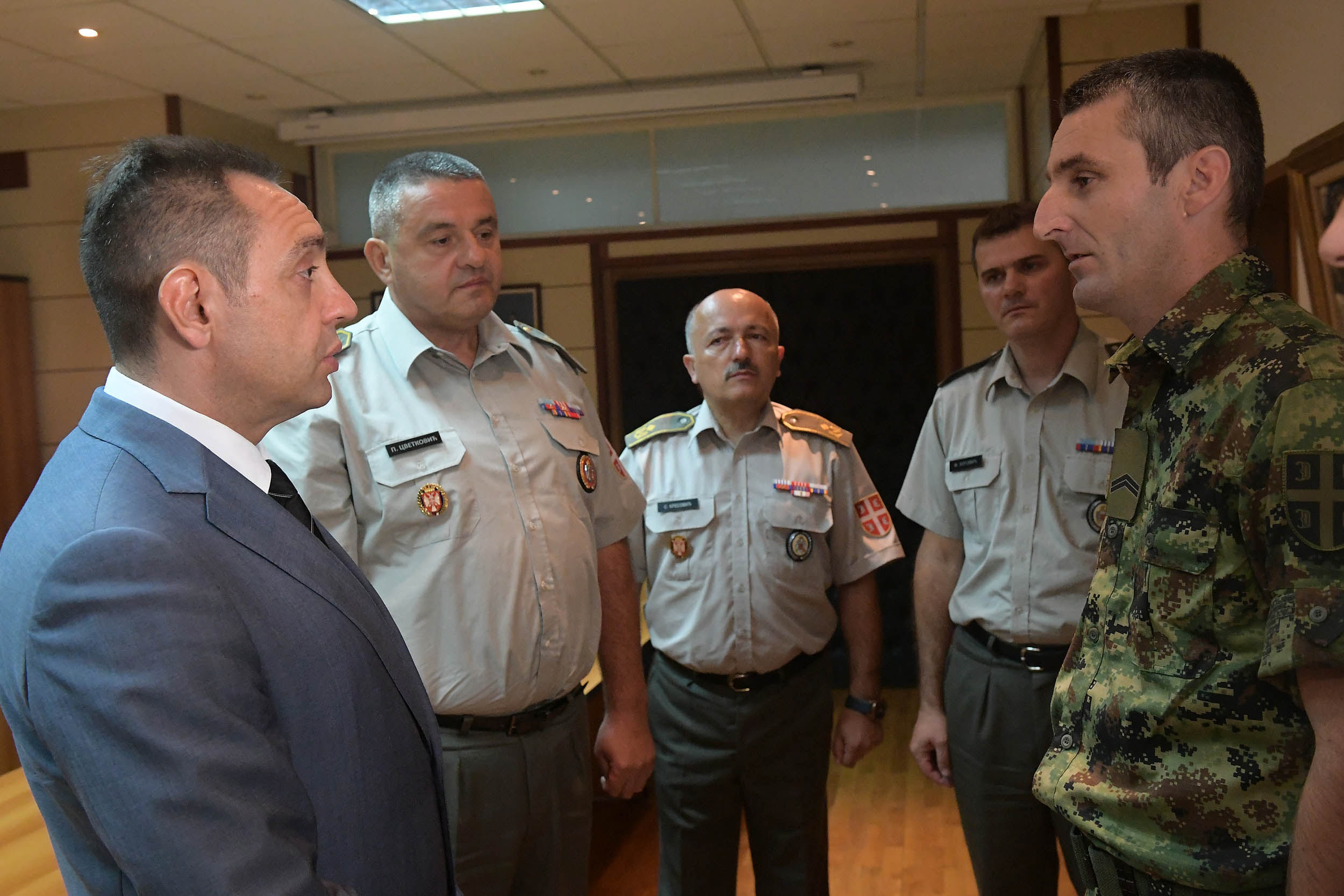 - Driving towards Subotica, I learned from a traffic police officer about a serious road accident and an injured boy. My reaction was immediate. Taking over a column of vehicles, I was able to reach the scene of the accident, place the child who was unconscious in the vehicle and rush to the hospital. It seems to me that I have never driven faster in order to save a young life - says Corporal Ždero.

- From time to time, when the boy came to, he cried. The worst part was that I had no way of knowing what kind of injuries he had suffered because the boy's companions had passed away on the spot. I feared he might have internal bleeding and would not arrive in time to the nearest hospital. Fortunately, we did arrive on time - says Corporal Ždero.

- After work, I rushed to Subotica General Hospital, where I was told that the injured boy's condition was stable. I was happy - says Corporal Ždero, who has been member of the Serbian Armed Forces for 12 years.

At the reception, Minister Vulin stated that he was proud of Corporal Ždero, but more importantly, Serbia was proud of the noble Corporal, as she was proud of every member of the Armed Forces.

- Every member of the Serbian Armed Forces would do the same. Each member of the Serbian Armed Forces would help anyone in need of help without asking about religion or the nation and why the injury occurred. When the citizens of Serbia see their Armed Forces, they know that they are safe, secure, they know that help is coming. When you see our uniforms on the streets, in everyday life, you always know that help is there and that law and order are there - Minister Vulin pointed out, adding that this example well illustrates the need for the military to be part of everyday life, to prepare and train for the emergency situations in order to adopt the skills needed to help other people.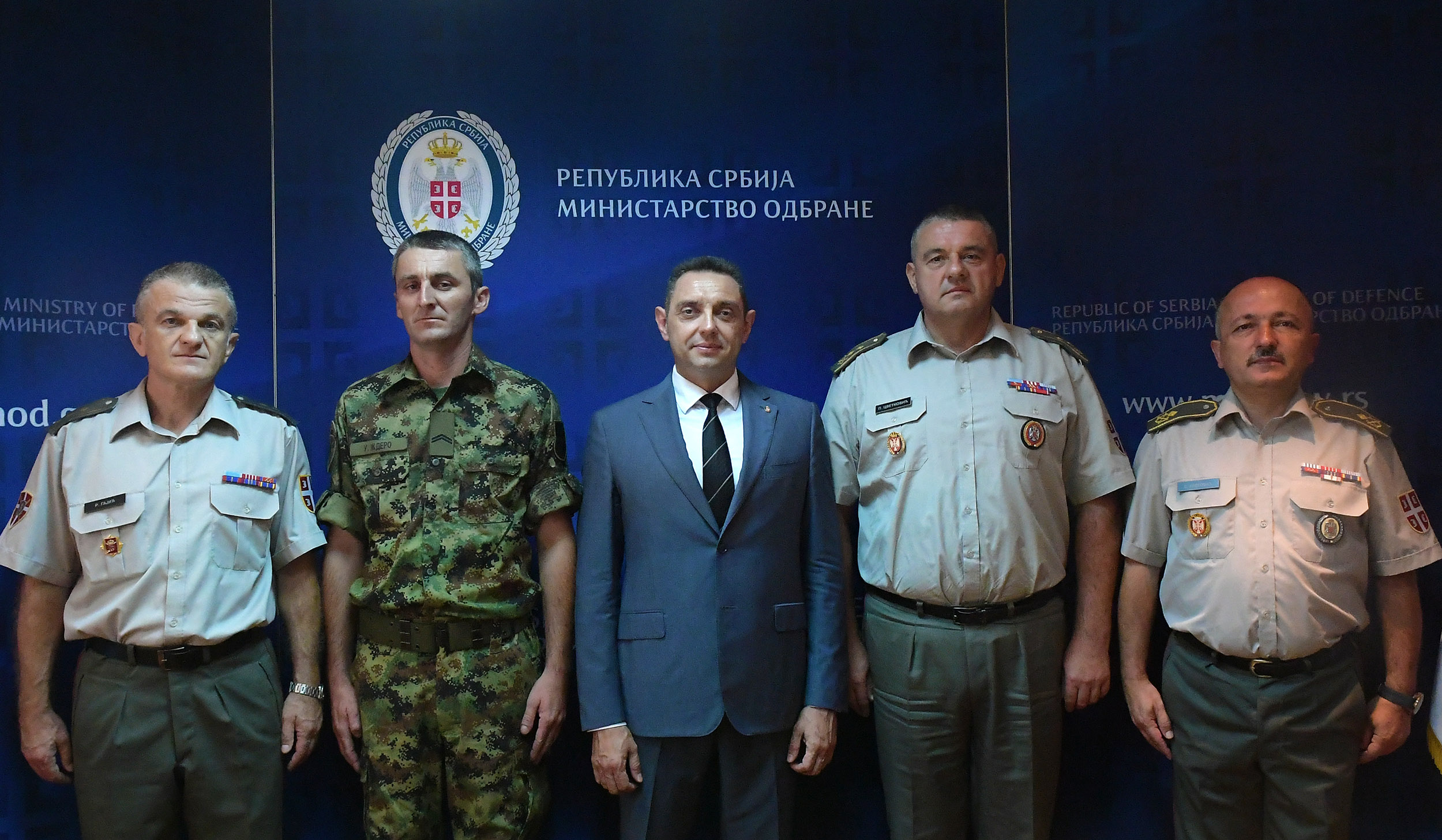 For his noble feat, Minister Vulin rewarded Corporal Ždero with a seven-day stay with one family member at the "Omorika" Hotel on Tara.

Deputy Commander of 1 Army Brigade, Colonel Radovan Gajić, also said that members of the Armed Forces are proud of their colleague.

- Urošis a professional member of the Serbian Armed Forces on duty as a driver. He is present on the roads every day and has been in similar situations, but for a specific situation like this, he had no previous experience. I am certain that he has acted in the way that every member of the Serbian Armed Forceswould. He should be proud of what he has done, just as the First Brigade he belongs to is proud of him.

Today's reception was attended by Deputy Chief of General Staff of the Serbian Armed Forces, Major General Petar Cvetković and Chief of the Cabinet of the Minister of Defense, Brigadier General Siniša Kresović.