Visit of Serbian Armed Forces Guards delegation to United Kingdom

Within the framework of bilateral cooperation between the Republic of Serbia and the United Kingdom of Great Britain and Northern Ireland, a delegation of the Serbian Armed Forces Guards visited London between 25 May and 2 June this year. The goal of the visit to the United Kingdom was to visit the Foot Guards and the Horse Guards of the British Armed Forces, to exchange experiences in protocol and honorary activities and to establish cooperation between the equestrian units of the United Kingdom and Serbia.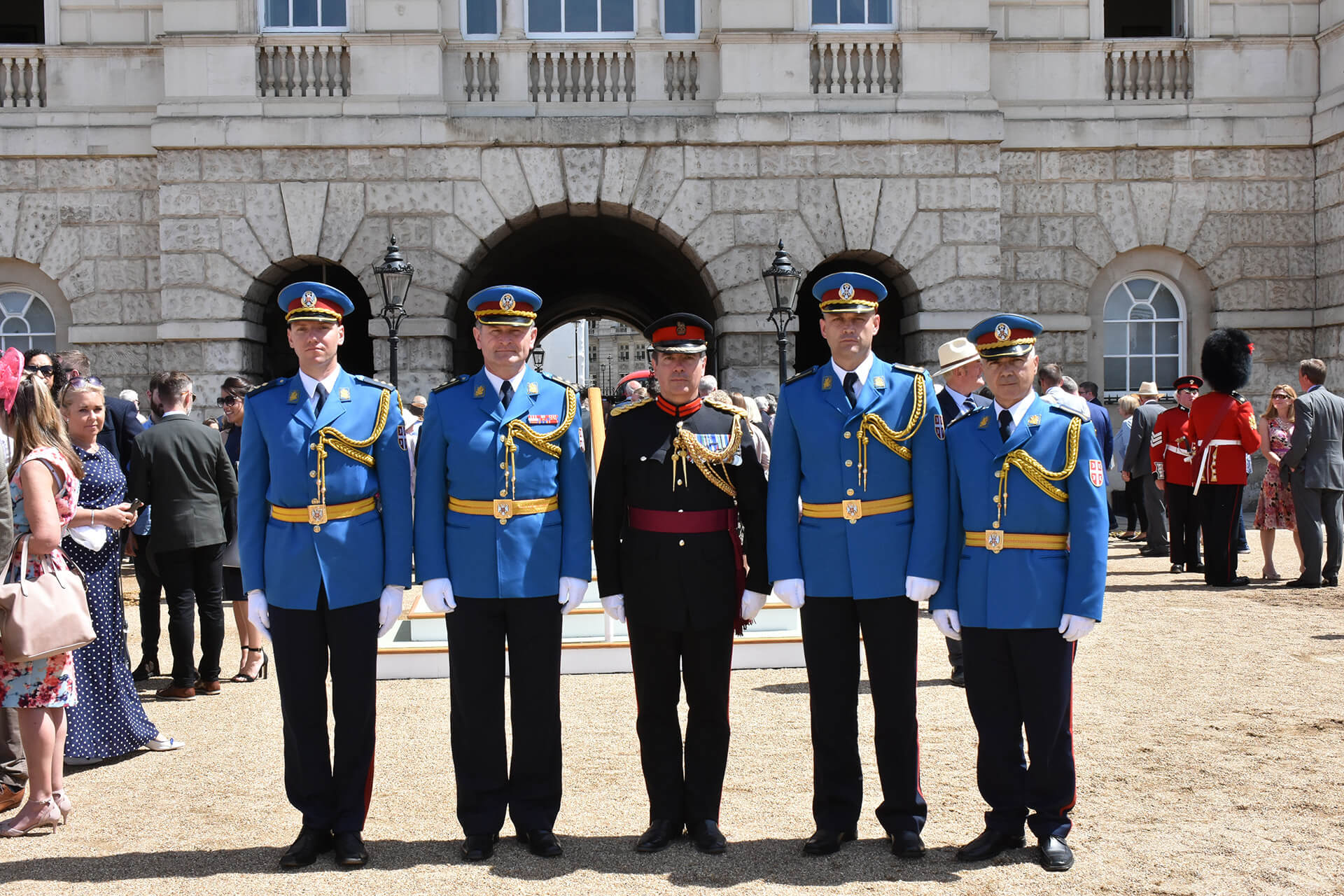 In the delegation headed by the Deputy Commander of the Guards, Colonel Željko Gavrilović, the Commander of the Guards Battalion, Lieutenant Colonel Dragan Jakovljević, Commander of the Equestrian Platoon, Captain Martin Pacula and Commander of the Horse Breading and Care Platoon, Major Predrag Adžemović.

The practical demonstration of the honorary activities of the Queen's Guards of the United Kingdom Armed Forces, in addition to the demonstration prepared in the barracks, the delegation of the Serbian Guards also saw at the events they attended – the Changing of the Guards at the Buckingham Palace, the Ceremony of Keys at the Tower of London, the Changing of the Guards at Wellington Palace, as well as the Military Parade held on 1 June. It is the biggest military parade in the United Kingdom and at the same time is the general rehearsal of the "Trooping the Colour" event, which is held on the occasion of the birthday of her Majesty Queen Elizabeth II. The military parade is traditionally held one week before the Queen's birthday, and this year, commanded by Prince Andrew, Duke of York, counted about 1.400 participants.


Accompanied by the United Kingdom Defense Attaché to the Republic of Serbia, Colonel Nick Ilić, and Defense Attaché of the Republic of Serbia in the United Kingdom, Navy Captain Slobodan Novaković, the delegation of the Serbian Army Guards visited the barracks "Hyde Park" and "Wellington" in which some of the units of the Foot Guards and the Horse Guards reside, and had the opportunity to witness the high operational and capability levels of these units whose traditions go back hundreds of years.

During the visit of the Serbian Guards to the United Kingdom, representatives of the Guards of the host country tried to share their experiences in the best possible way, especially when it comes to the development of equestrian units, which date back to 17 century, while in case of the Serbian Army Guards the equestrian platoon was only recently introduced, in 2018. Apart from the useful advice, the hosts expressed their desire to further develop cooperation between the two countries.