National Commemoration Ceremony at Jajinci execution site


Defence Minister Aleksandar Vulin and Lieutenant General Milan Mojsilović, Chief of General Staff of the Serbian Armed Forces, have attended today the state commemoration ceremony at the Jajinci execution site, led by Serbian Prime Minister Ana Brnabić.

Commemoration in Jajinci is dedicated to the preservation of dignified memories of tens of thousands of those brutally executed at that site during the World War II.


After the wreath-laying ceremony, which was held with the highest state and military honours, a large number of Serbian and foreign officials, as well as the gathered citizens, were addressed by the Prime Minister Brnabić and Milinko Čekić, survivor of the Ustasha's camp and President of the Jasenovac Association.

The Prime Minister stressed that "Mt. Avala remembers and Serbia does not forget heroes and victims".

- But Jajinci is not only the place for paying tribute to the victims of the occupier's terror, and it is not only a monumental reminder of the tragedy and horrible years in the life of our people; Jajinci, together with Banjica and other Belgrade torture and execution sites, with the dead and with the living ones from that time, is a high school of our national morale and an index of the value of freedom that is the second name of our country and our people. We are obliged to keep the lessons from that school as the backbone of our identity and our culture, to tranfer them to the generations to come, the prime minister said, adding that in the time in which we live, we must make important decisions for our people and our country.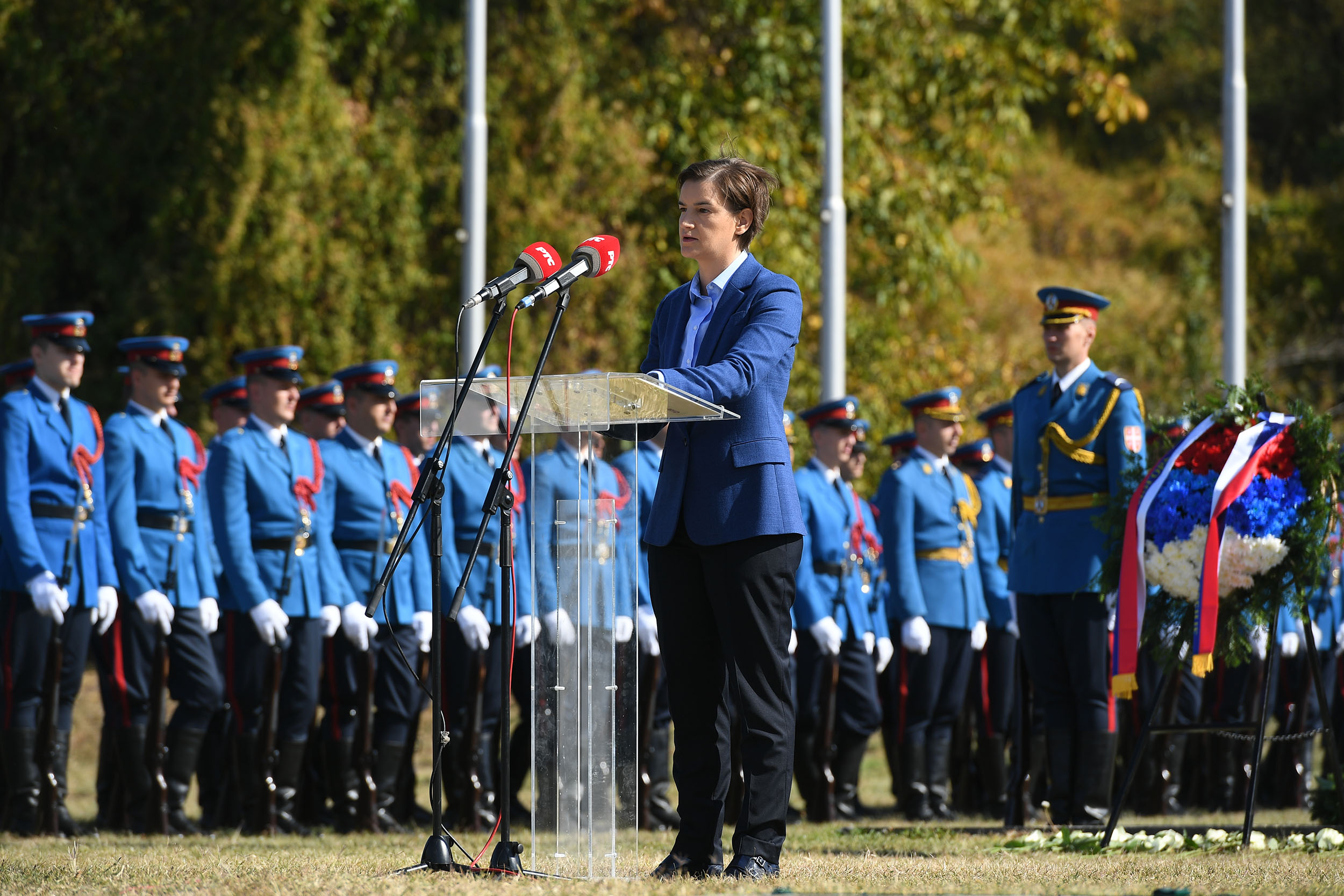 - We wish to remain ourselves, consistent with the heritage of the generations of our ancestors and, after many historical disasters, tragedies and wreckages, and our own big mistakes, to open the gate of a happy future for us and the generations to come, Ana Brnabić said.

State ceremony was attended by representatives of the National Assembly, government ministers, representatives of the Ministry of Defence and the Serbian Armed Forces, the Serbian Orthodox Church, representatives of the City of Belgrade and the municipality of Voždovac, as well as diplomatic and military diplomatic representatives, representatives of the Association of Inmates, the National Council of the Roma National Minority, Association of Jewish Municipalities, the Alliance of Associations of the National Liberation War Veterans of Serbia (SUBNOR) and a large number of war veterans.

Jajinci is the largest Second World War execution site in Serbia, since the Nazis killed more than 60,000 people - Serbs and Jews, members of the People's Liberation Movement, anti-fascists proponents and those who did not agree with the occupation of the country in the period from 1941 to 1944 resisting the occupier.

The great memorial park in Jajinci, including the monument to the victims, was opened on 20th October 1964, on the occasion of two decades since the entry of partisan forces into Belgrade.