President Vučić: Mighty and strong wings over Serbia


President of the Republic of Serbia and Supreme Commander of the Serbian Armed Forces Aleksandar Vučić, accompanied by Defence Minister Aleksandar Vulin, has attended the test flight of two MiG-29 jets procured from the Russian Federation, at the Batajnica airbase, today.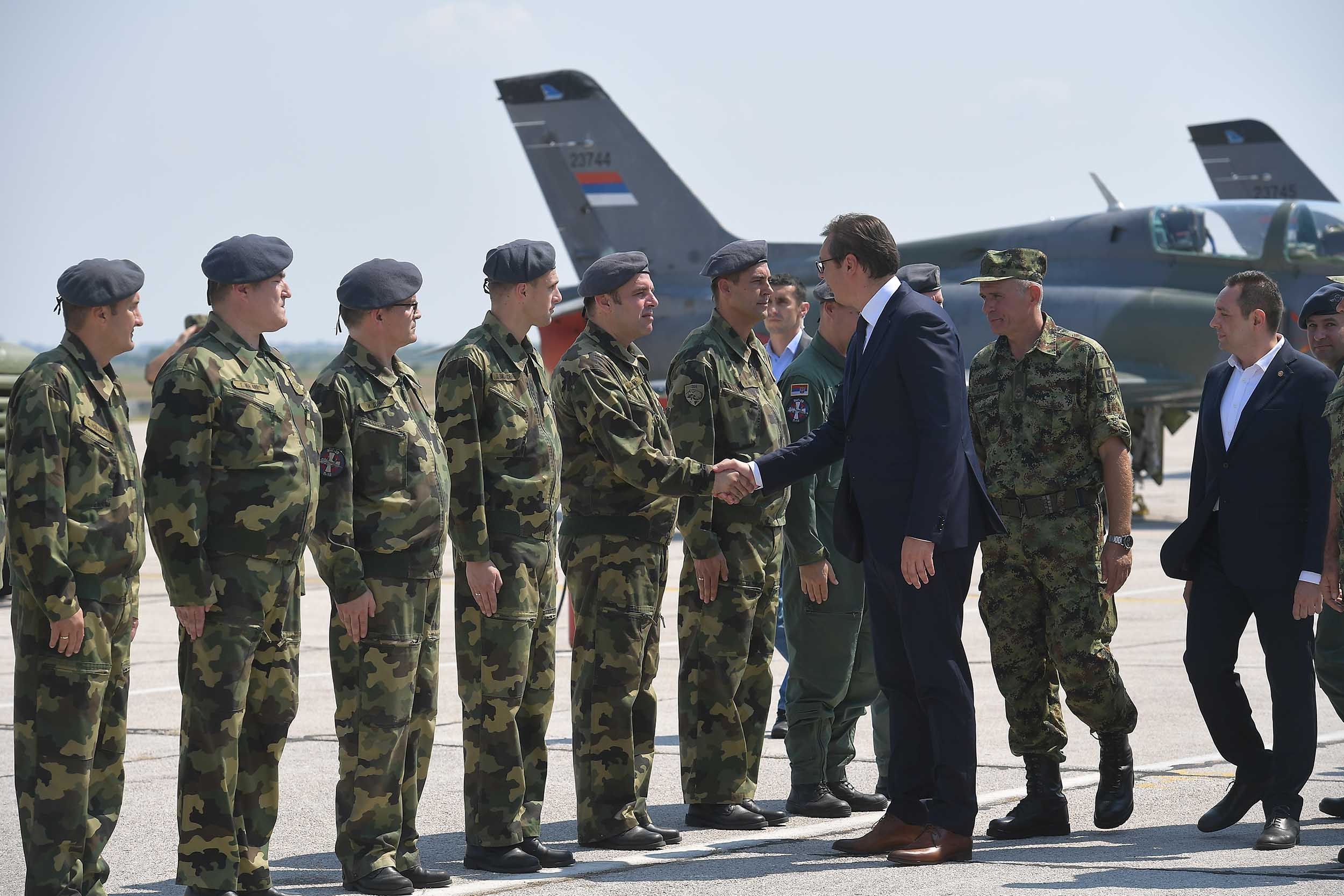 Following the visit of the apron and attending the test flight of two refurbished jets, President Vučić pointed out: "Today is an important day for Serbia and for all of us. We have seen the strong and mighty wings of Serbia for the first time – the first two we got from Russia that are introduced into service today, for the overhaul and upgrade of which we paid".

- I also went to see the six additional MIG-29s, on which Russian and Serbian experts work together, so we will have eight MIG-29 planes that will fly for the first time in the military parade taking place at the beginning of November. We will keep them in hangars, but you will see eight Serbian pilots that will fly in Serbian MIG-29s in just two months – President Vučić emphasized.

He also pointed out that he made proposal, for which he hopes that the Serbian Armed Forces will accept, that these planes be named after our heroes who defended Serbia in time of the NATO aggression and who gave their lives to the altar of the fatherland in order to preserve Serbia.

- Each of these magnificent pilots, such as Colonel Piposki, Colonel Krnjajić and Major Jokić, who know how important and powerful the machine they enter is, should always know well what they defend, what they protect and what they guard – each and every citizen of Serbia and our skies and our country, and above all, our people. I can say that this has lasted for years. I am grateful to Minister Vulin, General Diković, and to all of them, because when I took office as defence minister, we had one MIG-29 under overhaul, never more than one, and today we have three 29s in the resource. In only ten days we will have six of them, and in two months we will have nine. At least eight will fly at the beginning of November at the big parade we are organising. I think that we are showing how much Serbia strengthened, as Serbia progressed. Within 12 to 14 months, we paid and we will get seven helicopters of which four Mi-35s, which are among the world's best helicopters, fascinating machines doing an extraordinary job in defending the country. We are going to take another three Mi-17s, another two Mi-17s that we jointly showed last year are coming, as well as nine H-145s. This is a completely changed "blood picture" of our AF&AD – President Vučić pointed out, adding that we have another arrangement with friends from the Russian Federation which we are going to learn more about in the period to come.

President Vučić also pointed out that there is still much to do and make, so that people in Serbia could be better and that people in Serbia would feel it, but our Armed Forces today and that of six years ago are simply not for comparison.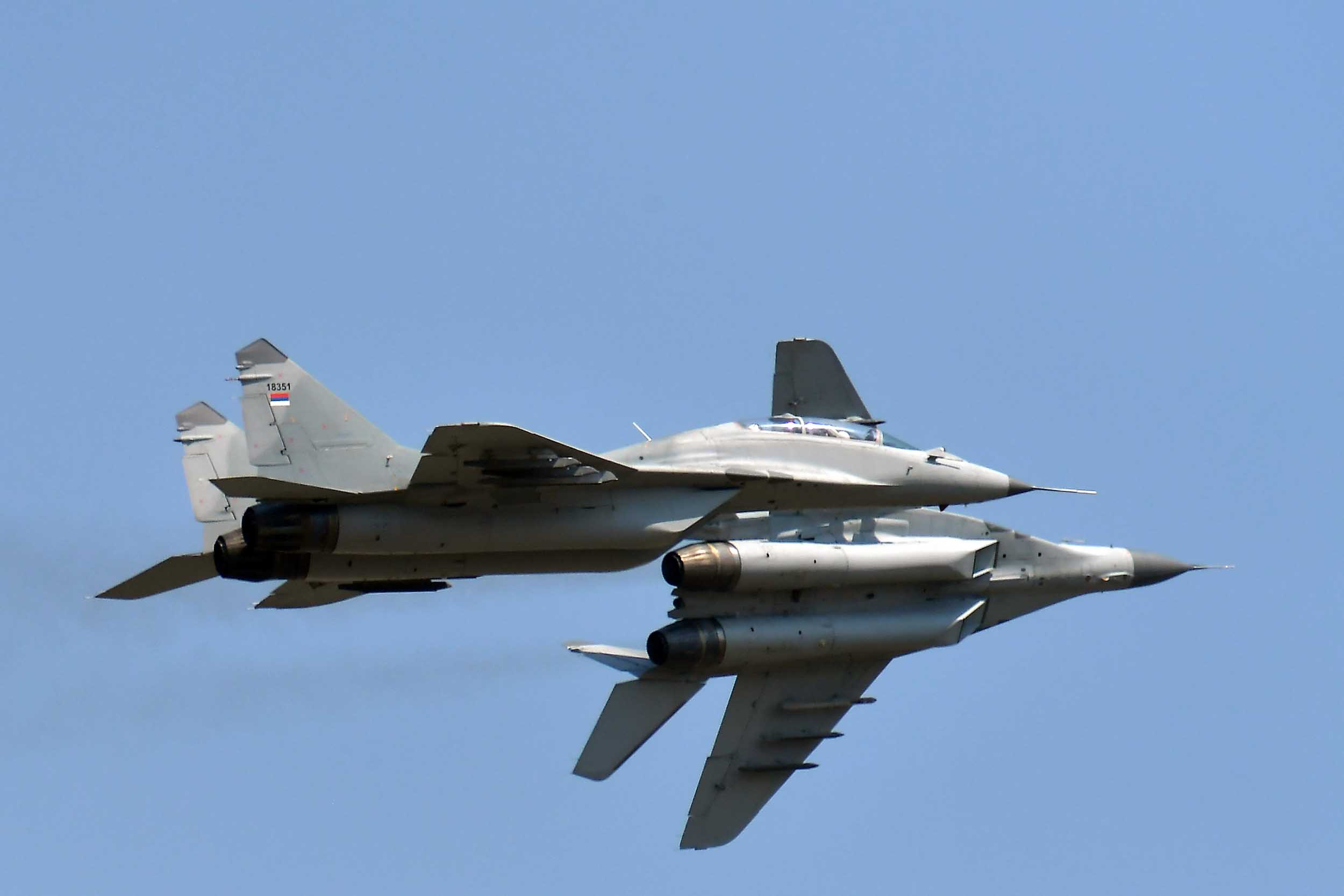 - We have a problem with personnel and today I talked to generals Diković and Žarković, because we have these wonderful people, but we miss the generations of young people. Now we will have a lot of space for training flights and we do not have problem to pay the fuel necessary for test flights – President Vučić said, adding that the personell in the Armed Forces will be encouraged by higher income, solving housing issues, as well as improving the school system and attracting young people to the Armed Forces.

President Vučić invited young people to join the Serbian Armed Forces, because our Armed Forces will be getting stronger day by day, and at the same time, people in Serbia should know that mighty and strong wings of Serbia are safeguarding them today much stronger, more seriously and more powerfully, than this was the case in the previous period.

- I am proud of you, dear soldiers, of what we have accomplished together. I wish you many safe and good flights and I wish you a lot of success in protecting our skies, in safeguarding our country, hoping that you will never have an enemy in front of you, but I am sure that even if this does happen, God forbid, you will be able to accomplish your task and pay debt to the fatherland in the best possible way – President Vučić said.

The test flight on two MiG-29s, that those gathered at the Batajnica airport today had opportunity to see, was performed by pilots Colonel Aleksandar Piposki and Colonel Brane Krnjajić.


According to Colonel Piposki, these were the first flights of the overhauled planes in our AF&AD that were performed today.

- These planes meet our standards and criteria that are necessary for them to be introduced into service and as early as tomorrow they will be in regular flight service, both for pilot training and for on-call duty in the AD system, or at the task of air policing and protecting our airspace – Colonel Piposki said, adding that the main impression after the first flight is that the planes are extremely steerable.

Speaking about his impressions after the flight, Colonel Krnjajic pointed out that he had flown on a two-seater plane with new avionics installed, which, as he managed to see first-hand, worked flawlessly.

- We expect, as early as tomorrow, to start with the flight training of young pilots who are waiting for their turn, - Colonel Krnjajić said.

Today's test flight of the jet planes was attended by General Ljubiša Diković, Chief of General Staff of the Serbian Armed Forces, Brigadier General Duško Žarković, AF&AD Commander, representatives of the Ministry of Defence and the Serbian Armed Forces, as well as the diplomatic corps.